An Australian husband has been dragged online after a video of him watching sports at his wedding went viral on social media.
In a viral clip uploaded onto TikTok, users Dani and Blake could be seen sitting next to one another at their wedding.
The clip started with the person holding the camera panning from a mobile phone with sports showing while the husband watched as he was sat next to his bride.
It was captioned: "I still can't believe my husband did this at our wedding."
As the camera zoomed in on the husband, he could be seen mouthing the words: "The footy's on."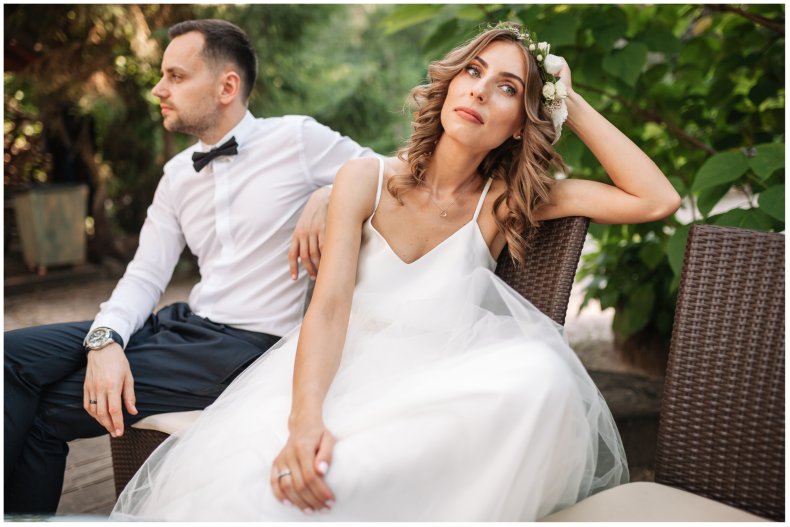 In Australia, the term "footy" is used to refer to Australian rules football, a unique contact sport where players compete against one another on an oval field and use an oval ball to play.
While the video appears to have been reuploaded by a duplicate account, the real Dani and Blake acknowledged the video as real.
The couple appears to regularly make videos with tens, if not hundreds of thousands, of views where they mock or irritate one another and have commented on their unusual dynamic in other videos.
Since being shared on January 6, the post has been viewed more than nine million times and has attracted some 370,800 likes.
While many people dragged the husband in the comment section, there were some who defended him.
Tiktok user Jonesie said: "Imagine if the bride was watching the new episode of The Kardashians. She'd get absolutely flamed."
Chuck Ratkay added: "He clearly respects you and cares about your feelings."
Princess83 commented: "If the Saints playing I would have had the phone in my hand."
Meanwhile, A Louise posted: "Divorce."
According to Socialbakers, the most popular sports profiles on Twitter in Australia in July 2020 were the tennis-linked @AustralianOpen, the @AFL which promotes the Australian rules league and @NRL for the National Rugby League. All three profiles had a combined following of more than 2.5 million.
Australia was a keen sporting nation in 2022 among children, with 35.5 percent taking part in swimming and 14.4 percent playing soccer regularly.
Newsweek has contacted daniandblake for comment.
Has a wedding come between your relationship with a loved one? Let us know via life@newsweek.com. We can ask experts for advice, and your story could be featured on Newsweek.