Speaker of the House Kevin McCarthy has yet to define what Republicans seek in exchange for raising the federal borrowing limit, as the debt-ceiling debate continues to swirl.
In an address to the nation Monday evening, McCarthy said that federal debt was "the greatest threat to our future," adding that the Democratic-controlled White House and Congress over the past few years had spent as if "the national debt doesn't matter."
"For years, we've watched as Democrats in Congress spent your hard-earned tax dollars like the dollars were imaginary," he said.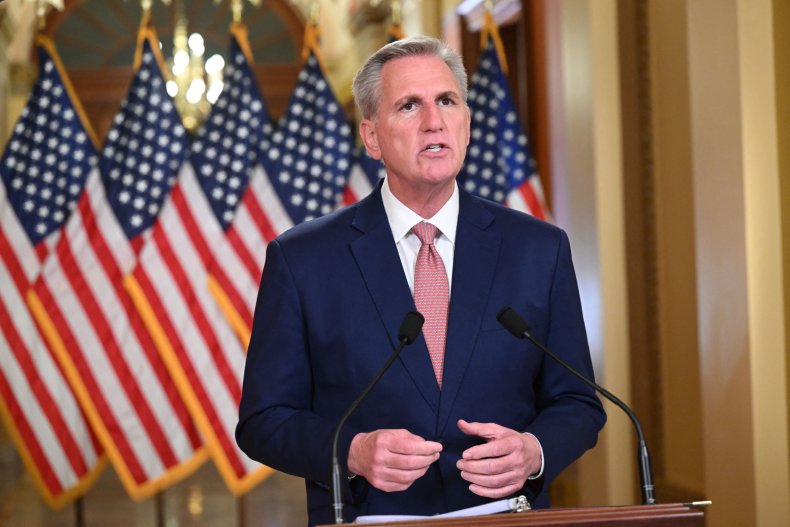 The U.S. reached its debt ceiling of $31.4 trillion in January, pressing Congress to raise the limit before the nation is forced to default on its debt. But McCarthy has previously said that House Republicans—who control the chamber—will not vote to raise President Joe Biden's limit without major spending cuts.
While McCarthy on Monday said that slashing federal programs like Medicare and Social Security are "off the table," the speaker offered little information about what specific changes the GOP is demanding.
Instead, McCarthy called on Biden "to get to work," criticizing the president's past statement that he would not allow the GOP to use the debt ceiling as a "bargaining chip."
"We need a different approach," McCarthy added in his address. "No drawing lines in the sand or saying it's my way or the highway. No policy gimmicks or political games.
"But most of all, No blank checks for runaway spending. Just sensible, responsible solutions to our growing national debt."
Other Republicans in the last few weeks have also balked at sharing their ideas for spending reduction. Wisconsin Senator Ron Johnson told reporters at a news conference in January that he was "not willing to lay out here today" exactly what spending cuts the GOP wants, reported The New York Times.
Johnson is also included in a pact with 23 other GOP senators who said they will oppose any increase to the debt ceiling unless it is accompanied by "real structural spending reform that reduces deficit spending."
While the coalition's letter to Biden last week also did not specify which structural changes the senators desire, it did call out the White House for "expanding the size and score of the IRS [to go] after families and small businesses, policing the speech of Americans on social media, funding equity programs in the military, and pouring money into programs for a pandemic that your administration has declared over."
McCarthy's presentation also offered a prelude to Biden's State of the Union address scheduled for Tuesday night, where the president will face Congress for the first time since Republicans took control of the House in November.
On Monday, Andrew Bates, White House deputy press secretary, told Politico in a statement that in his address, Biden "will show the American people his plan to build on the unprecedented deficit reduction his leadership has already delivered," which includes raising taxes for large corporations and reducing the cost of prescription drugs.
"Meanwhile, House Republicans are threatening to actively throw our economy into a tailspin with a default—which they have a non-negotiable Constitutional duty to prevent—unless they can further cut Social Security, Medicare and Medicaid," Bates said. "It's utterly backwards."
"The President is delivering on his commitment to build an economy that grows from the bottom up and the middle out—not from the top down."
Newsweek has reached out to McCarthy's office for comment.