Legal analyst Glenn Kirschner says GOP lawmakers calling on Manhattan prosecutors to testify before their subcommittees have exerted a "gross abuse of power" in efforts to protect former President Donald Trump.
Manhattan District Attorney Alvin Bragg is anticipated to serve the former president with a criminal indictment this week, accusing him of breaking campaign finance laws in the payment of hush money to adult-film star Stormy Daniels. Trump said over the weekend that he expects to be arrested Tuesday.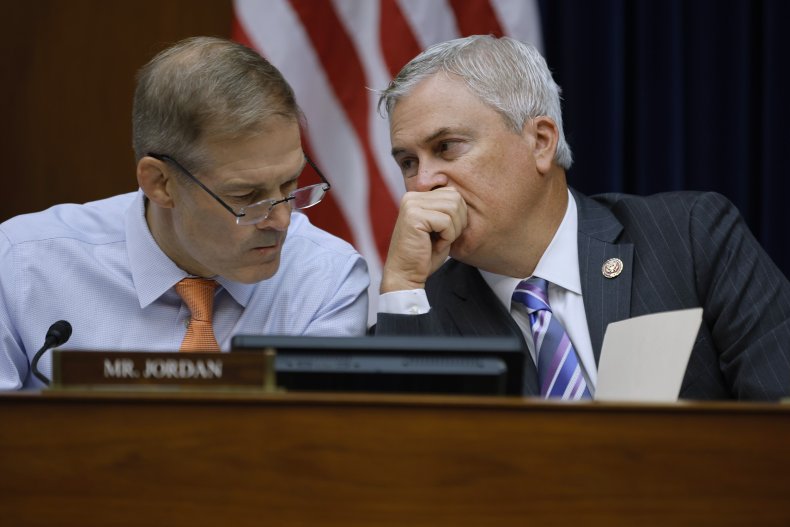 In response to the expected indictment, three House Republican leaders sent a letter to Bragg calling for his testimony before their respective panels: Ohio Representative Jim Jordan, chairman of the Judiciary Committee; Wisconsin Representative Bryan Steil, chairman of the House Administration Committee; and Kentucky Representative James Comer, chairman of the Oversight and Accountability Committee.
Kirschner, who spoke about the letter on Monday's episode of his Justice Matters podcast, said that the move by GOP lawmakers was "a gross abuse of power, of position, of authority," and is "also arguably unconstitutional."
"Remember that little 10th Amendment?" the former federal prosecutor said. "Right? That divvies up the rights of the federal government versus the rights of the states? Remember how the Republicans are all about states' rights until their political leader, their king, their Savior, is about to be criminally indicted for, let's call it what it is, crimes he committed."
"Congress has no lawful authority, Congress has no jurisdiction, Congress has no lawful basis to interfere in a state court prosecution of anybody," Kirschner later added.
GOP leaders wrote in the letter to Bragg that he is "reportedly about to engage in an unprecedented abuse of prosecutorial authority: the indictment of a former President of the United States and current declared candidate for that office."
"Your decision to pursue such a politically motivated prosecution—while adopting progressive criminal justice policies that allow career 'criminals [to] run the streets' of Manhattan—requires congressional scrutiny about how public safety funds appropriated by Congress are implemented by local law-enforcement agencies," the lawmakers added.
The three chairmen have each shared a close allyship with the former president in the past, including leading investigations of the Biden administration's alleged "weaponization" of the federal government against political opponents like Trump. On Sunday, Comer said that the Manhattan indictment was a "distraction" from his committee's investigations into President Joe Biden's family. House Speaker Kevin McCarthy also called for an investigation into Bragg's office on Saturday amid Trump's pending indictment.
"Friends, this is brazen in its lawlessness," Kirshner said of the representatives' letter. "What this letter says is, District Attorney Bragg, what you're doing, enforcing the laws of New York, seeking to hold accountable, you know, the other person who was involved in this illegal conspiracy to pay hush money to Stormy Daniels … Because you are trying to enforce the laws, you are potentially damaging Donald Trump's reelection prospects, and we will not stand for it."
Trump's former attorney Michael Cohen previously served three years in federal prison after pleading guilty to lying to Congress, tax and bank fraud and breaking campaign finance violations for paying Daniels $130,000 in hush money during the 2016 election. Cohen has been one of the leading witnesses in Bragg's investigation, alleging that Trump reimbursed him for the payment.
House Republicans say in their letter to Bragg that Cohen is "a convicted perjurer with a demonstrable prejudice against President Trump." Cohen also previously clashed with Jordan during his testimony before Congress before starting his prison sentence in 2019.
Newsweek has reached out via Twitter to Danielle Filson, communications director for the Manhattan District Attorney's Office, for comment.