Ginni Thomas Cleared in SCOTUS Abortion Leak Investigation
Ginni Thomas, a conservative activist and the wife of Justice Clarence Thomas, seemed to have been cleared in the U.S. Supreme Court investigation that was looking into identifying who leaked the draft opinion of the Dobbs decision last year.
"During the course of the investigation, I spoke with each of the Justices, several on multiple occasions. The Justices actively cooperated in this iterative process, asking questions and answering mine. I followed up on all credible leads, none of which implicated the Justices or their spouses," said Gail Curley, Marshal of the U.S. Supreme Court, in a statement on Friday.
"On this basis, I did not believe that it was necessary to ask the Justices to sign sworn affidavits," Curley added.
Curley's remarks came after Some Twitter users on Thursday expressed their doubts about whether or not the justices were investigated in the probe to find who is responsible for the draft opinion leak.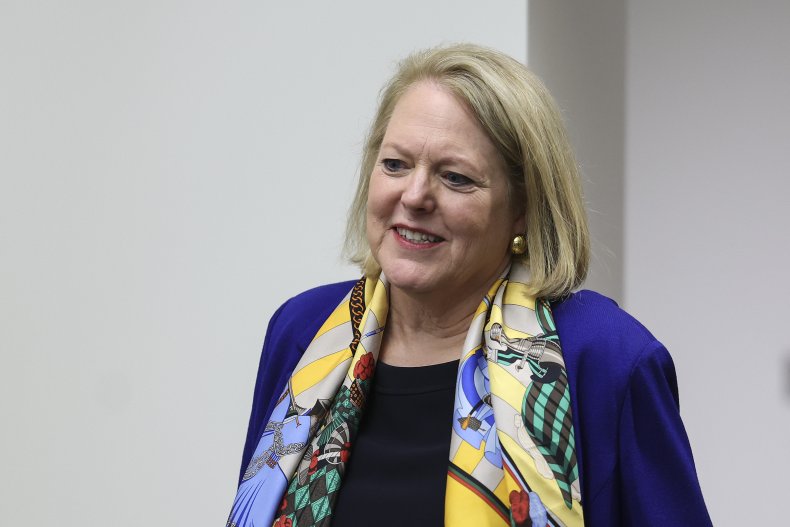 SCOTUS on Thursday said that its probe was unable to identify who leaked the draft opinion, but this conclusion has sparked criticism about whether or not the justices on the bench were interviewed.
The Supreme Court released an unsigned statement concluding that it was unable to determine the identity of the individual responsible for the leak or explain how Politico ended up having the draft.
The publication reported in May that in Dobbs v. Jackson Women's Health Organization, the Supreme Court was prepared to overturn the 1973 landmark ruling Roe v. Wade—a report corroborated by a draft opinion written by Justice Samuel Alito that the outlet published.
The leak sparked mass protests across the country and threats against the justices, but the Supreme Court still ruled in June to overturn Roe v. Wade, ending the federal right to have abortions.
Social media users on Thursday expressed their doubts about the court's Thursday conclusion of being unable to find who leaked the draft opinion, including web developer Matt Ortega who hinted that it was Justice Thomas who might be the individual behind the leak.
"Probably the one whose wife is a paid activist for right-wing interests, talks with her husband about it, and played a role in an attempted coup," said Ortega, referencing Ginni, who tried to help former President Donald Trump overturn the results of the 2020 election.
Meanwhile, journalist Sydney Bauer tweeted on Thursday "they definitely did not interview the justice that leaked this."
"Put alito and [Justice Clarence] thomas under a lie detector and see how fast they get to the bottom of this," another user wrote.
Attorney Michael Chertoff, a former Secretary of Homeland Security, was consulted by the court to assess its investigation and after his "thorough" review, Chertoff said that he could not determine additional investigative measures that could have been taken in this probe, according to the SCOTUS statement.
Newsweek reached out to the court's media office for comment.