Germany's Tank Battle Angers Allies | Opinion
Friday's NATO meeting at Germany's Ramstein military base was one of the most eagerly awaited international meetings since the war in Ukraine began. International pressure had been building on German Chancellor Olaf Scholz's government to allow allies to send German-made Leopard 2 tanks into the fight against Russia for weeks—ever since Poland declared it would send some with or without German permission.
Despite the West's baited breath, the decision announced by Germany's newly appointed defense minister was—drumroll please—more indecision. The United States, European allies, and most of all Ukraine were left furious.
This decision not to decide came after Scholz's government had been tying itself in knots over every aspect of weapons deliveries to Ukraine. Berlin originally stated that it wouldn't deliver any "heavy weapons" to Ukraine at all. It then relented, sending artillery that Kyiv says has been invaluable on the battlefield. The Germans then claimed there was a NATO agreement not to deliver Western-made tanks. No such agreement exists, and it was later reported that Germany was actually blocking Spain from sending their Leopard 2s.
Scholz then said he didn't want Germany to go it alone—perhaps understandable given divided German public opinion—but when Britain decided to send 14 of its Challenger 2 tanks, his bluff was called. The Chancellory changed its tune once again, demanding a token number of Abrams tanks from the U.S. be deployed, later backtracking on that, too. It seems the only person who understands Olaf Scholz's decision-making is Olaf Scholz.
Allies are losing patience.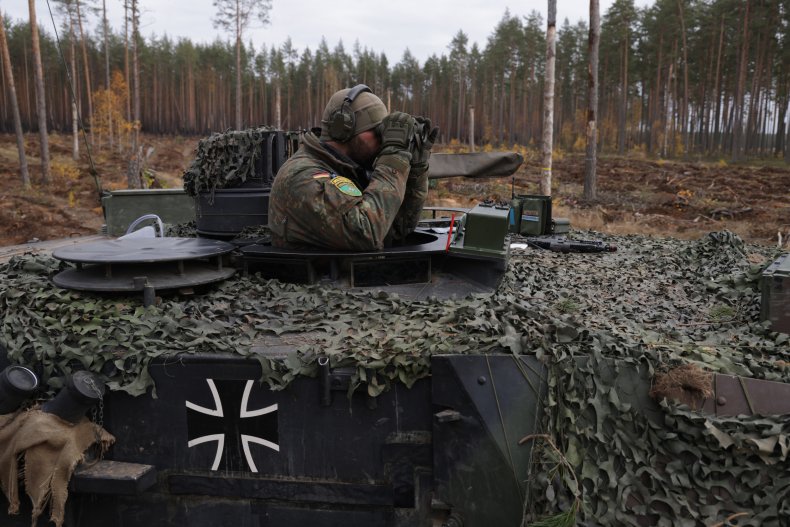 What started as grumbling inside Germany's three-party ruling coalition is turning into a war of words. The fact is that Germany has provided billions of euros in both military and humanitarian aid, but Berlin has consistently alienated allies with poor communication.
The chair of the Defense Committee, Marie-Agnes Strack-Zimmerman—a politician from the center-right FDP whose tongue is even more formidable than her name—put it simply after the Ramstein summit: "Germany has sadly failed… The communication is just miserable."
While in Paris, Foreign Minister Annalena Baerbock, a member of the Green Party, announced on French television that Germany wouldn't block any request to send Leopard tanks—that it would #FreeTheLeopards, as pro-Ukrainian activists have dubbed their demand.
But, constitutionally, the power to authorize the delivery of weaponry lies with the chancellor alone. What Baerbock was really doing was throwing the gauntlet down and challenging Scholz.
The same day, the co-leader of Baerbock's Green Party said that he didn't understand why tanks weren't being sent when armored personnel carriers and artillery already had been.
When Scholz announced a Zeitenwende—a change of epoch—just days after Russia's attack on Ukraine began, many thought that he was sincere in wanting to overhaul decades of German negligence on European security that had left the military underfunded and the country reliant on Russia for energy. He was widely applauded.
Since then, it has seemed like many of the old guard in his Social Democratic Party have clung to the idea that, though Russia can't be allowed to win this war, Ukraine shouldn't win either.
This contrasts greatly with Germany's neighbors to the east, particularly Poland and the Baltic nations, which have staunchly supported Ukraine, informed partly by their centuries of experience with Russian occupation. Protests have been held outside German embassies in Latvia and Lithuania and by Ukrainian refugees and supporters outside the Chancellory building in Berlin.
The words from the Polish government have been perhaps the starkest: "We will not stand by idly and watch Ukraine bleed to death. If we don't get German agreement on the Leopards, we will build a "smaller coalition" of countries ready to donate some of their modern tanks to a fighting Ukraine" said Prime Minister Mateusz Morawiecki on Twitter.
German officials are usually quick to dismiss the Law and Justice-led Polish government, which has clashed with the European Union over the rule of law and abortion rights, and which frequently attacks Berlin to drum up domestic support. But right now, the Poles have taken the lead on an issue that is frustrating Kyiv, Germany's allies, and yes, many Germans too.
It's time for Scholz to make up his mind, and to start communicating properly with the German people, as well as his allies abroad.
James Jackson is a Berlin-based journalist and commentator covering Germany and Central Eastern Europe. He is a former staff journalist at Deutsche Welle, writes for The BBC, Time Magazine and Times of London among others.
The views expressed in this article are the writer's own.