The German manufacturer of the Leopard 2 tank has reportedly said it is ready to send dozens of the armored vehicles to Ukraine pending permission from Berlin.
A spokesperson for Rheinmetall told German media outlet RND that 29 Leopard 2A4 tanks could be made available to Kyiv as soon as April this year, according to a translation.
The company, headquartered in Dusseldorf, which makes the tanks with Krauss-Maffei Wegmann, said that there were also 22 Leopard 2A4 tanks "that we could prepare for use and deliver to Ukraine" although it would take a year to repair them.
Referring to Leopard 1 tanks, the spokesperson added that "we could make 88 vehicles available," without specifying a timeline.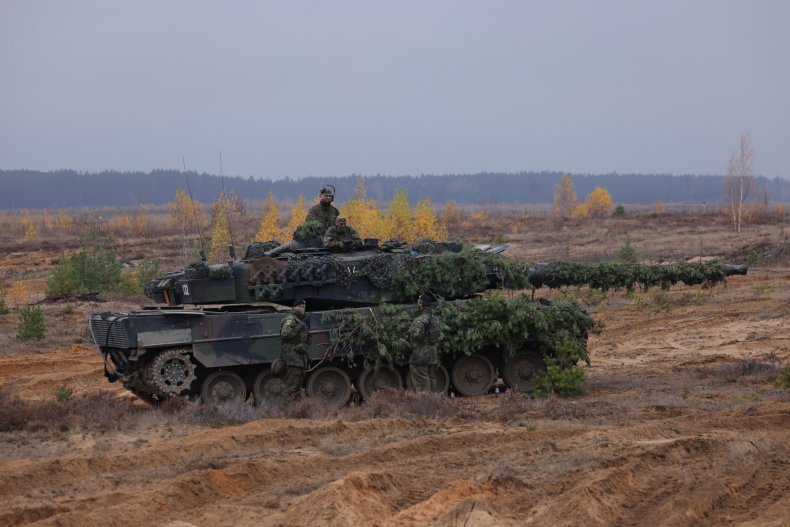 Germany has been at the center of a spat over the delivery of the main battle tanks, which are considered essential to Ukraine's fight against Russian aggression.
A meeting at the Ramstein Air Base on Friday saw a failure of the Ukraine Defense Contact Group of Kyiv's allies to agree on the provision of Leopard 2s.
Poland has announced plans to send Leopard tanks to Ukraine but as the producer of the vehicles, the process requires the permission of Berlin, which it has so far been reluctant to give.
Polish Prime Minister Mateusz Morawiecki said on Monday that Poland would supply Leopard 2 tanks to Ukraine even without German approval if there was a "small coalition of countries," agreeing to it. Morawiecki said that Poland will ask the EU for compensation for their cost.
On Tuesday, German Defense Minister Boris Pistorius told a joint-news conference with NATO Secretary General Jens Stoltenberg that German Chancellor Olaf Scholz is discussing the provision of Leopard 2 tanks with partners and there could be a "possible decision" in the coming days.
Also on Tuesday, Polish Defense Minister Mariusz Blaszczak said that Berlin had received Warsaw's official request for permission to transfer the tanks, tweeting, "this is our common cause because it is about the security of all of Europe."
A spokesperson for the German government confirmed it had received the request but would not say how quickly it could be approved.
The process would take place with "the necessary urgency in accordance with the established procedures and arms export guidelines," the spokesperson told CNN.
With pressure building on Scholz, who is keen not to be seen to be escalating the war, German Foreign Minister Annalena Baerbock has suggested that Berlin would not stand in the way of other countries sending their Leopard 2s to Ukraine.
However, she told the EU's parliamentary assembly on Tuesday that the debate over tank supplies should not turn into "finger pointing."
Newsweek has contacted the German foreign ministry for comment.