George Santos Clashes With Drag Queen, Attacks 'Terrible' Impersonations
Several versions of embattled congressman George Santos have made their appearance on late-night comedy shows in January, including CBS' The Late Show With Stephen Colbert and NBC's The Tonight Show Starring Jimmy Fallon—but the New York Republican is not enjoying the spotlight.
"I have now been enshrined in late night TV history with all these impersonations, but they are all TERRIBLE so far," Santos wrote on Twitter on Monday.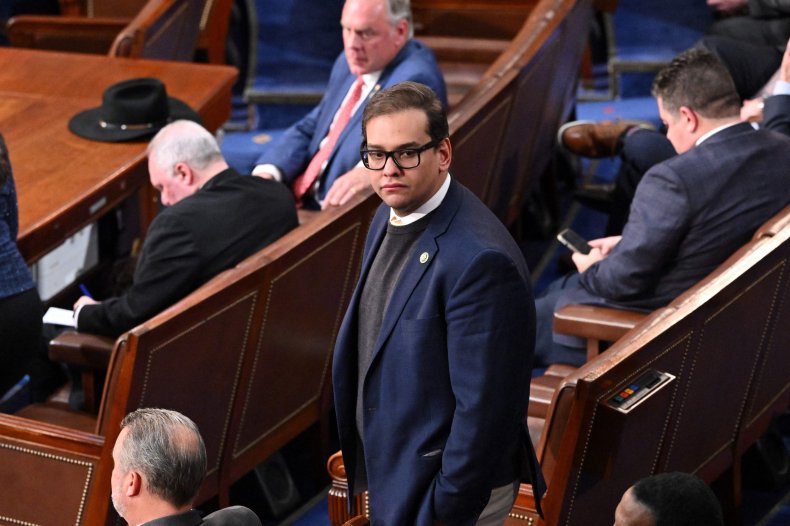 Last week alone, three different actors impersonated Santos on American television: first, it was the turn of actor Nelson Franklin to play Santos as the first openly gay Jewish Republican Latino to walk on the moon on ABC's Jimmy Kimmel Live!. Then, it was up to Harvey Guillén on The Late Show With Stephen Colbert to impersonate Santos, denying claims that he ever performed in drag.
Lastly, it was Jon Lovitz's turn to walk into the studios of The Tonight Show Starring Jimmy Fallon as Santos, in an impersonation that the congressman described as "embarrassing."
"Jon Lovitz is supposed to be one of the greatest comedians of all time and that was embarrassing— for him not me! These comedians need to step their game up," Santos tweeted.
Drag queen Trixie Mattel, winner of RuPaul's Drag Race All Stars season 3, responded to Santos' comment and wrote that "maybe the source material was weak."
The Republican congressman hit back at Mattel's acting skills, writing: "Clearly you know all about weak acting skills."
The online quarrel between the two continued, with Mattel—the stage name of Brian Michael Firkus—mocking Santos with the same words he used to talk about his drag performances. "I am not an actor! I was young and I had fun at a festival!" Mattel tweeted.
After repeatedly denying that he had ever performed in drag, despite photos and videos of him dressed in female clothing circulating online, Santos said on Saturday that he only ever dressed in this way once, at a festival in Brazil.
"I was young and I had fun at a festival—sue me for having a life," Santos told ABC 7.
Citing Mattel's victory in RuPaul's Drag Race All Stars, Santos finally tweeted: "It's all good! I won my race against the fan favorite too."
However, with the scandals that have enveloped the New York Republican since an investigation by The New York Times revealed his biography had been largely fabricated, Santos have more serious issues to face than what he calls "terrible" impersonations.
Several House Republicans have called for the congressman to resign after lies about his career and biography were revealed in his background, and the GOP members say Santos has lost the faith of his voters. But party leaders—including Speaker Kevin McCarthy—are standing by him, keen to avoid losing the narrow majority in the House.