A ceremony for a Confederate general whose remains were reinterred in Virginia on Saturday after being unearthed last month from a monument in the state sparked outrage online, as many found the gathering to be in bad taste.
"These are the same people who tell black people 'slavery was so long ago, get over it,'" a Twitter user wrote, sharing a photo from the ceremony picturing participants dressed in period outfits.
"Meanwhile, most of the remains of enslaved humans never even got marked graves," commented another Twitter user. "They were hidden from the public in remote places and forgotten—even had houses/businesses built on top of them."
Others described the ceremony as "just weird" and "pathetic."
A statue of Confederate Gen. Ambrose Powell (A.P.) Hill was removed in mid-December from a busy intersection in Richmond following a court battle, and with it his remains buried underneath. The remains were transported to his hometown, where they were reinterred on Saturday.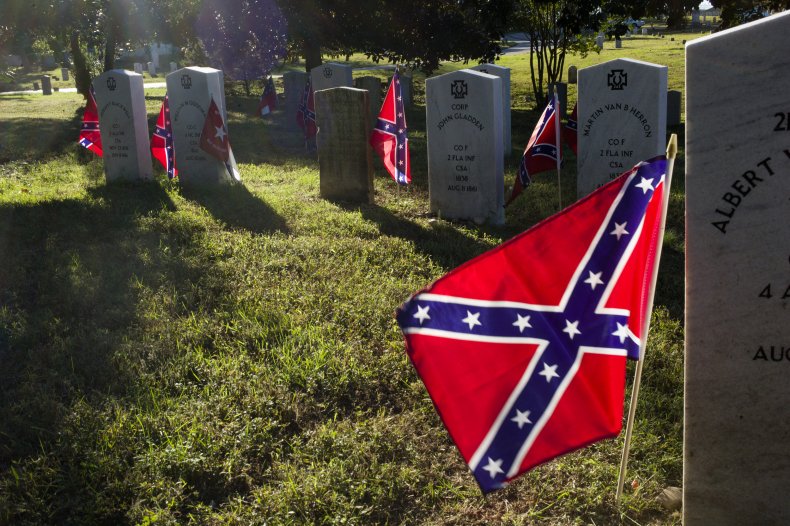 "The reburial of Gen. A.P. Hill, a bizarre figure even for the demanding standards of massively bearded Confederate Generals. Killed during the Civil War, Hill's remains have been moved at least 4 times, and are now back in his home of Culpepper. Trivia: he was buried standing up," tweeted New York professor Carl James Grindley commenting on the ceremony held last weekend.
An estimated 600 people, including many Confederate reenactors, were at the ceremony at Fairview Cemetery in Culpepper, according to the Free Lance-Star. The coffin was draped in an old Virginia flag and was carried to its final resting place on a mule-drawn wagon followed by a riderless horse, according to the Associated Press. People in the crowds held Confederate flags.
The ceremony then reportedly closed with a 21-gun salute and three rounds fired from a cannon.
The removal of the statue and Hill's remains are the latest in a series of actions taken by the city of Richmond—which served as the Confederate States' capital for much of the Civil War—following Black Lives Matter protests in 2020 calling for racial justice in the wake of the killing of George Floyd by Minneapolis police.
Hill's remains have been moved around quite a lot since his death in 1865, before the end of the war. His body was first reportedly interred in a family cemetery in Chesterfield County, then moved in 1867 to Hollywood Cemetery in Richmond, then in 1891 transferred under the monument from where they were removed last month. The monument itself was unveiled a year later, long after the end of the Civil War.
The statue is stored in an undisclosed location, according to city officials, and will be given to the Black History Museum and Cultural Center of Virginia.