A slew of mysterious circumstances at the Dallas Zoo have grown more concerning after an animal was found dead in its enclosure on Saturday.
The Dallas Zoo has suffered a trio of destructive incidents over the last 10 days that have led to a clouded leopard escaping its enclosure, a damaged enclosure for Langur monkeys, and most recently, escalated into the discovery of a dead endangered vulture. The Dallas Police Department (DPD) has been investigating the incidents, and it is still unclear if the incidents are related.
The endangered vulture
Over the weekend, zoo staff found one of the endangered vultures that was living in the "Wilds of Africa" habitat dead from "unusual" circumstances.
The Dallas Zoo released the news about the vulture in a tweet on Sunday afternoon.
"This weekend, our staff found that one of the endangered vultures in our Wilds of Africa habitats had died. The animal care team is heartbroken over this tremendous loss. Please keep them in your thoughts as they process what has happened," the zoo wrote.
The bird will undergo a necropsy, or animal autopsy, to determine the cause of death.
"The preliminary investigation determined the bird was found dead in its enclosure. The cause of death has not been determined at this time, but the death is being investigated as suspicious," the DPD told Newsweek on Monday in an emailed statement.
Amid the incidents and calls for more security from the public, the zoo added more security cameras in the past week. It also has increased on-site security patrols overnight, according to a tweet from the zoo.
The clouded leopard
A female clouded leopard named Nova escaped her enclosure on January 13, sparking a zoo closure and a day-long search for the wild cat. Zoo staff implemented a code blue, which means a non-dangerous animal was out of its habitat. Clouded leopards are larger than a house cat, but smaller than a bobcat.
Zoo staff found Nova later that day near her habitat on zoo property. They also discovered what appeared to be an intentional cut in the leopard's enclosure, according to a press release from the DPD. Nova was returned to her habitat without injury, and a criminal investigation was launched by police.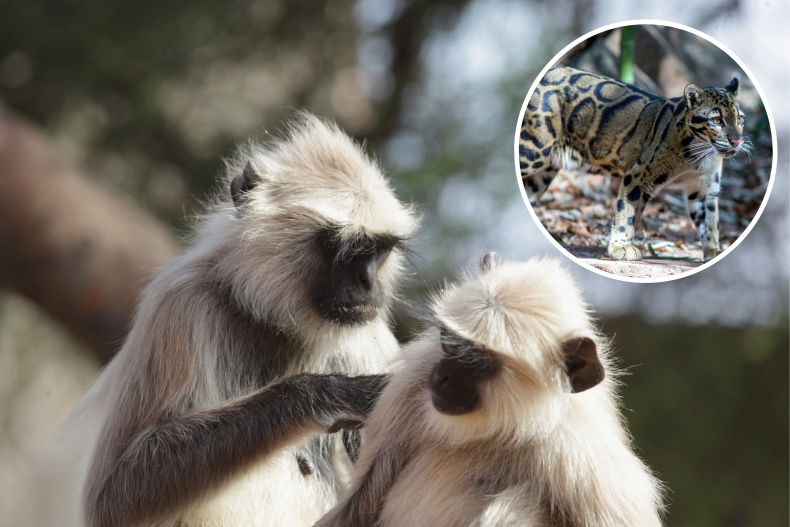 The Langur monkeys
After police were called on-site for the missing clouded leopard, zoo staff showed investigators another animal habitat that had recently been damaged.
A cut similar to the one made in Nova's enclosure was discovered in a habitat occupied by Langur monkeys. None of the Langurs escaped their habitat, however, and weren't harmed.
Newsweek reached out to the Dallas Zoo for further comment.