Full List of Senators Holding Democrats' Future Majority in Limbo
Democrats are already strategizing how to keep their Senate majority after the 2024 elections. The strategy might hang on the decisions of a few influential incumbents.
Virginia's Tim Kaine announced his bid for reelection Friday, but the Democrats' slim majority faces the threat of turning red if Kyrsten Sinema of Arizona, Dianne Feinstein of California and Joe Manchin of West Virginia decide not to run for another term.
Incumbents often face a less challenging path to winning because voters may elect them for the same reason they did the first time: they like the candidate. However, if some choose not to run for reelection in 2024, the Democrats face challenges in finding strong candidates to step forward, particularly in purple states that aren't guaranteed to produce a Democratic winner.
After leaving the party to become an independent last year, Sinema still caucuses with the Democrats, adding to the numbers bolstering their majority. However, Sinema hasn't announced if she has plans to run for reelection, although polls show that her approval rating would likely remain low if she did.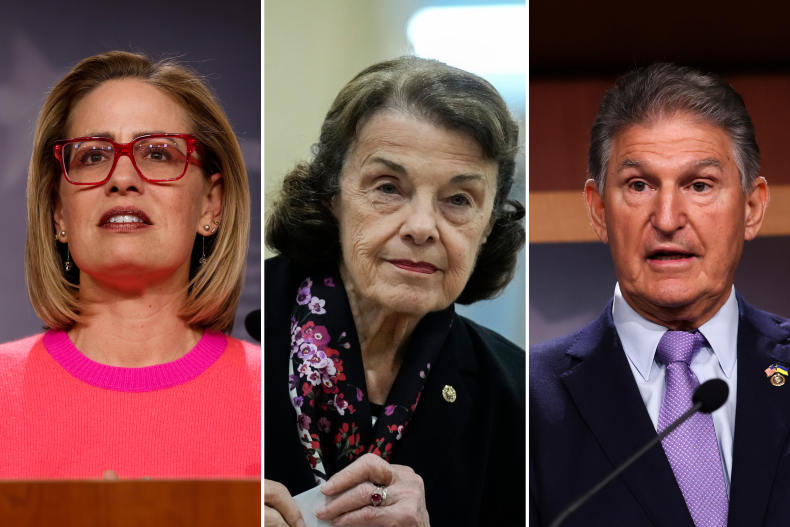 Arizona is a battleground state that often sees tight races. By being an incumbent, even as an independent, Sinema has an advantage that a new Democratic candidate wouldn't have, even if her approval rating is low.
Names of potential candidates across the aisle are circulating, with Kari Lake, a Donald Trump-supporting Republican who lost the bid for Arizona governor, topping the list. Lake hasn't announced a Senate bid, saying she is focusing her energy on her lawsuit against election officials, accusing them of intentional malpractice in the midterms.
"I really believe this is the fake news putting this out trying to take the focus off of our election lawsuit," Lake told One America News host Addison Smith while speaking on his show Tuesday.
Additionally, Newsweek reported on Friday that Representative Ruben Gallego, a former Marine combat veteran who was critical of Sinema while she was still a Democrat, will announce his Senate bid Monday.
Feinstein, who will turn 90 this year, is expected to retire at the end of her term, but she has not made an official announcement. Other California Democrats already plan to battle to take her place.
Representative Katie Porter announced her bid for the not-yet-open seat in a move that many criticized as disrespectful. Usually if an incumbent candidate runs for reelection, the party ballot is less crowded in the primary and the incumbent doesn't face much opposition until the general election.
Representative Barbara Lee said she plans to run, while Representative Adam Schiff said he would run if Feinstein retires. Representative Ro Khanna is another possibility, having said he is mulling a bid.
Manchin, who is considered a moderate, recently evaded questions on whether he plans to run for reelection. If he doesn't, the party lacks a strong candidate to take his place in the deep-red state, so his blue seat is likely to turn if he doesn't run.
Newsweek reached out to PoliticalVIP, a political strategy firm, for comment.