Fox News host Maria Bartiromo asked Representative James Comer, a Kentucky Republican, if President Joe Biden's alleged mishandling of classified documents amounted to treason on Sunday.
Biden, like his predecessor former President Donald Trump, is under investigation from the Department of Justice (DOJ) after Obama-era classified documents were recently found in his Wilmington, Delaware, home and former office at the Penn Biden Center for Diplomacy and Global Engagement think tank in Washington, D.C.
The investigation has sparked criticism from Biden's Republican critics, who have largely defended Trump in his investigation. FBI agents raided Trump's Mar-a-Lago residence last summer and seized boxes of classified documents. Trump, who has maintained his innocence, has also faced scrutiny over his response to the case, facing allegations of not turning over every document in his possession. Meanwhile, more documents continue to be found in Biden's home.
During an appearance on Sunday Morning Futures, Comer, who chairs the House Committee on Oversight and Reform, was pressed by Bartiromo as to whether Biden committed treason by taking the classified documents when he was vice president.
"Is this treason?" she asked.
Comer declined to call Biden's actions treasonous, instead describing the probe as "very concerning," and calling on the Biden administration to cooperate with House investigators. Comer has raised questions about whether the documents were left vulnerable to adversaries, as well as Hunter Biden, the president's son, whose ties to foreign entities have also been scrutinized by Republicans.
"We're not going to let up," he said. "I think that we've got plenty of information to move forward. This would be a lot easier if the White House would work with us."
Meanwhile, former federal prosecutor Gene Rossi dismissed Bartiromo's question as partisan in a statement to Newsweek on Sunday.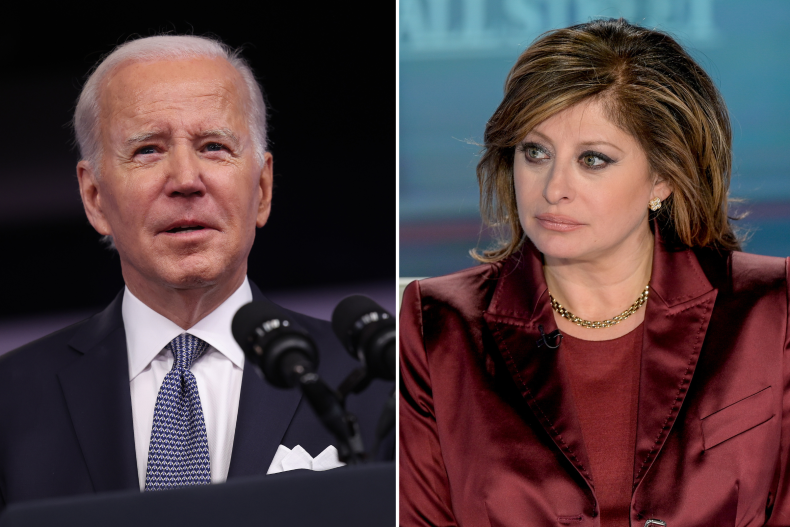 "The insinuation that President Biden has committed treason, for alleged conduct exceedingly less troubling than what President Trump has been accused of, is the product of a rabid partisan mind," he told Newsweek.
Neither Biden nor Trump have been charged in their investigations, and the DOJ has not accused either of treason. Meanwhile, other critics on social media on Sunday also questioned whether this was a loaded question from the Fox News host.
"Ah yes, so treasonous he told the FBI and invited them in," tweeted commentator Christo Aivalis.
"Even Comer is caught off-guard. We should never become numb to the outrageous fact that Fox gets treated like a legit news network. Shame on you, @MariaBartiromo," tweeted former Representative Mondaire Jones, a New York Democrat.
Former New York City mayoral candidate and Leadership Conference on Civil and Human Rights CEO, Maya Wiley, tweeted: "Wld' e been more credible if there was equal concern abt the 26 boxes & 700 classified documents #Trump wrongly took to Mar-A-Lago, with serious stated nat'l security concerns about their content. Plus Trump apparently knew he shouldn't have them."
Trump Facing More Criticism Than Biden Over Classified Documents: Poll
As Republicans criticize Biden over the classified documents probe, a new ABC News/IPSOS poll found that more Americans are critical of Trump's handling of classified documents than Biden.
The poll found broad support for investigations into Biden and Trump. However, 77 percent of Americans believe Trump acted inappropriately by removing classified documents from the White House, while only 64 percent said Biden did so. The poll surveyed 532 adults from January 20 to 21 and had a margin of error of plus or minus 4.5 percentage points.
Legal experts have noted one difference in the cases is that Biden's lawyers immediately notified the National Archives and Records Administration (NARA) upon discovering the documents, while Trump has engaged in legal battles over whether or not he needs to turn over all of his.
Newsweek reached out to Fox News for comment.