An Ohio resident's exotic animals are suffering a week after a train derailment caused a chemical spill of vinyl chloride.
The train derailment last week in East Palestine caused a massive fire and concerns over a possible explosion that would further release toxic gases and chemicals. The train cars carried vinyl chloride, a known carcinogen. The Environmental Protection Agency (EPA) placed monitors in the town, according to WFMJ. An evacuation order was placed and then eventually lifted, allowing people to return to their homes. However, one resident is still dealing with the devastating effects on his animals.
Taylor Holzer told Newsweek that he's always loved animals. The East Palestine resident takes care of various animals, many of them rescues, including foxes, coyotes, squirrels, tortoises and exotic birds. All of his foxes have been affected by the chemical spill. One fox died, and Holzer suspects it was from chemical exposure from the derailment.
"He went downhill very fast," Holzer said, describing the fox as having symptoms such as diarrhea and breathing issues. "He crashed so fast and unexpectedly. He wasn't able to blink or function properly as he died in my arms."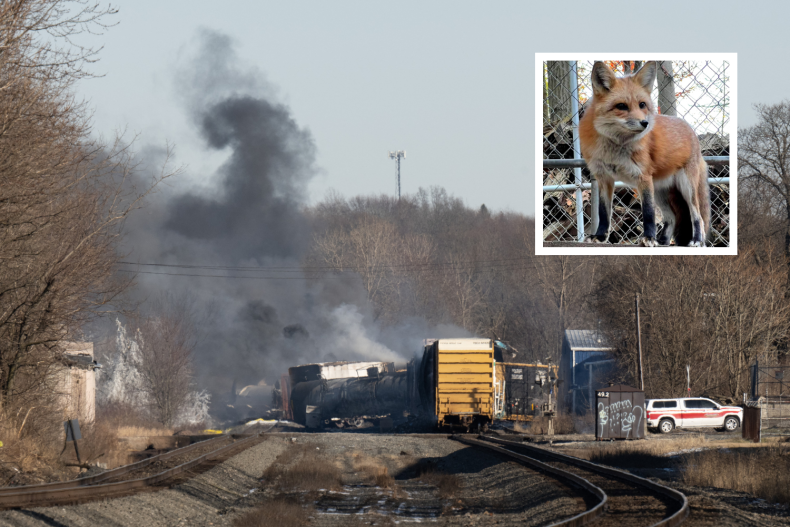 Holzer lives near the evacuation zone but was just outside of it. Even though he wasn't told to evacuate, he moved his parrots to a friend's pet store nearby as birds are very sensitive to air quality. However, the property where he keeps the foxes and other animals was inside the evacuation zone. Holzer was unable to help them.
"By the time I was aware of the evacuation orders, it was too late to get them all of out of there," he said. "Moving exotic animals isn't as easy as just grabbing your house cat or dog and jumping in the car."
His animals are still suffering from chemical exposure, and some of them are being treated at the Metropolitan Veterinary Hospital in Highland Heights. Expenses will be high.
Holzer paid $2,000 as a deposit for four sick foxes to stay at the vet. Expenses for the necropsy on the dead fox, tests for the living ones and other procedures are unknown. One fox broke its leg when fleeing after noises from the derailment caused it to panic, and Holzer isn't certain how much its treatment will cost.
Holzer said the vet clinic is concerned about contamination from the affected foxes. Vets donned masks and asked Holzer to bring the sick foxes in through a separate entrance so any chemical particles on the foxes didn't affect other animals or people.
"They didn't have space or resources for more than the [four] that were impacted the worst," Holzer said.
Holzer isn't sure what the next steps are, but he knows he's not the only animal owner suffering from the derailment. He said another Ohio resident's cat had to be euthanized because of vinyl chloride poisoning. Other people lost chickens, and a hawk was found dead in a pasture.
"I feel so bad for the other animal owners that have to go through this and are losing parts of their family, and the wildlife that is suffering," he said. "Everyone needs to be reimbursed for what has happened somehow."
One of Holzer's friends launched a GoFundMe to raise money to cover the vet bills. The GoFundMe had raised nearly $16,000 as of 3:30 p.m. ET Friday afternoon.
Newsweek reached out to the Metropolitan Veterinary Hospital and the EPA for comment.