Florida Governor Ron DeSantis is being denounced by Republican Congressman Greg Steube of Florida over his potential challenge to former President Donald Trump in the next presidential election.
Steube, who endorsed Trump's 2024 campaign this week, said in a pair of tweets on Friday that he was "sad" to see the Florida state legislature "carrying the water" for DeSantis and his unofficial "presidential ambitions."
The congressman made the remarks while sharing a Politico article that reported Florida Republicans were becoming "deeply frustrated" with having to push the governor's agenda, based on a quote from former Florida state GOP lawmaker Jeff Brandes.
"Sad to see the Florida House and Senate, two bodies I had the honor to serve in, carrying the water for an unannounced presidential campaign," Steube tweeted.
"To my fellow elected officials serving in Tallahassee, your constituents voted you into those positions to represent them, not to kowtow to the presidential ambitions of a Governor!" he added. "Be strong and courageous, the people of Florida will thank you."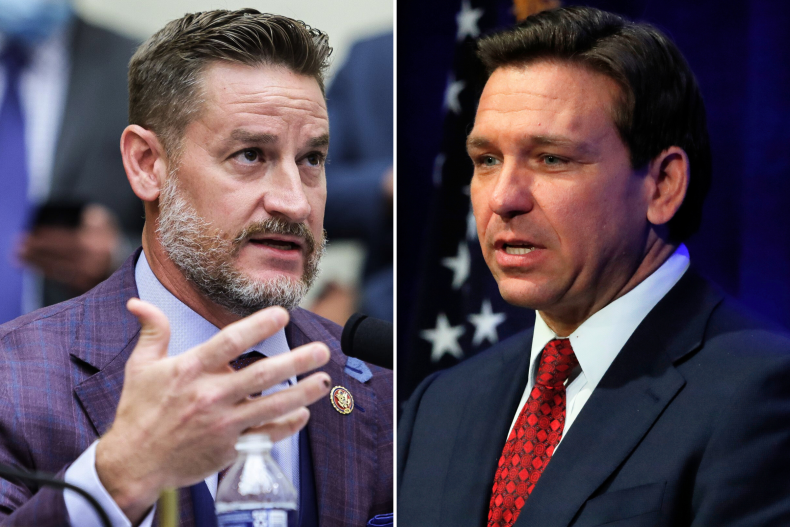 Newsweek has reached out via email to the office of DeSantis for comment.
Although DeSantis has not officially announced a 2024 presidential run, the governor has recently been touring the country in a what many have assumed is a prelude to an official campaign announcement.
The Politico article says that Florida Republicans are frustrated because DeSantis has been demanding that legislation "considered integral" to his national presidential campaign be quickly pushed through the legislature.
Most recently, the governor been busy positioning himself as a right-wing "culture war" champion, pushing a number of anti-transgender bills, signing a six-week abortion ban and continuing his battle against Disney after the company criticized his "Don't Say Gay" law.
With only weeks left in the legislature's current session, Florida lawmakers have not passed a bill to repeal or alter the state's "resign to run" law. The move would be a crucial precursor to DeSantis announcing a presidential run, if he intends to remain governor while campaigning.
DeSantis has been losing ground to Trump before the race officially gets underway, with recent GOP primary polls showing him being defeated by the former president by wide margins.
Trump has also been overwhelmingly winning the battle for endorsements, including among Florida Republicans. Only one GOP member of the state's congressional delegation, Representative Laurel Lee, has backed DeSantis.
The former president has racked up endorsements from eight U.S. House members in Florida alone: Steube, Vern Buchanan, Anna Paulina Luna, Matt Gaetz, Cory Mills, John Rutherford, Brian Mast and Michael Waltz.
Steube's endorsement of Trump this week, during a Newsmax interview, included a dig at DeSantis. The congressman said that it "wasn't a difficult decision" to endorse Trump over the governor, whom he urged to "finish out his term and support [former] President Trump."
Notably, the endorsement also featured an apparent gaffe concerning Trump, with Steube seemingly referring to him as Donald J. "Chump" on first mention. Trump shared a video clip of the moment to Truth Social, while thanking Steube for his support.