The Stormy Daniels hush money scandal could mark the first time in U.S. history that a former president has ever been arrested.
A Manhattan grand jury is currently investigating payment—$130,000—that Trump allegedly arranged for his former attorney, Michael Cohen, to pay Daniels to keep their alleged affair a secret ahead of the 2016 election.
Amid this, one allegation that's picked up buzz on social media is that Daniels has already said the alleged affair between her and Trump never actually happened.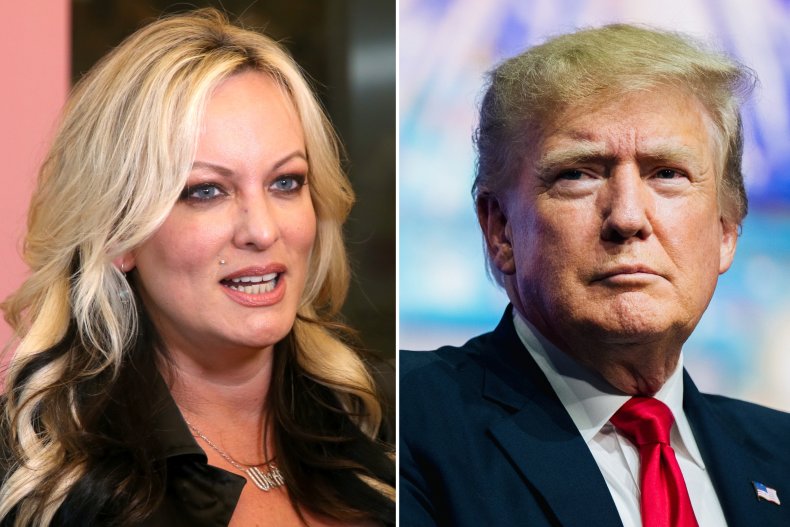 The Claim
A tweet by Benny Johnson, host of The Benny Report on Newsmax, posted on March 21, 2023, stated that Stormy Daniels "never had an affair" with Donald Trump.
The tweet, viewed 3.9 million times, stated: "NEVER FORGET: In 2018, Stormy Daniels said she never had an affair with Trump. In fact, she said it was all made up to get money.
"Stormy lost her lawsuit against Trump and was ordered to pay him $300k for legal fees, and her creepy porn lawyer was sentenced to 14 years in prison."
The Facts
While it is true that in January 2018 a statement was released that stated Daniels said there was no affair, there's unmentioned context that invites doubt.
Following the release of that statement, Daniels appeared on Jimmy Kimmel Live!, in which she was asked "Did you sign this letter that was released today?"
"I don't know, did I?" Daniels replied, later adding: "That doesn't look my signature, does it?"
Daniels also said she "did not know where" the statement came from.
While Daniels' attorney later contradicted her comments on Kimmel, reported The Guardian, in August 2018 she then told Anderson Cooper that the statement from January was "untruthful" and the claim that the affair never happened was "a lie."
Daniels told Cooper that she signed it because she was pressured to do so by her former attorney and business manager who "made it sound like I had no choice."
Cooper said: "You thought that there would be some sort of legal repercussion if you didn't sign it?"
Daniels replied: "Correct. As a matter of fact, the exact sentence used was, 'They can make your life hell in many different ways.'"
Outside of the January 2018 statement, it does not appear that Daniels has repeated the claim that the affair didn't happen.
Furthermore, Daniels has repeatedly made statements in which she confirms that she did have relations with the former president in 2006.
Replying to a claim that she framed Donald Trump, Daniels tweeted on March 21, 2023: "Sooo…tiny paid me to frame himself? You sound even dumber than he does during his illiterate ramblings. And I won't walk, I'll dance down the street when he is 'selected' to go to jail."
In another from March 20, 2023, in which she refers to Trump as "tiny," Daniels tweeted: "My night with tiny wasn't filmed."
Furthermore, in a 2011 telephone interview with In Touch, the transcript of which was verified by The Washington Post, Daniels went into significant detail about her alleged tryst with the former president, many years before the hush money story broke.
Trump denies wrongdoing and denies having an affair with Daniels.
While some, including Johnson, believe that Daniels was just trying to make money, the timeline of statements, denials, contradictions, and new statements makes it difficult to say with certainty what actually happened, nevermind motivations.
However, the claim that Daniels said she never had an affair requires additional context which Johnson did not provide.
The interest in Daniels and the prospect of Trump's arrest connected to the hush money probe has led to other misleading claims published on social media.
It was claimed earlier this week that Trump has successfully sued Daniels when, in fact, the former president has never sued the adult film actress.
Newsweek has contacted representatives for Donald Trump and Stormy Daniels via email for comment and reached out to Benny Johnson via his website.
The Ruling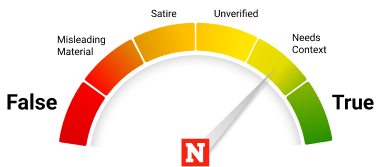 Needs context.
While Daniels, in a statement in January 2018, said that she did not have an affair with Donald Trump, she later rescinded those comments, saying that she was forced to release the statement after the hush money story first came to life.
In an interview with Anderson Cooper, Daniels said she was told her life would be made "hell in many different ways" if she didn't sign the statement.
FACT CHECK BY Newsweek's Fact Check team