Fact Check: Did Joe and Jill Biden 'Fail to Salute Marine'?
President Joe Biden's handling of classified documents has led to probing questions about White House protocol and whether procedures were followed to ensure the security of recently unearthed papers.
With a Department of Justice investigation underway to determine the circumstances, Biden's attorney confirmed on Saturday that even more classified documents had been found inside the president's Delaware home.
However, it's not the only of Biden's behaviors to face scrutiny, as social media users shared a video showing the president not saluting back at a marine as he arrived in Washington D.C. earlier this week.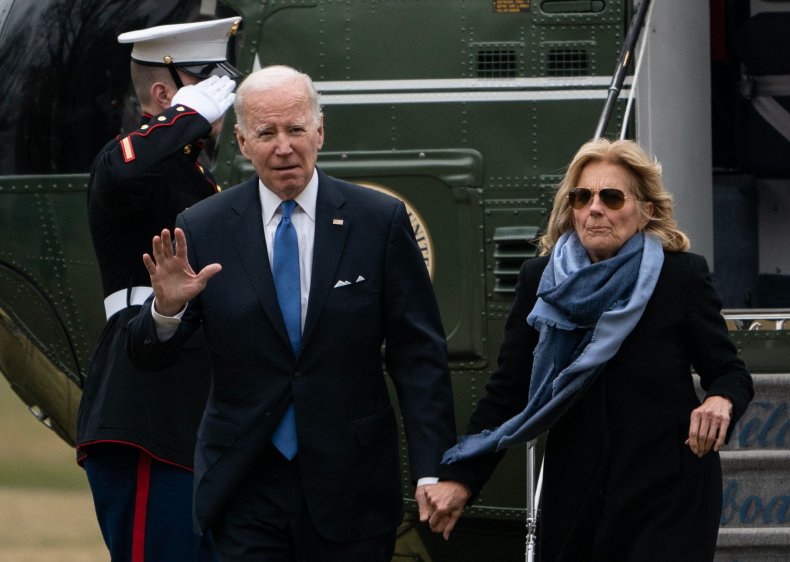 The Claim
A tweet posted by Pat Brody, who describes himself on Twitter as a "Free Speech Advocate" and a "Political & Economic Analyst", on January 23, 2022, showed a video of the president and First Lady Jill Biden not saluting a marine as they arrived at the White House on Monday.
The video shared by Brody, which has been viewed more than 822,000 times, was reposted by multiple Twitter users.
User Joel Fischer, who has almost 70,000 followers, wrote: "No one disrespectes our great military more than the Biden's."
The Facts
The video was filmed on January 23, 2022, as the president returned from Delaware over the weekend. Snippets of the same clip were used in an ABC World News Tonight segment about the classified documents story.
The footage, which has also been posted in full on YouTube, shows the president arriving at the White House south lawn, from a Marine One helicopter to a gaggle of reporters.
It's plain that neither he nor the first lady saluted the marine as they left the helicopter. Some of the Twitter users who shared the video said that he had failed to salute, suggesting he and/or the first lady were meant to. But this is misleading.
There is no protocol that requires the president, the first lady, or other members of the White House to salute, either when disembarking from a Marine One helicopter or elsewhere.
Brian Adam Jones, a former marine correspondent and co-founder of the military veteran forum Task & Purpose, wrote in 2014 that there is no regulation stipulating that presidents must salute.
"In fact, for the first 192 years of our republic, it didn't happen," Jones wrote.
"None of the first 38 commanders in chief did it. And some of those dudes had some serious military experience. Eisenhower? Grant? I mean, Teddy Roosevelt was a war hero.
"Surely he felt compelled to click his heels together and cut a perfect knife-handed salute when he passed a uniform service member, right? Wrong."
Jones, citing Rachel Maddow's 2011 book Drift, said the practice was started by President Ronald Reagan in 1981.
At the time, military aide and marine officer John Kline worried whether it was appropriate that the president had begun saluting uniformed service members.
An excerpt, quoted by Jones, reads: "Kline suggested he talk to the commandant of the United States Marine Corps and get his advice, and the commandant's advice ran something like this: You're the goddamn president. You can salute whoever you goddamn well please.
"So Ronald Reagan continued saluting his soldiers, and he encouraged his own vice president and successor, George H.W. Bush, to do the same. And every president since has followed."
Although it hasn't been mandated since then, the custom has nonetheless been observed by Reagan's successors.
In 2013, former President Barack Obama came off a helicopter he'd just embarked to shake hands with a marine, having not saluted them while boarding.
While Biden did not salute this week, there are multiple videos on YouTube of him doing so on other occasions, including, in 2022, embarking on a flight to Joint Base Andrews, another en route to Walter Reed National Military Hospital, and returning to the White House from Delaware.
It's not the first time that a president has been criticized for salute behavior, despite there being no mandated protocol.
This tradition landed Obama in hot water in 2014, when he saluted a Marine while he holding a coffee cup in his hand, as reported by CNN among others.
Newsweek has contacted the White House for comment.
The Ruling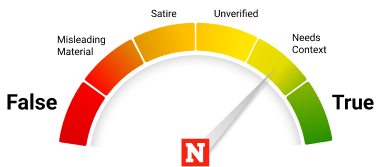 Needs Context.
As the video online plainly shows, neither president Biden nor first lady Jill Biden saluted a marine waiting outside a helicopter at the White House earlier this week. However, the practice is a non-mandatory tradition that Joe Biden has honored on multiple other occasions.
FACT CHECK BY Newsweek's Fact Check team