Immigration at the Mexican border with the U.S. remains a policy focus for Washington with the White House introducing new plans to deter unlawful crossings, despite pushback from some Democrats.

A traditional area of conservative support, it was also among a range of claims that Donald Trump mentioned as he moved forward with his 2024 presidential run.
Recalling his time in office, the former president also mentioned negotiations with the Mexican government where he claimed he managed to secure thousands of Mexican soldiers to patrol the U.S. border.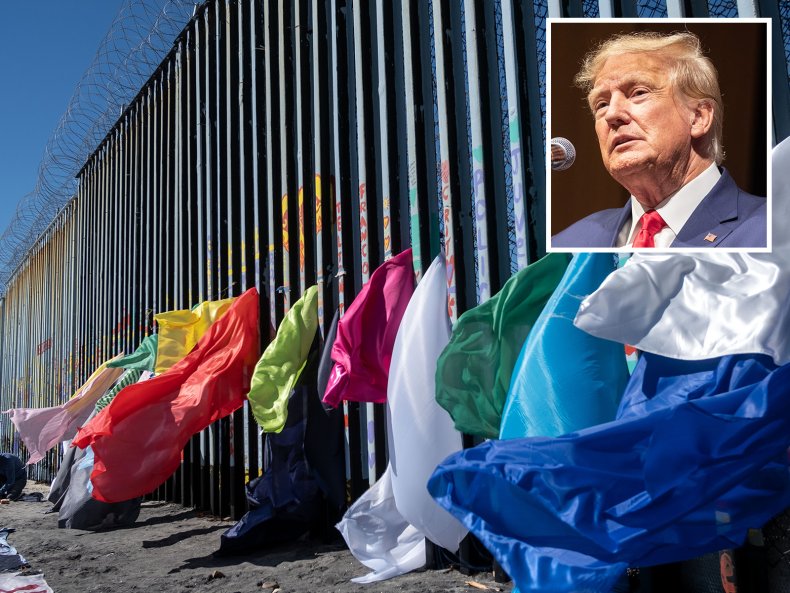 The Claim
A YouTube video, posted on January 28, 2023, shows former president Donald Trump saying at a rally in South Carolina: "Strongest border, by the way. How important is that? Strongest border in history. We built hundreds and hundreds of miles of wall, we got Mexico to give us 28,000 soldiers free of charge, no cost, and we had the greatest border in history."
The Facts
This is a figure that Trump has quoted before in reference to a trade and security agreement signed between the U.S. and Mexico in 2019.
The agreement states that "Mexico will take unprecedented steps to-increase enforcement to curb irregular migration" following threats by Trump to impose new tariffs on Mexican imports.
Mexico also agreed to what was known as the Remain in Mexico policy, which required asylum seekers to wait for their claims to be processed in Mexico rather than in the U.S.
At an April 2022 rally in Delaware, Ohio, Trump referenced both the border agreement and Remain in Mexico (erroneously as "Stay in Mexico"), alleging to have demanded from the country's "highest representative" (under Mexican president Andrés Manuel López Obrador) 28,000 troops.
Claiming to quote the Mexican representative, Trump said: "'We're not gonna give you 28,000 soldiers for free'.
"I said 'Yes you are, because it's now Friday afternoon at one o'clock and on Monday morning at 8 o'clock in the morning I'm putting on a 25 percent tariff, all of the cars that you stole (from) our industry, stole 32 percent, every car that comes into the United States is going to have a tax or tariff of 25 percent.
"And every other product you sell into the United States will be tariffed at approximately 25 percent starting Monday morning at 8 o'clock.
"And he looked at me, he said, 'Sir, it would be an honor to have 28,000 soldiers on the border. It would be an honor to have Stay in freaking Mexico."
Trump then went on to say that the U.S. government managed to retain the 28,000 soldiers for two years after the agreement.
The 2019 agreement did not set out figures detailing troop numbers along the border and stated that the majority would be deployed "throughout Mexico, giving priority to its southern border" with Guatemala.
In a report by the Migration Policy Institute (MPI) think tank, which assessed the agreement, the White House reported that while 25,000 troops in a "new national guard" were created since the tariff agreement, 10,000 were positioned along the southern border of Mexico to Guatemala.
These figures were taken from a (since-deleted) 2019 White House press briefing.
An archived copy, quoting former Acting Commissioner of Customs and Border Protection Mark Morgan, stated: "In addition, since June, Mexico has deployed thousands of troops.
"They've created a new national guard within their country: 10,000 troops to the southern border; 15,000 troops to the northern border with the United States. Again, unprecedented support and cooperation with the government of Mexico."
This latter figure was also quoted separately by the Mexican government; the head of the Mexican army Luis Cresencio Sandoval said it had deployed nearly 15,000 "units" towards the U.S. border, partly consistent with the statement from Morgan.
According to a report by Reuters dated June 25, 2019, Sandoval said there was "a total deployment of 14,000, almost 15,000 units between the National Guard and the Army" in the north of Mexico.
Sandoval said the southern Mexico-Guatemala border had a deployment of 6,500 troops, per the report. That would be a combined total of around 21,500 across the northern and southern Mexican borders.
MPI did not report that 28,000 troops were sent to Mexico's borders and Newsweek could not find any publicly available data which shows that many troops were deployed either.
It's possible that between 2019 and the end of Trump's presidency further troops may have been deployed to help guard the Mexican borders, putting the total at 28,000. But there is no clear, verifiable data to support that conclusion.
The number Trump has quoted isn't entirely consistent either. At a visit to the Otay Mesa Border Wall Site in San Diego, California, in September 2019, Trump put the figure at 27,000. "As you know, right now they have 27,000 soldiers. So, in addition to the wall, we have the soldiers," Trump said.
Although not addressing the 28,000 claim directly, a 2022 article by Spanish language newspaper El Pais said that Mexican president Obrador had "dismissed" comments Trump made discussing the agreement.
"Mexico is being talked about more in the United States and it is important that we Mexicans know why. This year, there are going to be elections in the United States and both parties are trying to put Mexico in their topics of debate," Obrador said.
"We are not going to allow any party, or any candidate, to use Mexico as a piñata."
Newsweek was also unable to find other government resources, either from the Mexican or U.S. government which show that a total of 28,000 soldiers was deployed. U.S. Customs and Border Protection was unable to provide data on this point.
In any case, until such evidence comes to light, this claim remains unverified.
Newsweek has contacted Trump's representatives, the White House, and the Mexican government for comment.
The Ruling
Unverified.
After Trump said he would impose tariffs on Mexican goods, the Mexican government agreed to expand migration enforcement.
Trump has since claimed that Mexico deployed 28,000 troops to this end.
Figures from the U.S. government from 2019 stated that Mexico sent 10,000 troops to its U.S. border, with another 15,000 sent to the country's southern border with Guatemala, a total of around 25,000.
But separate figures from the Mexican side said 6,500 were deployed to its Guatemalan border and nearly 15,000 to its U.S. border, a total of around 21,500.
As it stands, there is an inconsistency between the numbers cited by Trump, his former administration, and the Mexican government.
Based on the evidence it has seen so far, Newsweek currently rates the 28,000 figure as Unverified.
FACT CHECK BY Newsweek's Fact Check team