Ex-Russian Commander Explains Why Putin's Success in Ukraine Is Impossible
Igor Girkin, a former Russian commander, explained on Sunday why Russian President Vladimir Putin's success in Ukraine is "impossible" after nearly 11 months of combat.
Putin ordered the invasion of Ukraine on February 24, 2022, aiming for a quick victory against his Eastern European neighbor, widely perceived as having a smaller, less capable military than Moscow. However, Ukraine responded with a stronger-than-expected defense effort that has been bolstered by Western military aid, blunting Russian military gains.
Putin's invasion exposed weaknesses within Moscow's military, opening up opportunity for Ukraine to launch its own counteroffensive in the fall. During these counteroffensives, Ukrainian President Volodymyr Zeleknsky's troops retook thousands of square miles of formerly occupied territory—as Putin increasingly relies on the Wagner Group, a Russian paramilitary unit, to achieve new victories, such as in the battle for Soledar earlier this month.
However, the Biden administration has pushed back on Russia's assertions that it now fully controls Soledar. During a telephone briefing last week, John Kirby, National Security Council coordinator for Strategic Communications at the White House, said that "we do not assess that [the Russians] have actually unilaterally taken both cities," referring to Soledar and Bakhmut.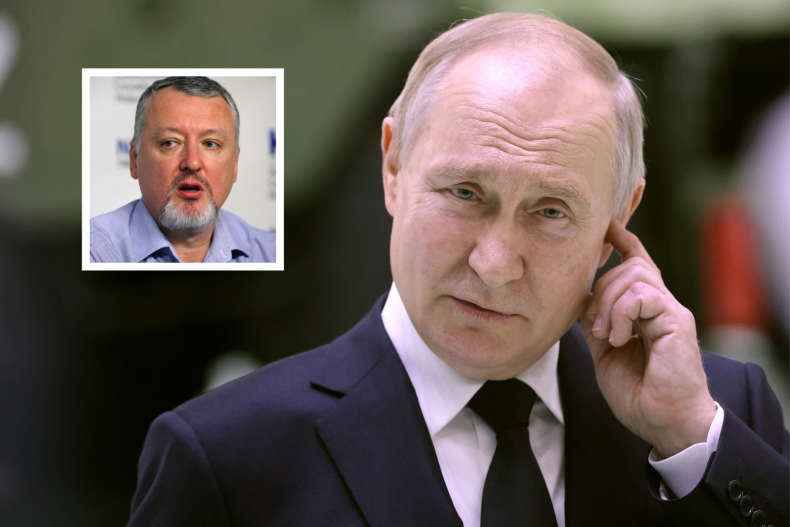 Girkin, who rose to notoriety for his military role in the 2014 annexation of Crimea, revealed in a Telegram post on Sunday the top factor inhibiting Russian success in Ukraine.
The former Russian commander pointed to low morale among Putin's troops as making success "impossible" for the Russian leader.
"The majority of mobilized (and most of the cadre) servicemen of the Armed Forces of the Russian Federation lack the motivation to sacrifice when conducting hostilities against the Armed Forces of Ukraine, since the goals of the war are not only not explained by the authorities, but even not officially defined at all," Girkin wrote.
Although Girkin, a self-described Russian nationalist, does not oppose the Ukraine war, he has grown increasingly critical of Kremlin leadership in recent months as the war stagnates. He added that, because Russia has officially classified the invasion as a "special military operation" rather than a war, leaders are limited in their disciplinary actions.
He explained Russia can deploy elite units for successful attacks "only in very narrow, limited areas," but a larger offensive would require numerical and technical superiority over Ukraine. Still, he said these conditions are "not a guarantee" when faced with "the most persistent and professional" Ukrainian troops.
Due to low morale, an offensive could only be "saved" by Ukrainian troops being in an even worse state, according to Girkin.
"Faced with persistent and skillful enemy resistance, such an offensive will inevitably die out due to the impossibility of the command to force its troops to go into battle with the necessary degree of military prowess," he wrote.
Military Experts Point to Low Morale for Russian Failures
Girkin is not the only expert to attribute low morale to Russia's failure to achieve substantial goals in Ukraine. Morale was seen as a key weakness among Russian troops for months, and has only been made worse by the winter.
"The weather itself is likely to see an increase in rainfall, wind speed and snowfall. Each of these will provide additional challenges to the already low morale of Russian forces, but also present problems for kit maintenance," the United Kingdom's Defense Ministry said in November.
The Institute for the Study of War (ISW), a U.S.-based think think, also assessed last November that morale among Russian troops was "exceedingly low."
"Significant losses on the battlefield, mobilization to the front lines without proper training, and poor supplies have led to cases of desertion," the ISW wrote.
Newsweek reached out to the Russian Ministry of Defense for comment.