Donald Trump's Twitter Return Teased After Mar-a-Lago Meeting
Chaya Raichik, the conservative figure behind the controversial Libs of TikTok Twitter account, appeared to hint that Donald Trump has been discussing a potential return to Elon Musk's social media platform.
Raichik, whose Twitter account is accused of posting content designed to vilify and demonize the LGBTQ community, posted on social media about a meeting she had with the former president on Tuesday night.
"Bumped into this guy and he invited me for dinner. He seems nice," Raichik tweeted while sharing an image of her and Trump at his Mar-a-Lago resort.
In a follow-up tweet, Raichik added: "I asked him if his first tweet back can be retweeting this."
The message seems to tease that Raichik and Trump were discussing how the former president might be willing to start posting on Twitter after more than two years.
Trump was suspended from Twitter in the wake of the January 6 attack over fears he would use the platform, where he had more than 88 million followers, to incite further violence.
Following his $44 billion takeover of the social media company, Musk reinstated Trump's account in November.
However, the former president has yet to post on his formally beloved platform and instead frequently posts on Truth Social, the platform set up by the Trump Media & Technology Group (TMTG) as a direct replacement for Twitter.
Trump has repeatedly dismissed the idea that he will eventually return to Twitter, and has said he is more than happy sharing his thoughts on Truth Social, where he has more than 4.8 million followers.
Devin Nunes, former congressman turned TMTG CEO, also recently declared that Trump "has no interest" in going back to Twitter now his account has been restored.
However, Raichik's tweets arrived days after Rolling Stone reported Trump could be ready to ditch the exclusivity agreement he has with Truth Social as he prepares to up his 2024 presidential campaign.
The deal, which expires in June, requires Trump to post all his social media communications on Truth Social first and "may not make the same post on another social media site for 6 hours," according to SEC filings.
According to reports, citing unmanned sources, Trump is considering not re-signing the deal, meaning he would be free to post his thoughts and opinions first on Twitter, or at exactly the same time as he does on Truth Social, essentially rendering the platform almost redundant.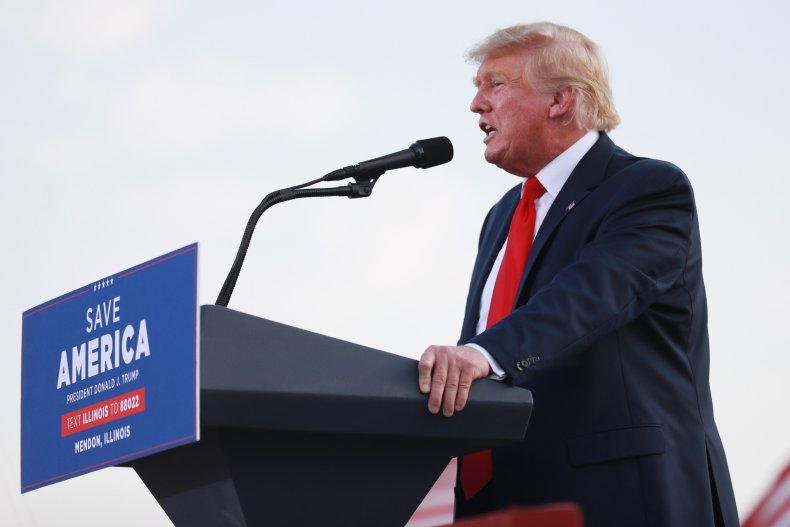 Elsewhere, Meta is still to decide if it will allow Trump back on Facebook after he was also banned from the platform in the wake of the January 6 riot.
Trump's two-year suspension expired on January 7, 2023. The social media company previously said it would then review whether there was a "serious risk to public safety" before allowing the former president's account back.
"When the suspension is eventually lifted, there will be a strict set of rapidly escalating sanctions that will be triggered if Mr. Trump commits further violations in future, up to and including permanent removal of his pages and accounts," Nick Clegg, president of global affairs at Meta, said in a June 2021 statement.
In a January 6 statement on the eve of Trump's two-year suspension ending, a Meta spokesperson told Newsweek that the company "will announce a decision in the coming weeks in line with the process we laid out."
Trump has been contacted for comment.