Donald Trump has repeated his claim that he would be able to end the war quickly between Russia and Ukraine by speaking with Russian President Vladimir Putin.
In an interview with Right Side Broadcasting Network, the former U.S. president once again said that the Russian invasion "would never had started" if he were still at the White House instead of Joe Biden.
Trump added that it would be possible to negotiate an end to the war "within 24 hours"—another claim he has been repeating recently—and that he would be able to do it if he were the U.S. leader.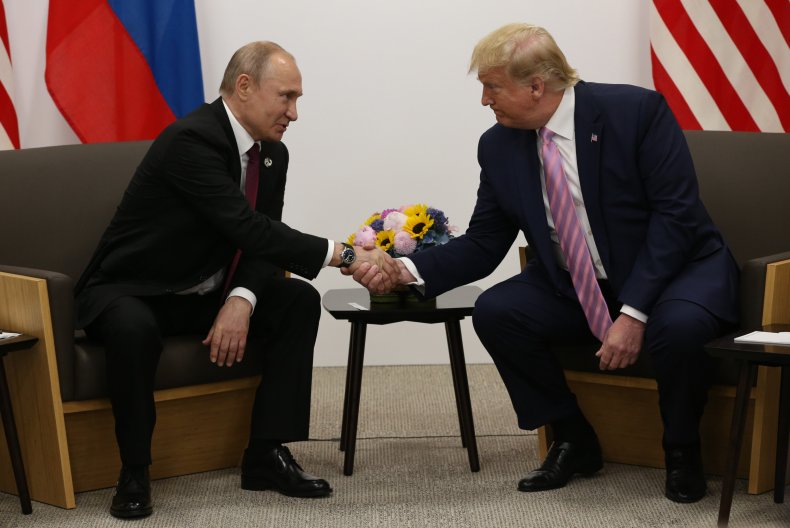 "It should have never ever happened, but it did happen. With that being said, it can be negotiated, I think, within 24 hours," Trump said.
"It really has to be done from the office of the president. And you have to get both in a room, and there are things you can say to each one of them, which I won't reveal now, which will guarantee that this war will end immediately."
Trump described the war in Ukraine as a "horror" and said that the total death toll from the conflict is higher than what is being disclosed.
"They're talking about numbers that are nothing by comparison to what the real numbers are," Trump said. "When they knock down those big apartment houses, and when they knock down cities and they say two people died, or three people were hurt, that's not right.
"I think the numbers are far greater. That will be revealed at a later date," he added. "But we have to do something about it. That war has to stop, and it has to stop now, and it's easy to do."
For nearly a year, Trump has said that the Russian invasion of Ukraine would not have happened if he were still president. He has cited apparent agreements he had with Putin and the lack of respect and fear the Russian president has for Biden.
Trump's boast that he could end the war within 24 hours has been repeated on social media. He also made the claim during his talk at the New Hampshire Republican State Committee's annual meeting in Salem on January 28.
"My personality kept us out of war," Trump told the crowd.
"And I told you before, [it] would have never happened with Russia. Putin would have never, ever gone in. And, even now, I could solve that in 24 hours. It's so horrible what happened. Those cities are demolished now."
In a video posted on his Truth Social Account on Wednesday, Trump said: "If I were president, the Russia-Ukraine war would never have happened, not in a million years.
"But even now, if I were president, I'd be able to negotiate an end to this horrible and rapidly escalating war within 24 hours. You have to say the right things, not the wrong things."