Donald Trump Awaits Georgia Fate as Grand Jury Report Could Be Released
Donald Trump is waiting to hear whether a report by a special grand jury investigating possible criminal attempts to overturn the 2020 election results in Georgia will be made public.
Fulton County Superior Court Judge Robert McBurney will decide on Tuesday whether to unseal a final report from the jury appointed as part of Fulton County District Attorney Fani Willis' investigation.
The special grand jury concluded their inquiry on January 9 after hearing evidence for around six months. If McBurney does decide to unseal the findings, he may still rule that certain parts must be redacted.
The criminal investigation was originally launched to investigate Trump's January 2021 phone call with Georgia Secretary of State Brad Raffensperger where the former president asked him to "find" 11,780 votes to help him beat Joe Biden in the 2020 election.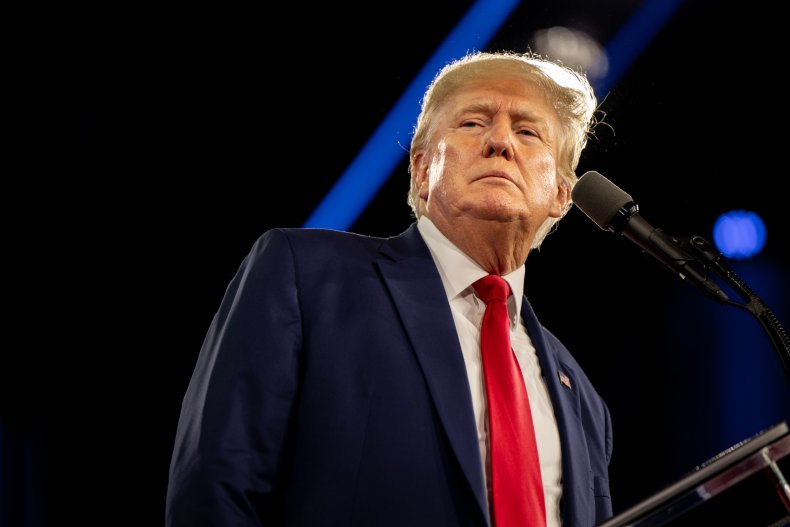 The investigation was later expanded to examine an alleged "multi-state, coordinated plan" by the Trump campaign to influence the results of the November 2020 election, including how a group of Republicans in Georgia had signed a certificate falsely stating that Trump had beaten Biden in Georgia.
While the special grand jury worked on the report, which is likely to include recommendations on criminal prosecutions, the potentially historic decision on whether Trump should be charged in connection to attempts to overturn the 2020 election results will ultimately fall to Willis.
Anthony Michael Kreis, a constitutional law professor at Georgia State University, said that any recommendations from the special grand jury will "play heavily" in Willis' decision whether to prosecute Trump or his allies.
"It is hard for Willis to decline to prosecute if a jury of her constituents—who know best what happened in Georgia over any other body—conclude crimes likely occurred in Fulton County and recommends further action," Kreis told Newsweek.
"On the other hand, should the report not make a recommendation or indicate they do not see a cause for pursuing criminal charges, that gives the office credibility in the public eye to close the case."
Kreis added that the high levels of public interest in the Georgia election investigation mean the report should be made public.
"This is not a run-of-the-mill criminal investigation that does not have larger implications for society on a local, state, and national level," Kreis said.
Trump has repeatedly denied any wrongdoing in connection to the Georgia investigation, accusing it of being a "witch hunt" against him and describing his phone call with Raffensperger as "perfect."
Trump echoed this sentiment in a series of posts on Truth Social on Tuesday morning, where he also repeated the false claim the 2020 election was "rigged and stolen."
"My phone call to the Secretary of State of Georgia, and a second call which the Marxists, Communists, Racists, and RINOS don't even want to talk about, were 'PERFECT' calls," Trump wrote. "Many people, including lawyers for both sides, were knowingly on the line. I was protesting a RIGGED & STOLEN Election, which evidence proves it was. I won Georgia by a lot, but only needed a small number of votes from that total number."
In a statement ahead of Tuesday's hearing, Trump's legal team in Georgia said they will not be present in Fulton County, noting that the special grand jury never subpoenaed Trump or asked him to voluntarily answer questions as part of their investigation
"We can assume that the grand jury did their job and looked at the facts and the law, as we have, and concluded there were no violations of the law by President Trump," attorneys Drew Findling, Marissa Goldberg and Jennifer Little said.
A number of Republican figures did testify under oath as part of the investigation, including South Carolina Senator Lindsey Graham and Trump attorney Rudy Giuliani.