Florida Governor Ron DeSantis dismissed an attack against him by former President Donald Trump amid anticipation over their expected 2024 presidential clash.
While he has yet to formally enter the race for the 2024 GOP nomination, DeSantis is heavily rumored to be announcing his campaign in the spring and has been a rising star in the party since becoming governor of Florida in 2019. Trump, meanwhile, was the first candidate to declare for the race back in November and currently leads most confirmed and hypothetical candidates in numerous polls, though some have put DeSantis in the lead.
DeSantis is currently conducting a nationwide tour for his new book and has been making stops in states known for hosting critical early presidential primary races, including Iowa and New Hampshire. On Monday, he was interviewed by Fox News host Brian Kilmeade, who asked if he is worried about entering the race and fending off attacks from Trump. Kilmeade noted that the former president has recently called the Florida governor "a Paul Ryan, Jeb Bush-type of Republican," implying that he is not sufficiently conservative enough to satisfy the party's base.
DeSantis, chuckling as the question was posed, dismissed the issue and said that his political accomplishments would outweigh nicknames from Trump.
"So when you have a record of achievement, people can call you a name, but that's not gonna trump the achievement," DeSantis said. "And so we've built an astounding record of achievement, the best is yet to come, we're gonna do a lot more over the next few months, and that's what people look to."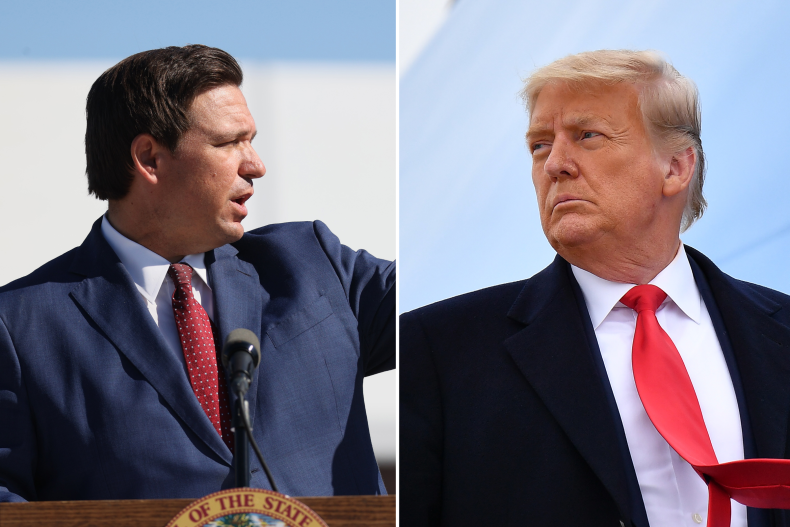 The governor continued: "Now if I was just like you know, some random maybe like a senator that didn't have accomplishments, then maybe someone could try to define you, but I'm defined by my accomplishments, I'm defined by leading this state, and I'm defined by having a state which is the number one destination for Americans who are looking for a better way of life. And so what I think you'll see over the next few months is that by doing, that is the best thing I can possibly do not only for this state, but for people looking at me and sizing me up."
Despite endorsing DeSantis's gubernatorial run in 2018, Trump has become increasingly hostile toward him as the prospect of his presidential run has heated up. In a post to Truth Social, Trump declared DeSantis to be "RINO [Republican in Name Only] GLOBALIST," and has reportedly been testing derogatory nicknames to use against him on the campaign trail.
Newsweek reached out to Trump's campaign communications team via email for comment.