Florida Governor Ron DeSantis might have a leg up on former President Donald Trump when it comes to the voters Trump struggled to reach in 2020, new polling suggests.
Five recent surveys show DeSantis ahead of President Joe Biden among independents—a group that helped Biden defeat Trump in the 2020 presidential election. When it comes to independent voters, DeSantis has an average lead of 12.4 percentage points over Biden, with his advantage varying from 4 to 21 percent.
In 2020, it was Biden who scored well among those voters. He led Trump 52 to 43 percent among independents and those who affiliated with other parties, according to a 2021 analysis of the electorate by the Pew Research Center's American Trends Panel.
Pew's data shows that Americans who voted for Trump or Democrat Hillary Clinton in 2016 remained loyal to their parties, but shifts among suburban voters and independents notably "helped Biden a little more than Trump."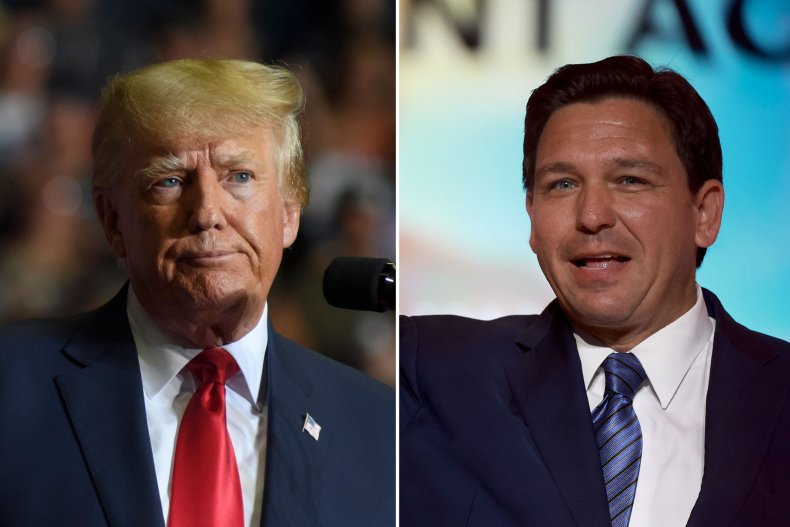 Independents might have been instrumental in Biden's 2020 victory, but recent polling suggests that those voters might swing Republican in 2024 if DeSantis, who has not officially announced a presidential bid, wins the GOP nomination.
A survey released by Quinnipiac University last week found DeSantis leading Biden 50 to 41 percent among independents in a hypothetical matchup, with 5 percent undecided and 4 percent saying they'd vote for someone else, wouldn't vote or refused to answer.
DeSantis had a smaller advantage over Biden, 46 percent to 42 percent of independents, in a Public Policy Polling survey conducted earlier this month but had his biggest lead over the sitting president, 51 percent to 30 percent, in a Yahoo/YouGov poll from early February.
Polls conducted by Echelon Insights and Cyngal in January showed DeSantis up by 16 percent and 12 percent, respectively, among independents.
DeSantis might be shoring up support among independents, but Trump remains the top contender among Republican voters.
Almost every poll conducted this month shows the former president ahead of DeSantis in a hypothetical 2024 matchup, with Trump's lead ranging from 2 to 31 percent with an average of 15 percent across 22 surveys.
Meanwhile, DeSantis had a 13-point edge over Trump in a Monmouth University poll, a 15-point advantage in a survey from OnMessage, a 4-point lead in a YouGov poll and a 7-point margin in a Remington Research Group survey.
Currently, only two high-profile Republicans have launched their bids for the 2024 nomination: Trump and former South Carolina Governor Nikki Haley, who announced her campaign last week. Polls suggest that Haley remains an underdog, with a Harris Poll from last week showing her 38 points behind Trump.
Newsweek reached out to the Trump campaign for comment.