Arizona Representative Ruben Gallego was reading Men's Journal magazine in the spring of 2021 when he came across a piece that caught his eye.
Gallego read about a Democratic city councilman in New Mexico who used to fish with his father, hunt with his grandfather, and was advocating for the protection of wildlife species at the U.S.-Mexico border after founding an organization to encourage Hispanics to access and learn about public lands and waters.
Gallego remembers thinking that his party needed more people like Gabe Vasquez to run for office.
"When I read he was an avid outdoorsman, a hunter, I thought he was someone who could resonate with the traditionally Democratic male Latino voters in New Mexico and elsewhere who have been sliding away from us," Gallego told Newsweek.
Less than two years later, Vasquez won election as New Mexico's newest congressman, representing New Mexico's 2nd Congressional District.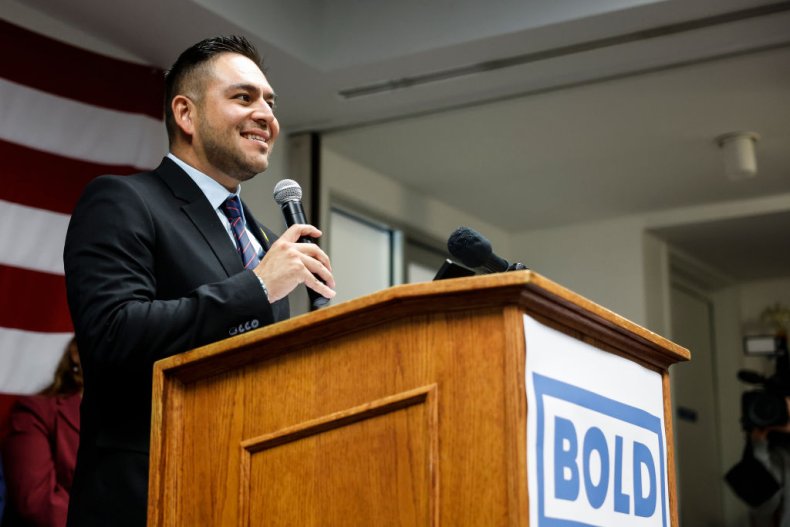 Vasquez's win came at a time when Democrats turned back the prospect of a Republican red wave and saw a record nine new Latino Democrats get elected and join the Congressional Hispanic Caucus (CHC).
But the new year and a 2024 election on the horizon has brought into focus an issue Democrats know they must confront: clawing back support from Latino men who in November supported the party at lower levels than Hispanic women did.
A robust Way to Win poll of 3,600 exit-poll interviews with registered voters who cast ballots in battleground states in 2022 found that while Latinas supported Democrats at a 66% level, support among Hispanic men was only at 58%. Latinos also supported Republicans by 10 more points than Latinas did, 36% as compared to 26%.
"A lot of the problem has to do with a lack of urgency Democrats put towards working-class issues," said Chuck Rocha, a former senior advisor to Bernie Sanders, who often talks about his union background working in a tire factory in Tyler, Texas growing up.
"As a non-college educated Latino man, I don't see a lot of me running for office, I don't see a lot of me in the room anywhere," he added. "I don't see non-college educated Latino men involved in our party anywhere—not in polling, not in staffing, and not in consulting."
Hispanic Democrats acknowledge the problem, and are starting to urge more Latino men to run for office.
Vasquez said that he learned during his campaign in the largest Hispanic district in New Mexico how important it was for voters "to see a Latino male that looked like them, came from a working-class family, and didn't come from money or from a political family, but was working to achieve the American Dream many of us want."
Vasquez comes from a family of immigrants. His grandfather was a mailman, and Vasquez would eventually join him in selling refurbished TVs and microwaves on the curb to people walking by. It was a uniquely American story, he said, and one that played out along the U.S.-Mexico border.
The story of his background had a similar impact on voters as the Men's Journal piece that showed Vasquez as an outdoorsman clad in camouflage clothing defending wildlife and the use of public lands.
"It goes against the stereotype of what a progressive Latino looks like," Vasquez said, "riding on horseback, on an ATV, who does dozens of miles of hiking."
Colin Rogero, a Democrat who served as media consultant on TV and digital for Vasquez's campaign, said they "threw out the book" on how to typically buy media for campaigns, focusing instead on Spanish-language media and English-language media that Latinos over-index in consuming.
The campaign had to get approval for this new strategy with the Democratic Congressional Campaign Committee, which had traditionally not bought media in a Latino-focused way.
He noted the effectiveness of starting the campaign early and quickly responding to attacks, as they did when they were hit on "defund the police," which led to an ad from the campaign three days later detailing how police department budgets increased during Vasquez's time on the city council.
Rogero said much of the success is based on understanding how to speak to voters. While many Hispanic men still embrace the traditional male family role as father, protector and breadwinner, Rogero said, it's all about communicating what candidates believe in and using effective messengers to do so.
"Latino men don't see enough Latino Democrats to say 'that person represents me,'" he said. "The more they say, 'I get him, that's me, the more successful we'll be.'"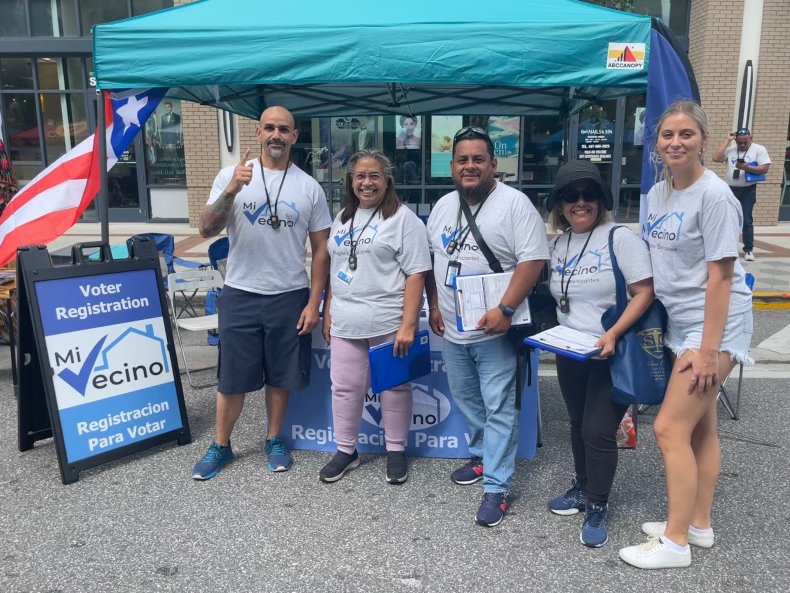 As chairman of BOLD PAC, the political arm of the CHC, Gallego spent $6 million in support of candidates, and is no stranger to making calls urging folks to run. One of those calls last May was to Alex Berrios, who had been a boxer for two decades, and is the co-founder of the data-driven Florida grassroots group Mi Vecino.
"My initial thought to him was to have a whole video of him boxing," Gallego recalled. "Videos of him boxing and looking like a good fighter would contrast with the politicians he would run against, and also when Republicans try to say Democrats are soft on this or soft on that."
While the call was an effort to get Berrios to run for Congress, the Cuban and Puerto Rican organizer just recently decided to run for a different office, that of Florida Democratic Party chair, after Manny Diaz resigned in the aftermath of widescale party losses in the state.
Berrios told Newsweek that Latinos in Florida are tired of seeing candidates that don't look or sound like them, an whom they don't think are going to fight for their rights.
"It's a lot easier to believe someone is going to stand and fight for you if they have a background in combat sports," he said. "Change is hard, a changing of the guard is difficult, but it's necessary."
"I'm sure if you would have asked Blockbuster about Netflix when they were going out of business," he added, "they would have had some bad things to say."
Berrios said that Latino Democrats in Florida saw a lot more crossover to voting for Republican Governor Ron DeSantis than they anticipated, a stark reality that indicates an overhaul is necessary.
"The Democratic Party in Florida is at a crossroads," he said. "They can either survive or sink in 2024, and it needs nontraditional candidates, leadership in ideas, and someone working-class people can identify with."
Devon Murphy-Anderson, who co-founded Mi Vecino and is the former finance director of the Florida Democratic Party, made the comparison to women who traditionally have to be asked repeatedly to run for office because "it's harder to envision yourself in a position when you don't see people who look like you."
Similarly, she said, Berrios can suffer discrimination from people who don't think his background gives him the right experience to be in politics.
"The ironic part is it it qualifies him more, because he understands the demographic the Democratic Party is losing," Murphy-Anderson said, "and that's people who look like him."
An issue that continually comes up in polling and in conversations with Latino Democrats is that Hispanic men care most about the economy, and the Democratic Party messaging has not been effective in addressing those concerns.
The Way to Win poll found that the economy was the top issue both for Latino and Black men, and posited that Democrats must close the gap with voters who prioritize economic issues.
While voters who cared most about abortion or reproductive freedom supported Democrats at a 74% level, and those that cited democracy as the top issue gave Democrats 58% support, voters who saw the economy as the issue of greatest impact supported Republicans 62% to 30% over Democrats.
"Democrats need to become the party of economic mobility and renewal in this post-COVID moment," said Kristian Ramos, a Democratic consultant and Latino vote expert. "We don't have a Latino vote problem, we have a perception that we don't care about people's everyday lives."
"To win in 2024 we have to own this part of the story," Ramos said. "If you want a better job, it's Democrats; a better quality of life, it's Democrats."
Gallego said talking to Latino men about the economy matters, as long as it is done in ways people understand.
"With the infrastructure deal, Democrats were so focused on 'this deal is so great' and all the benefits of it," he said, "but it was going over the heads of many Latinos, including Latino men."
"But when I said, 'This is going to bring a lot of construction jobs,'" Gallego added, "that made sense to them."
Veterans of Latino outreach stress that increasing smart outreach to Hispanic men doesn't have to come at the expense of outreach to Latinas, because it's not a zero-sum game. One senior Latina Democratic operative recalled that it wasn't too long ago that national Hispanic organizations mobilized because the representation of Latinas in Congress was so abysmal.
"Recruiting Latino men to run is just one tactic, but it's the most effective in the short-term because candidates have such a large platform," the source said. "But overall Democrats in general need to talk about the economy, because Republicans have made it their bread and butter issue, even if they don't deliver on it."
Berrios said that in Florida the party sent out many mailers on abortion and other issues, but not enough of them addressed economic issues.
"Even though Biden delivered on infrastructure, jobs, and the unemployment rate," he said, "folks didn't know that."
Still, Gallego and Vasquez stressed that their hope of more Latino men running for office isn't a gambit for high testosterone "machista" candidates trying to outdo opponents with how "manly" they are. Such an effort, they said, would end in failure.
"During the height of the conversation around women's reproductive rights, I consistently said that being a Latino male and Roman Catholic, I was raised by strong women in my family and would be unapologetic about fighting for women's rights," Vasquez said. "In Latino families, matriarchs define our values, are often the hardest workers, and take care of us despite difficult upbringings."
Gallego, a Marine veteran who is mulling a challenge to Senator Kyrsten Sinema, laughed when asked if a Latino combat veteran would be joining the race in Arizona, and then offered an intriguing promise.
"I have my BOLDPAC hat on, so time will tell," he said, before offering that he is trying to recruit Latino combat veterans to run for congressional office from other states.
"Looking outside the normal places to find candidates matters," Gallego said. "Not just looking at who the attorneys are or who the members of the Hispanic chamber are, but also retired military personnel and retired police officers, is also who the Democratic Party is."