David Crosby Remembered for His Passion for Life and 'Beautiful Music'
David Crosby, iconic singer-songwriter and founding member of the Byrds and Crosby, Stills, Nash & Young, has died at age 81, his representative confirmed to Variety on Thursday.
The rock 'n' roll pioneer's cause of death has yet to be released.
Crosby launched his music career in 1964 with the Byrds alongside Roger McGuinn and Gene Clark, moving on in 1968 to form Crosby, Stills & Nash, which won the 1969 Grammy for best new artist after the group's eponymous debut album.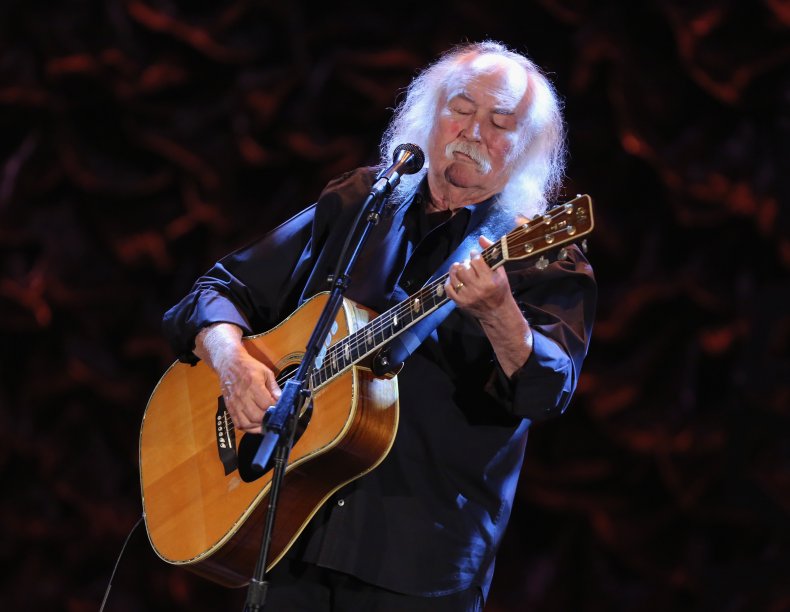 The influential voice of 1960s and '70s rock was inducted into the Rock & Roll Hall of Fame twice—as a member of the Byrds in 1991 and for Crosby, Stills & Nash in 1997. Crosby also dabbled as an actor during his career, appearing in the 1990s films "Hook," "Thunderheart" and "Backdraft."
Crosby, Stills & Nash eventually expanded to Crosby, Stills, Nash & Young with the addition of award-winning singer-songwriter, Neil Young. However, as Variety reported, the "constant clash of egos" within the supergroup ultimately led to the band dismantling in the 1970s, though the four members would "regroup sporadically" over the years.
Graham Nash, Crosby's good friend and former bandmate, posted a tribute to the late musician on his Instagram account Thursday night, writing that his note was written "with a deep and profound sadness."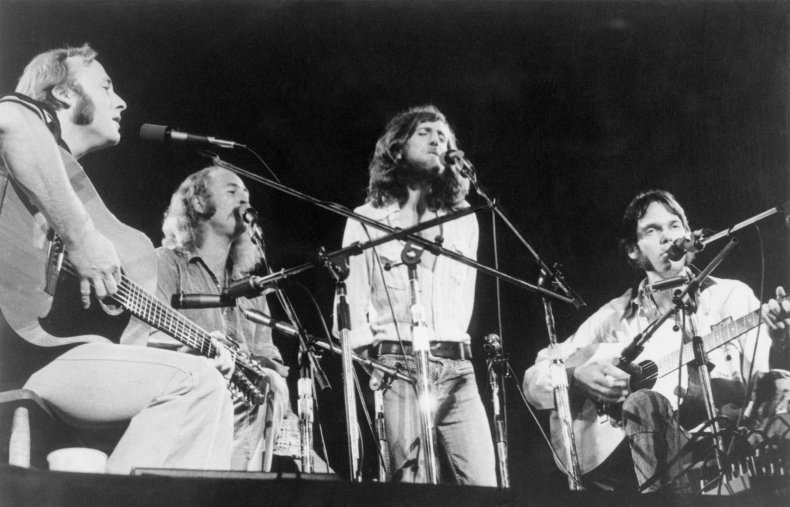 "I know people tend to focus on how volatile our relationship has been at times, but what has always mattered to David and me more than anything was the pure joy of the music we created together, the sound we discovered with one another, and the deep friendship we shared over all these many long years," Nash wrote.
"David was fearless in life and in music. He leaves behind a tremendous void as far as sheer personality and talent in this world," he continued. "He spoke his mind, his heart, and his passion through his beautiful music and leaves an incredible legacy. These are the things that matter most."
Public relations executive Danny Deraney, who had previously represented Crosby, also posted in remembrance of Crosby's career on Twitter, along with a clip of a Crosby, Stills, Nash & Young performance.
Brian Wilson, co-founder of the Beach Boys, also shared a photo of himself and Crosby on Twitter Thursday, writing that he was "heartbroken" by the news of Crosby's death.
"David was an unbelievable talent – such a great singer and songwriter," Wilson wrote. "And a wonderful person. I just am at a loss for words."
Singer-songwriter Melissa Etheridge also paid tribute to Crosby, who was the biological father of Etheridge's two children, Bailey and Beckett Cypher, through artificial insemination.
"He gave me the gift of family." Etheridge wrote. "I will forever be grateful to him, Django, and Jan. His music and legacy will inspire many generations to come. A true treasure."
Crosby was married to his wife, Jan Dance, for nearly 36 years, tying the knot in 1987. The two had his youngest son, Django, in 1995. Crosby is also survived by his elder son, James Raymond, and two daughters, Erika and Donovan Crosby.