Chinese President Xi Jinping's commitments to Russia during his second day of visiting Moscow were "relatively tempered" compared to those announced by Russian President Vladimir Putin, according to the Institute for the Study of War (ISW).
Xi arrived in Moscow on Monday to discuss China's peace plan to end the war in Ukraine. Beijing has been slowly growing its relationship with Moscow as other world powers, like the U.S., took a stand against Putin for his invasion of Ukraine, including by not participating in the economic sanctions imposed by the U.S. and its allies.
During Tuesday's meeting, both Putin and Xi signed the "Joint Statement by the Russian Federation and the People's Republic of China on Deepening Comprehensive Partnership and Strategic Cooperation for the New Era." The Chinese embassy said in a statement regarding the agreement that both world leaders are focused on "settling the Ukraine crisis through dialogue."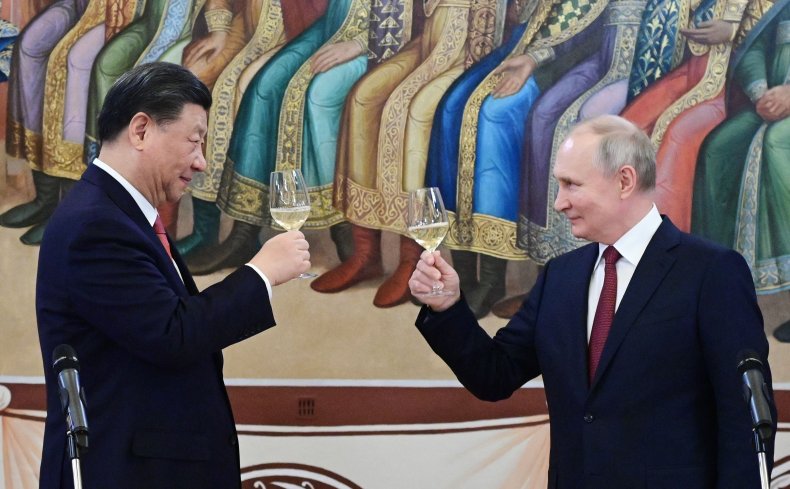 In its latest assessment, the ISW said that the "Joint Statement outlines a variety of bilateral intentions and affirms the commitment of Russia and China to each other's state sovereignty and territorial integrity, among other diplomatic promises."
"The commitments made by Xi and Putin were notably lopsided, however, indicating that Xi is agreeing to a more reserved version of Russian-Chinese relations than Putin likely desires," the think tank continued.
Xi's promises on Tuesday included reaffirming China's commitment to Russia in its position on the United Nations Security Council and reiterating Beijing's hopes of reaching a "political settlement" in the Ukraine war.
"Putin, by contrast, announced a number of measures that signal Russia's continued … dependence on China in the energy and economic sectors, which appear very one-sided compared to Xi's relatively tempered commitments," the ISW wrote.
China's leader also failed to signal any intention of providing Russia with additional support in its invasion of Ukraine. U.S. officials have previously claimed that Beijing is contemplating providing weapons to Moscow, although they have not offered details.
"Putin has likely failed to secure the exact sort of partnership that he needs and desires, and Xi will likely leave Moscow having secured assurances that are more one-sided than Putin intended them to be," read Tuesday's assessment.
"Putin observed that Russia and China had 'a very substantiative and candid exchange of views' on the prospects for the further development of Russian-Chinese relations. Such rhetoric notably lacks the language normally used in diplomatic readouts to indicate that the two parties have come to definitive and substantive agreements."
China did put its support behind Putin on Monday after the International Criminal Court issued an arrest warrant for the Russian president, accusing him of "individual criminal responsibility" in the unlawful transfer of Ukrainian children to Russia, a move that Ukrainian and Russian officials have acknowledged publicly.
A spokesperson for China's foreign ministry, Wang Wenbin, said that the court should "take an objective and just position" and "respect the jurisdictional immunity of a head of state under international law."
Prior to Xi's arrival in Moscow, Putin referred to the Chinese leader as a "good, old friend" in an article for the Communist Party's flagship newspaper, People's Daily, saying that the China-Russia partnership now exists "without limitation or taboos."
Newsweek has reached out to the Russian Foreign Ministry for comment.