Former NFL player Colin Kaepernick is making an example of House Speaker Kevin McCarthy and the city of Bakersfield that he represents in Congress.
A new multi-part documentary coming to Hulu on February 3 called Killing County includes first-person interviews with Bakersfield and Kern County individuals and families plagued by gun violence, officer-involved homicides and other crimes.
Kaepernick, an executive producer on the project, says in the trailer that it "is one of the most powerful projects I've ever been involved with." In a tweet promoting the documentary, he mentions Bakersfield's high homicide and crime rates—calling it a "thriller set in Kevin McCarthy's district."
The trailer includes gunshots, 911 calls, a former police officer, and interviewed individuals calling the city a "violent place." There are mentions of the city being home to the deadliest law enforcement per capita, and the most officer-involved deaths in the U.S.
Ben Meiselas, a Kaepernick Publishing executive producer and business partner of Kaepernick, told Newsweek the pair inked a deal about two years ago with Disney.
Meiselas was previously a litigator and knew Bakerfield-area families and shared a lot of time with them dating back to 2013. He met Kaepernick, who grew up north of Bakersfield in Turlock, around 2016 through his work as a civil rights attorney.
"It was important for us to produce this very impactful content," Meiselas said. "This project, based on all the kinds of stories and experiences in Bakersfield, was a very unique and harrowing way to shed light on what was taking place there through this prism of the true crime format and genre. It's an area that likes to say it's law and order, but when you dig a little beneath the surface, it's really about breaking the law and complete disorder and chaos."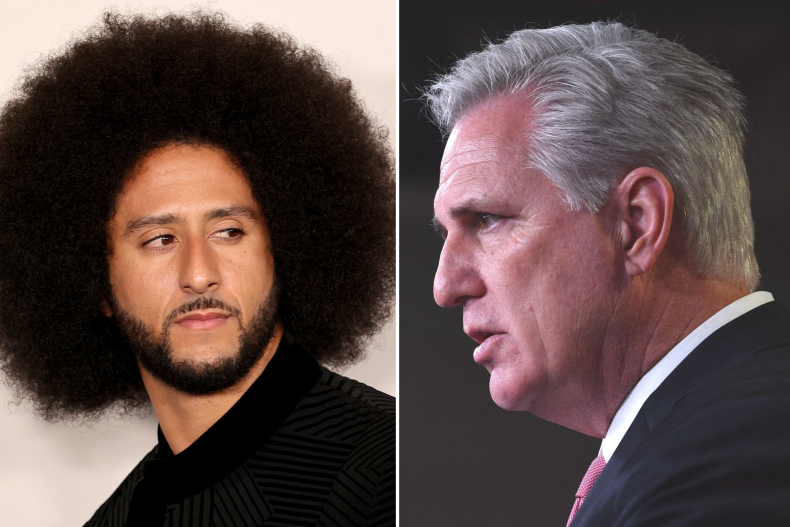 There were 6,216 violent crime offenses in Bakersfield in 2020, according to uniform crime report data compiled by the FBI. That amounted to approximately 692.3 offenses per 100,000 residents, compared to a national rate of 390.2 similar offenses that same calendar year.
It represented an uptick in Bakersfield's violent crime compared to the year 2019, when 5,567 such crimes were committed. There were increases in murders, robberies and aggravated assaults. Rapes decreased compared to the two previous years.
There were also 27,890 property crimes in Bakersfield in 2020, including 3,658 burglaries, 13,995 larcenies, and 7,537 motor thefts. The total of 3,106 offenses per 100,000 people was higher than the national average of 2,008.2.
Bakersfield's property crime rates in 2020 were at their lowest since similar began being compiled by the FBI in 2012.
The website CrimeGrade.org, which uses artificial intelligence, FBI data and data from Best Neighborhoods, gave Bakersfield an overall 'D-' grade when combining violent, property and other crimes.
A crime occurs every eight minutes on average in the Bakersfield metro area, the website says, and homes without security systems are 300 percent more likely to be robbed. The western portion of the city's metro area is considered safest.
Cal Matters reported in 2021 how Bakersfield, which then had about 380,000 residents, set a record in 2020 with 45 homicides. By November of 2021, that number had climbed to 57 homicides.
That included residents waking up to a homicide nearly every day within the first 15 days of August that year.
The number ultimately reached 60 homicides by year's end and set a new city record, as Bakersfield Police Chief Greg Terry reported during a public safety update to city legislators last April.
An average week in Bakersfield in 2021 included nearly 15,000 calls received, including over 5,600 911 calls. Officers made 262 total arrests weekly, experienced 22 shot spotter activations and 102 auto thefts, and dealt with four assaults caused by a firearm.
"At the end of the day we know that our community is hurting and suffering, our businesses are suffering in a variety of ways, and we're really trying to find new solutions and partnerships that can help us deal with many of these issues that are facing our community," Terry said, according to The San Joaquin Valley Sun.
Last year, McCarthy included anti-crime reforms as part of his and the House GOP's "Commitment to America" agenda. Crime was a major political focus of McCarthy and nationwide Republicans ahead of the 2022 midterm elections, though it did not translate to major electoral victories.
"There is something about demonstrating or showing that this kind of narrative put forward by Kevin McCarthy about other areas and locations—when you start to peel back the curtain of what's going in his district…I think people will be able to draw their own conclusions about whether the statements he makes are generally accurate of his hometown and his own district," Meiselas said.
Among oddities Meiselas described in Kern County is that the sheriff is also the coroner, which he said further increases questions related to death investigations.
About one year ago, Kaepernick started an autopsy initiative that provides free second autopsies to families.
"I think there's a lot of moments within this [documentary] where the viewers' mouths will drop, even within the first 10 minutes," he said. "There's a lot of twists and turns; all of this really happened. It will be told from the perspective of those who lived it."
When asked if the Bakersfield Police Department or anyone from McCarthy's office participated, Meiselas said both entities initially expressed interest but then changed their minds last minute before interviews were conducted.
Newsweek reached out to the Bakersfield Police Department and Speaker McCarthy for comment.