Former New Jersey Governor Chris Christie, a Republican, spoke out for the first time on Sunday about the historic indictment of former President Donald Trump.
On Thursday, a grand jury voted to indict Trump following an investigation by Manhattan District Attorney Alvin Bragg's office into an alleged "hush money" payment of $130,000. The money was paid by Trump's former lawyer, Michael Cohen, to adult film star Stormy Daniels to keep her quiet ahead of the 2016 presidential election about an affair she claims she had with him in 2006.
The former president has denied having an affair with Daniels and has maintained his innocence in the case, accusing prosecutors of engaging in a politically-motivated "witch-hunt." Prosecutors, however, believe the payment violated campaign finance laws. In the wake of the news, numerous Republicans have come to Trump's defense and decried Bragg's investigation, including his potential 2024 rival Florida Governor Ron DeSantis.
During a Sunday appearance as part of a roundtable discussion on ABC News's This Week, Christie took a less defensive stance than many of his GOP colleagues about the indictment. Christie, who was once a staunch ally of Trump, is best known for serving as the governor of New Jersey from 2010 to 2018, and for his failed 2016 presidential bid. He is also suspected to be planning another White House bid for 2024.
Responding to a question about his silence on the indictment from host George Stephanopoulos, Christie said he wants to see the contents of the indictment first, which remain sealed.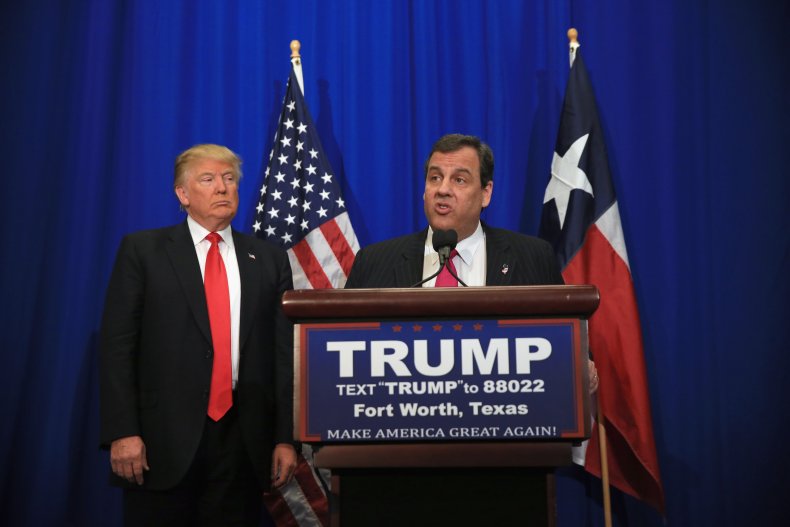 "I'd like to read it first," Christie said. "One thing I found really amazing on both sides of this, is that people are willing to comment on the efficacy of an indictment before [they've] even read it. Having done this for seven years, I feel like you should at least do that."
Christie did say that he questioned Bragg's pursuit of the seven-year-old case against Trump and whether or not it served the safety of people in Manhattan, given his limited prosecutorial resources. He also, conversely, dismissed Trump's rhetoric in response to the indictment.
"All this bravado from the Trump camp is bologna," Christie added. "He's going to be charged officially on Tuesday. He's going to have to be mugshotted, fingerprinted and he's going to face a criminal trial in Manhattan, and he's not going to be able to avoid it."
The indictment against Trump is expected to be unsealed once he is arraigned on Tuesday. Some reports, which cannot be confirmed, have suggested that the indictment includes 34 counts related to business fraud, one of which could be a felony.
Newsweek reached out to Trump's communications team for comment.