President Joe Biden is facing a wave of criticism after deciding against shooting down a Chinese spy ballon that has reportedly been hovering over the country for days.
Officials have been tracking the high-altitude surveillance ballon since it entered U.S. airspace, according to Reuters. Biden chose against firing at the balloon, which was spotted over Montana on Wednesday and Thursday, after consulting with the nation's top military brass.
"President Biden was briefed and he asked military to present options," a senior administration official told Newsweek on Thursday. "It was the strong recommendation by [Secretary of Defense Lloyd] Austin, Chairman [of the Joint Chiefs of Staff Mark] Milley, the Commander of Northern Command, not to take kinetic action because of risk to safety and security of the people on the ground. President Biden took that recommendation."
The official noted that similar activities had been observed in the country "over the past several years, including prior to this Administration," while asserting that the president had "acted immediately to protect against the collection of sensitive information."
"Currently this balloon has limited value from an intelligence collection perspective," the official added. "We are taking all necessary steps to protect against foreign intelligence collection of sensitive information."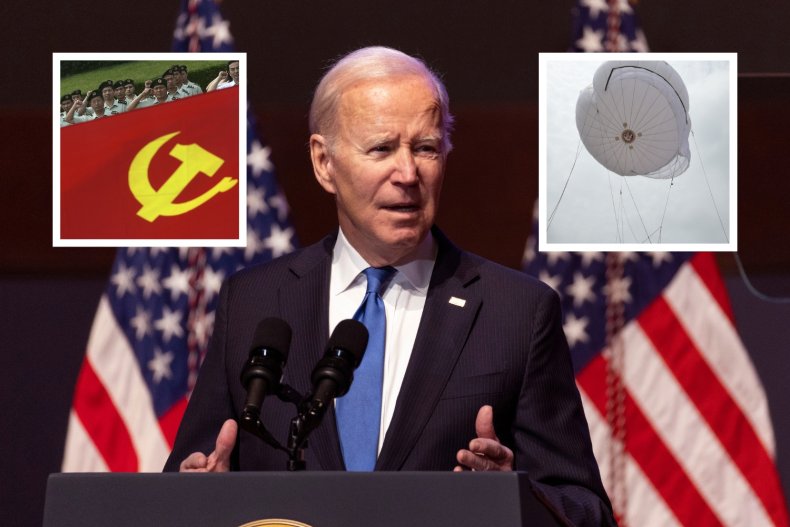 Regardless of the administration's explanation, Republican lawmakers and other prominent conservatives were quick to lash out at the president for allowing the balloon to remain in the air. Some argued that the situation "never" would have unfolded if former President Donald Trump were still in office.
Republican Speaker of the House Kevin McCarthy demanded a "Gang of Eight" intelligence briefing on the matter, while tweeting that Biden "cannot be silent" about China's actions.
"China's brazen disregard for U.S. sovereignty is a destabilizing action that must be addressed, and President Biden cannot be silent," McCarthy tweeted. "I am requesting a Gang of Eight briefing."
"Biden should shoot down the Chinese spy balloon immediately," tweeted Georgia GOP Representative Marjorie Taylor Greene. "President Trump would have never tolerated this. President Trump would have never tolerated many things happening to America."
"Why won't Biden shoot down the Chinese spy balloon that is currently flying over the United States?" Tennessee Republican Senator Marsha Blackburn tweeted. "The Chinese Communist Party is a threat to our existence."
"How on Earth is Beijing Biden allowing a CCP military balloon to fly freely over Montana?" tweeted Arizona GOP Representative Andy Biggs. "Biden is a feckless commander in chief."
"China is laughing at President Joe Biden," tweeted conservative writer Carmine Sabia. "A suspected Chinese spy balloon in United States airspace. Imagine them attempting that with any other president."
"The Biden Administration is allowing a foreign communist enemy (China) to fly a surveillance balloon over our country to spy on American citizens," failed Republican congressional candidate Robby Starbuck tweeted. "In a sane world everyone involved would be impeached and/or fired and the balloon would be shot down."
"The Pentagon said the quiet part out loud," tweeted conservative activist and commentator Jack Posobiec. "The CCP can send spy balloons over our nuclear silos and we will do nothing Bc we are owned"
Republicans have recently been warning that the U.S. might not be ready for a potential war with China, although there have been no clear indications that a war is likely soon.
Montana, where the surveillance balloon was most recently spotted, is home to one of the country's few nuclear missile silo sites at Malmstrom Air Force Base, although it was not clear that the balloon had flown over the base or was on course to do so.
Secretary of State Antony Blinken is reportedly expected to travel to China within days, although the trip has not been officially announced by the State Department. It is unclear whether the spy balloon incident will have any impact on his travel plans.
The balloon is not believed to currently pose any threat to people on the ground. A senior defense official told reporters earlier Thursday that the U.S. had "engaged" with Chinese officials over the matter.