A senior Chinese official offered "no apology" during a meeting with U.S. Secretary of State Antony Blinken in the countries' first face-to-face since the spy balloon was discovered and eventually shot down by the U.S. military.
During an interview Saturday on NBC News' "Meet the Press," Blinken said of his meeting with Wang Yi, director of the People's Republic of China CCP Central Foreign Affairs office: "There was no apology. But what I can also tell you is this was an opportunity to speak very clearly and very directly about the fact that China sent a surveillance balloon over our territory, violating our sovereignty, violating international law.
"And I told him quite simply that that was unacceptable and can never happen again," Blinken added of the meeting with Wang on Saturday on the sidelines of the Munich Security Conference in Germany.
The Chinese balloon was first detected entering U.S. airspace over the Aleutian Islands in Alaska on January 28 and crossed the country before it was shot down off the coast of South Carolina on February 4.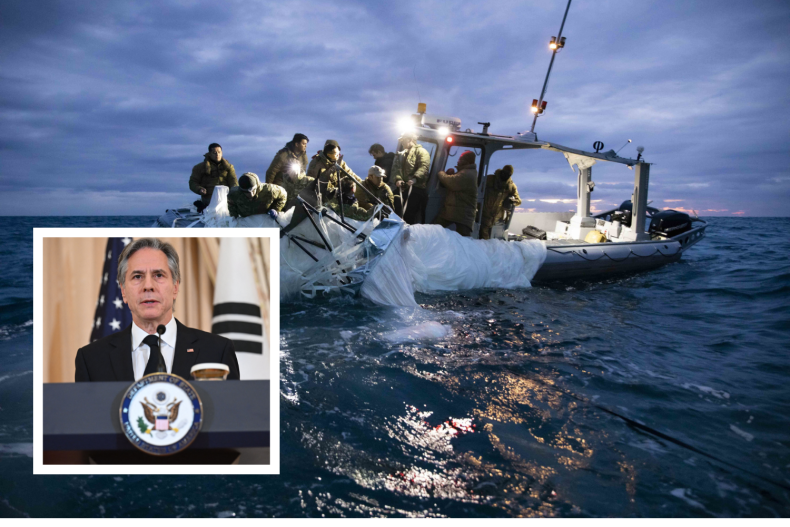 Wang—a former long-term foreign minister who was promoted to Beijing's 24-member Politburo last year, according to the Hong Kong-based, Alibaba-owned South China Morning Post—slammed the U.S. for "excessive use of force."
He urged the U.S. to "change course, acknowledge and repair the damage that its excessive use of force caused to China-U.S. relations," according to a statement from Chinese state media, which referred to the controversy as the "so-called airship incident.
Wang slammed the U.S. response to the balloon, which Beijing insists was a weather monitoring device, as "weak" and "near-hysterical," according to Politico, and accused the U.S. of warmongering.
Blinken's meeting with Wang came amid rising diplomatic tensions between the U.S. and China as President Joe Biden is trying to balance his administration's desire to maintain "open lines of communication" with Beijing amid growing bipartisan uproar about the balloon, according to NBC News. Blinken's scheduled trip to Beijing earlier this month was postponed in response to the balloon incident.
In the interview, Blinken also said he is concerned that China is aiding Russia in the war in Ukraine, which will reach the one-year mark on February 24. NBC News exclusively reported Saturday that U.S. officials believe China might be providing Russia nonlethal military assistance.
Blinken said, according to NBC News, that he told Wang there should be open lines of communication between the U.S. and China: "This is something that the world expects of us — they expect us to manage this relationship responsibly, and so it was important that we had that opportunity this evening here in Munich."
Blinken also said that the U.S. isn't the only nation that has seen Chinese spy balloons.
"More than forty countries have had these balloons fly over them in recent years, and that's been exposed to the world," Blinken said, according to NBC News.
A U.S. Defense Department spokesperson said this month that the balloon was not civilian. Pentagon press secretary Brigadier General Pat Ryder told a media briefing there was no possibility it was a weather-monitoring balloon, as was insisted by Chinese officials.
"I can assure you this was not for civilian purposes. We are 100 percent clear about that," said Ryder, who called the balloon "an intelligence-collection capability." If it were a weather balloon, he said, any "responsible nation" would have notified governments before an errant aircraft crossed into another's sovereign airspace.
"The [People's Republic of China] did not do that. They didn't respond until after they were called out."