China Facing Severe COVID Wave in Holiday Rush—Pandemic Model
China's ongoing COVID-19 surge could be deadlier than estimated as hundreds of millions travel home in the first holiday rush in three years without anti-virus restrictions, according to one pandemic model.
Airfinity, a British health-analytics firm, wrote in its latest report on Thursday that 33,200 people were likely dying of the virus every day in China. This adds up to 674,000 fatalities since early December, when the Chinese government's years-long zero-COVID policy was abruptly and swiftly dismantled.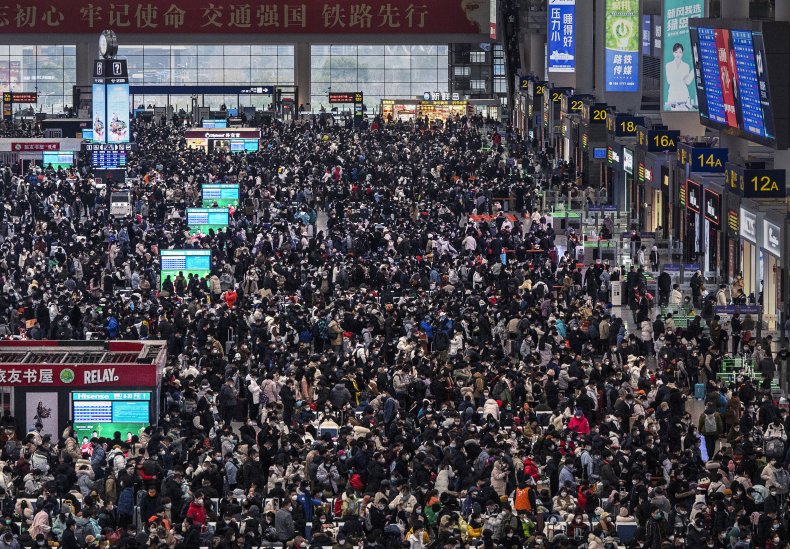 China's daily infections—believed to have peaked last week—had likely reached 4.19 million, or 108 million since December 2022, said London-based Airfinity, which is providing private-sector analysis in the absence of official figures.
Unable to track transmissible dynamics in the country, Beijing is no longer reporting infection data. A senior Chinese health official said on January 14 that 5,503 patients had died of COVID-19-induced respiratory failure between December 8 and January 12, doubling the country's official pandemic death toll to around 10,500 since late 2019.
The official said a further 54,435 people died with a combination of other illnesses, including heart disease and cancer, which China doesn't count as COVID-19 deaths. The World Health Organization (WHO) says Beijing's definition is too narrow and contributing to a heavy underreporting of fatalities.
China's first nationwide outbreak comes amid the world's largest festive travel season known as "chunyun," from January 7 to February 15. This month's holiday rush is the first without strict virus controls including quarantines, lockdowns and mass testing.
The transport ministry expects the Chinese public to make more than 2 billion trips for the Lunar New Year holiday, which is typically marked on the eve of the new year, this Saturday.
The WHO this month warned of the risks of transmitting the disease from urban hotspots to low-risk areas. The U.N. health agency said it had no way of assessing the scale of the outbreak without real-time data from Beijing.
Airfinity's model predicts China's daily COVID-19 deaths will reach a high of 36,000 on January 26, up from its previous estimate of 25,000 a day, followed by a second, smaller wave.
"Our analytics indicators suggest that the virus has spread more quickly to rural areas, partly driven by people traveling for the Chinese New Year celebrations," the report said, predicting "one longer, more severe COVID wave" instead.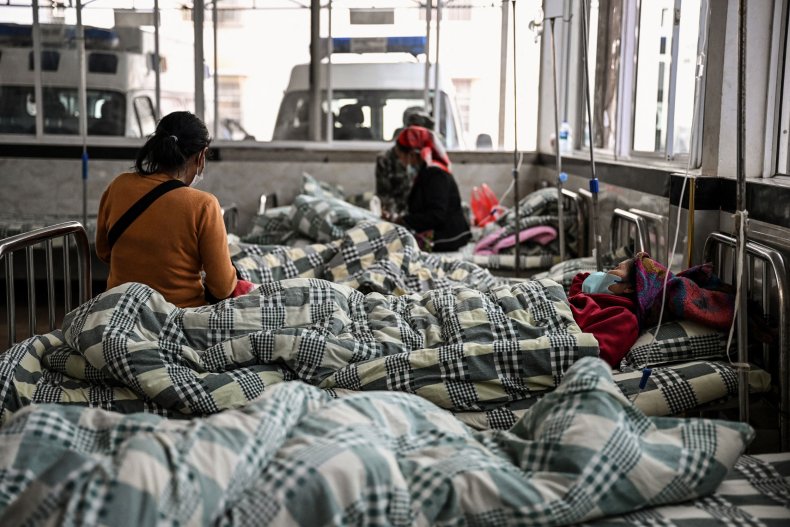 "Some provinces, such as Hubei and Henan, could see patient demand for intensive care beds being six times hospital capacity," Matt Linley, Airfinity's analytics director, said in an accompanying press statement.
"Our forecast estimates a significant burden on China's health-care system for the next fortnight, and it is likely that many treatable patients could die due to overcrowded hospitals and lack of care," Linley added.
The numbers suggest China is experiencing an outbreak that is more severe than America's surge two winters ago, before vaccines were widely available, Linley told Newsweek earlier this January. He said there was the possibility of waning immunity because of Beijing's stalled inoculation campaign.
Just over 491 million of China's 1.41 billion people, roughly one-third, live in rural areas, the country's statistics bureau said this week. Meanwhile, its 2020 national census showed 120 million people over the age of 60 were living in the countryside, where hospitals are underfunded and understaffed.
The elderly population's increased vulnerability to COVID-19 because of pre-existing conditions such as heart and respiratory diseases leaves open the possibility of a deadly wave hitting China's senior citizens in the hinterland in coming weeks.
Do you have a tip on a world-news story that Newsweek should be covering? Do you have a question about China? Let us know via worldnews@newsweek.com.