A cheetah at a zoo in Omaha, Nebraska, managed to escape from its enclosure, forcing staff to activate "emergency protocols."
Omaha's Henry Doorly Zoo and Aquarium officials said there was never any risk to staff or visitors, but an investigation has been launched to determine how the big cat escaped.
The 60-pound, 5-year-old female cheetah—known as Gretchen—somehow found her way out of her primary enclosure. However, the big cat was still behind a barrier separating her from the public.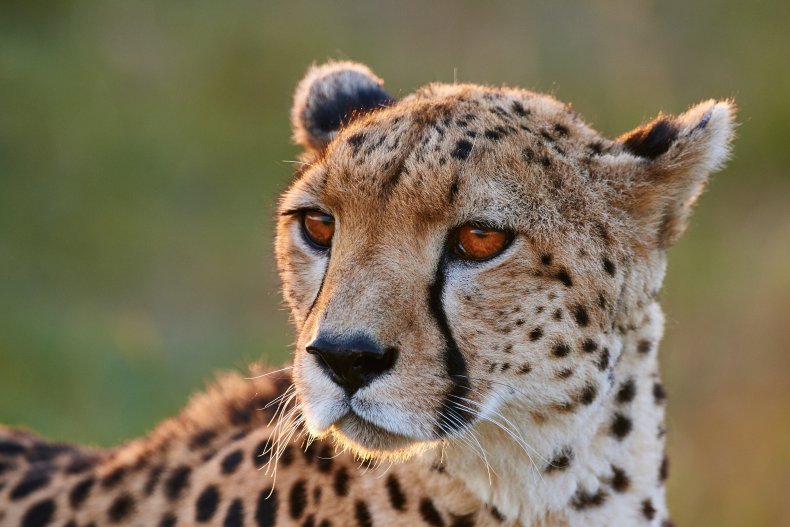 Cheetahs are renowned for being the fastest of all land mammals. These big cats can reach top speeds of around 60 to 75 miles per hour.
Cheetahs can maintain this speed only for a few hundred feet, so there is a short window of time for a successful hunt. Most end in failure. Their prey usually consists of small antelopes, small mammals and birds.
The cheetah is found across a variety of habitats in parts of Africa and Iran, although populations are mainly small and fragmented. The big cat is facing a number of threats, including habitat loss, poaching and human conflict.
At Omaha's Henry Doorly Zoo and Aquarium, officials noticed that Gretchen was outside her enclosure at around 3:40 p.m on Tuesday.
Upon realizing the situation, staff immediately activated "emergency protocols" to ensure the safety of visitors, zoo employees and other animals, a statement said. Staff guided people at the zoo to secure locations, while closing all entry points around the site.
Zoo staff had eyes on the cheetah for the entirety of the time that it was outside its enclosure.
Eventually, the zoo's animal-care team managed to shepherd Gretchen back into her night quarters without any issues or being forced to take special measures.
The zoo has standard operating procedures and protocols in preparation for incidents like this. But officials said an investigation is underway to determine how Gretchen escaped. Staff members are also assessing the part of the zoo where the cheetah lives to prevent such an incident from happening in future.
"The health and safety of our staff, guests and animals is of the utmost priority to Omaha's Henry Doorly Zoo and Aquarium. No person or animal was ever in danger during this incident," Luis Padilla, president and CEO for the zoo, said in a statement. "This is why we prepare with emergency drills so that our staff can act quickly, confidently and safely."
In February, a bear being kept at the Saint Louis Zoo, Missouri, managed to escape from its enclosure twice in one month.
In 2022, an alligator known as "Darth Gator" went viral after escaping from its enclosure during feeding time at Reptile Zoo in Fountain Valley, California.
Newsweek has contacted Omaha's Henry Doorly Zoo and Aquarium for comment.