Celebrities React to Alec Baldwin's Involuntary Manslaughter Charges
In the hours after it was announced that Alec Baldwin will be charged with two counts of involuntary manslaughter in the shooting of cinematographer Halyna Hutchins, a host of celebrities have shared their thoughts.
Baldwin, the star and producer of the movie Rust, is facing the charges in New Mexico after a gun he was holding discharged on the Western's set, near Santa Fe, on October 21, 2021. Hutchins was killed and writer-director Joel Souza injured.
Baldwin has maintained that he was unaware the gun contained live rounds and denied pulling the trigger. But New Mexico First Judicial District Attorney Mary Carmack-Altwies said Thursday he will be charged. Armorer Hannah Gutierrez-Reed, who was in charge of weapons on the set, will also be charged with two counts of involuntary manslaughter.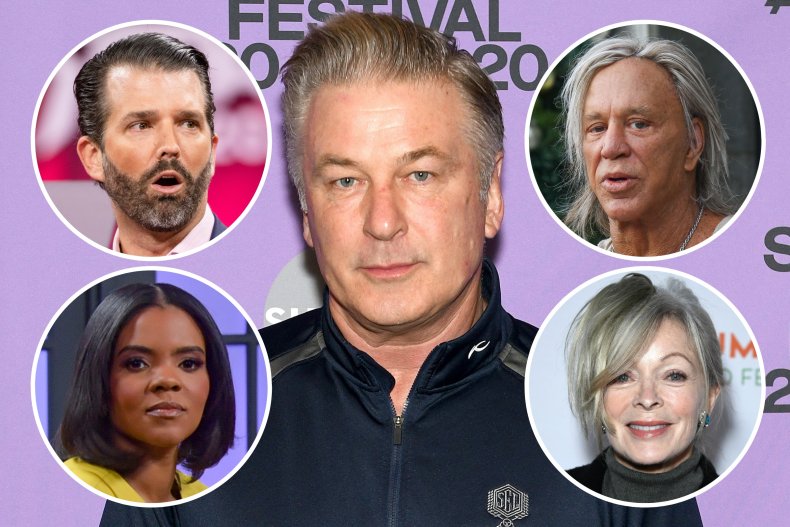 Meanwhile, David Halls, Rust's assistant director, signed a plea agreement for the charge of negligent use of a deadly weapon. He received a suspended sentence and six months of probation.
"After a thorough review of the evidence and the laws of the state of New Mexico, I have determined that there is sufficient evidence to file criminal charges against Alec Baldwin and other members of the Rust film crew," Carmack-Altwies said in a statement. "On my watch, no one is above the law, and everyone deserves justice."
Reacting to the announcement, Baldwin's attorney, Luke Nikas, said in a statement shared with Newsweek that there are plans to fight the upcoming charges.
"This decision distorts Halyna Hutchins' tragic death and represents a terrible miscarriage of justice," Nikas said. "Mr. Baldwin had no reason to believe there was a live bullet in the gun—or anywhere on the movie set. He relied on the professionals with whom he worked, who assured him the gun did not have live rounds. We will fight these charges, and we will win."
As the news circulated, some celebrities weighed in with their thoughts, with some condemning the move to charge Baldwin while others welcomed it.
Baldwin's Rust co-star Frances Fisher spoke out in the actor's defense on Twitter, writing: "Anyone NOT in the industry or who has not worked on a set should STFU—you're showing your ignorance [zipper-mouth face emoji].
"The grandstanding prosecutor doesn't even go after the true culprit: Who put a live round in the gun?‼️ There is NO investigation about that. THAT is the question," Fisher said.
Mickey Rourke counted himself among Baldwin's supporters on Thursday evening. He wrote in a lengthy statement on his Instagram account that it was "terribly wrong" his fellow actor was being charged at all.
"I usually never put my 2 cents in about what happens on someone's movie set. It's a terrible tragedy what happened to a cinematographer Halyna Hutchins. But no way in hell actor Alec Baldwin should be charged with any negligence whatsoever," Rourke wrote under an image of Baldwin.
He added that Baldwin probably would not have known about gun dangers. "Most actors don't know anything about guns especially if they didn't grow up around them. Alec didn't bring the gun to the set from his house or his car, when weapons are involved on a movie set, the guns are supposed to [be] handled only by the 'weapon [armorer].'"
Rourke went on: "No way in hell should Alec Baldwin be blamed for this unfortunate tragedy. Why the powers to be charging Baldwin with this responsibility is terribly wrong. I am sure Alec is already suffering enough over what happened. But to lay a blame on him is terribly terribly wrong."
Film and television writer Robert King also criticized the decision to charge Baldwin, tweeting: "To charge Alec Baldwin as a producer is one thing, but to charge him as an actor seems to misunderstand the chain of responsibility on a movie set.
"If you're charging the actor, you should be charging the director, all producers, prop master, many others. The fact the DA didn't seems to suggest she's trying to make a name for herself."
In a lengthy Twitter thread, Oz and Band of Brothers star Kirk Acevedo said that Baldwin is facing "the most ridiculous charge ever."
"I understand he was a producer but every single producer on the movie should be held accountable for safety measures not being enforced not just Baldwin," he said.
"The majority of those actors never fired a real gun in their lives and those who did still had zero clue on how to properly hold or fire a live weapon let alone the prop weapons we were given," Acevedo added. "It was up to the technical advisors we had on those sets to show us or the armorer."
Noting that opinions on the liberal-leaning Baldwin's responsibility in the shooting appear to have formed along political lines, Acevedo concluded: "What's being lost in this horrific accident… A woman who lost her life, a husband who lost his wife and a young boy who lost his mother. Stop making it political because it's not."
Abbott Elementary star Lisa Ann Walter tweeted that she will urge the Screen Actors Guild-American Federation of Television and Radio Artists (SAG-AFTRA) union to change its safety rules.
"@SagAftra needs to demand use of fake weapons henceforth with effects done in post," she said. "I'll be making the motion at the next National Board Meeting."
On the other end of the opinion spectrum, conservative commentator Candace Owens said it's "great to see" that Baldwin will face charges.
She wrote in a tweet that he "is at long last being charged for killing that young woman. I hope they throw the book at him because he demonstrated dishonesty and utter lack of humility every day thereafter."
Donald Trump Jr., a longtime critic of Baldwin, also showed no sympathy for the actor, who portrayed Donald Trump on Saturday Night Live during his presidency.
Trump's eldest son brought up another Trump adversary when addressing Baldwin's new legal troubles on Twitter, writing: "Maybe Alec Baldwin will be lucky enough to share a cell with Michael Avenatti." The disgraced celebrity lawyer advised adult movie star Stormy Daniels (real name Stephanie Clifford) in her legal case against the former president, whom she alleged she had an affair with.
She-Hulk: Attorney at Law star Ginger Gonzaga tweeted, "As he should be" in response to the New York Times' report about Baldwin facing the involuntary manslaughter charges.
Her take was challenged by DJ Qualls, who commented under her post: "Not sure about this. I've been handed a gun so many times on set and could only trust when they said the rounds weren't live. How would I know? As a producer, maybe he's responsible, but as an actor pulling the trigger, it could have been any of us."
As she engaged in a back-and-forth with New Guy star Qualls, Gonzaga clarified her stance. She said that Baldwin's "failure here and culpability is as a PRODUCER not an actor. And it is the armorer's job to clear guns, and the producer's job to hire appropriate armorers and to not allow live bullets on set and ignore safety warnings."
Country singer-songwriter John Rich also weighed in on the matter on Twitter, writing: "There's no such thing as a gun accident, only gun negligence. #AlecBaldwin."