A cat called Kiwi has left the internet in stitches after a video of her running away from the water at the beach went viral on social media.
In the video, shared on TikTok on Saturday by the cat's owner, under the username Autopilotinglife, the black and white cat can be seen running away from the water, climbing the rocky hills "like a goat."
The hilarious clip comes with a caption that says: "That time we tried to show our cat the ocean." Followed by: "She is happy & fine. She loves the lake so we thought she would like the beach but as you can see…she has never gone back."
Most cats, besides a few species, hate water and anything to do with it, and according to Hill's Pets, there could be two possible reasons for this aversion.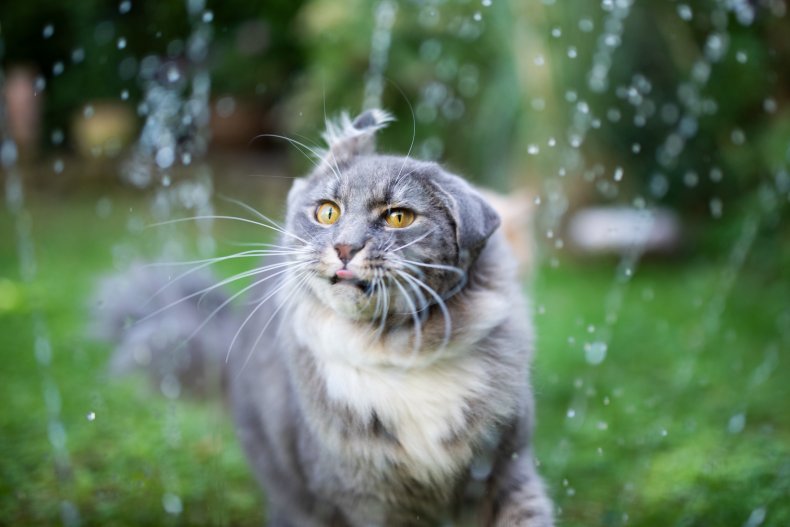 One reason is that cats evolved in arid areas and now feel uncomfortable around water because it's not familiar to them. Another reason is that water just weighs them down and makes it hard for them to groom their fur, and if you have a cat you're probably aware of their grooming obsession.
Even though most domestic cats hate water, there are also a few breeds of household cats that enjoy water occasionally, these include the Maine Coon, Bengal and Abyssinian, among other breeds.
According to Purina, other reasons why cats hate water include the fact that they can smell chemicals in it, and they lack control in the water and would rather stay on land and keep on top of everything.
The video quickly attracted animal lovers from all over the platform and has so far received over 4.3 million views and 717,500 likes.
One user, Kenna Sanford, commented: "She defied physics to get away from water BAHAHAH" And Gabs said: "She was like 'THIS WATER MOVES."
Writer_with_cats said: "kiwi unlocked rock climbing ability." And Laurencia444 joked: "that's half cat half spider bro." GoomyWorm added: "That cat become a mountain goat in a split second."
Another user, Shannon Elizabet1903 joked: "a freshwater kitty." And jadebug1022 said: "Kitty said 'NO thank you!!!" Ethan B283 added: "Why is the water attacking me?! I must run!"
Newsweek reached out to Autopilotinglife for comment. We couldn't verify the details of the case.
Do you have funny and adorable videos or pictures of your pet you want to share? Send them to life@newsweek.com with some details about your best friend and they could appear in our Pet of the Week lineup.