Police recently searched alleged University of Idaho killer Bryan Kohberger's home in Washington State for pictures of the four college-aged victims found stabbed to death in a Moscow home in November.
According to an unsealed search warrant application first reported by the New York Times Wednesday, Whitman County prosecutors filed documents with the Washington Superior Court seeking a wide variety of evidence that could potentially further tie Kohberger to the crime scene.
Items included in the December 29 warrant included any evidence with relevant DNA, knives or "any other sharp tool" that could have been used in the crime, clothing similar to what the suspect was described to be wearing during the killing, as well as "any images"—physical or digital—of victims Madison Mogen, Kaylee Goncalves, Xana Kernodle and Ethan Chapin.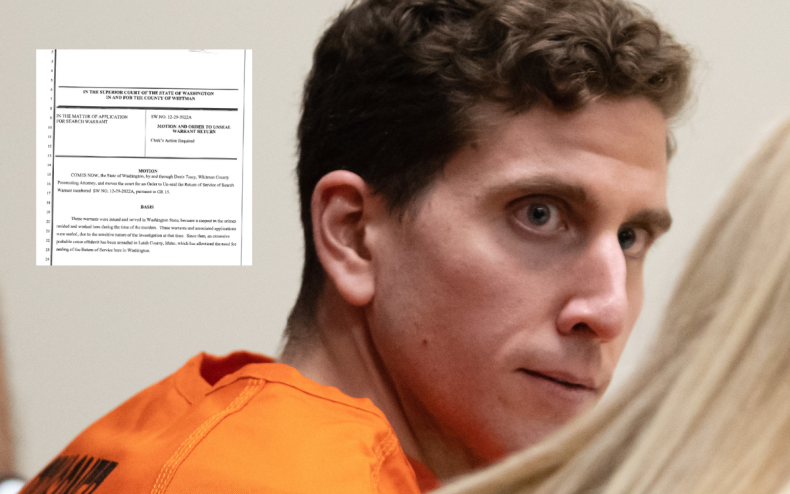 The warrant also included an extensive list of devices as well as account information for Kohberger's social media and other digital accounts amid anonymous claims to outlets, like People Magazine, the 28-year-old graduate student sent direct messages on Instagram to one of the female victims in the case "several times" without a response.
In all, Kohberger allegedly followed the accounts of Mogen, Gonclaves and Kernodle, People reported, but there was no public interaction between him and the victims.
Among the data sought by investigators include anything showing an interest in or planning of "murder, violent assault, stabbing and/or cutting of people" as well as information on the students' 1122 King Street address, cell phone data, and any metadata or information gleaned from messaging apps or any other tools on his phone that could tie him to the victims.
Police have remained tight-lipped about the suspect's possible motivations for the killings as well as the evidence involved. Police claimed after his December 30 arrest at his parent's home in rural Pennsylvania they had been tailing him for weeks after obtaining DNA evidence and a sheath beside one of the college-aged victims' bed—a seemingly clumsy mistake some speculated may have been deliberately left by Kohberger to aid his defense.
Police have also pointed to cellphone tower data seemingly placing Kohberger in Moscow at the time of the killings, though some have suggested it could have been a coincidence given Pullman—where Kohberger lived and attended school—is just 10 miles across the state line from Moscow.
"If it was GPS location coordinates, you're talking down to a meter as to where Bryan Kohberger was at the time of these crimes," Jason LaBar, the Pennsylvania public defender who represented Kohberger after his arrest, said during a recent episode of the Law&Crime Sidebar podcast, "…Obviously, Mr. Kohberger lived within 10 miles of the University of Idaho where these crimes were committed. So certainly he could ping at any moment in time near the actual crime."