A woman has been blasted online after she caved to her husband-to-be's request to not invite her polyamorous friend's partners to her wedding due to his conservative family.
In a viral Reddit post, user Extensioncordhuh explained she would be getting married to Mike, 32, and that they had 250 spaces for guests.
The woman, 25, said she wanted a "storybook wedding" and that her friend Marissa, also 25, had been a huge help when it came to planning and agreed to be the maid of honor.
Marissa said she wanted to bring her three partners, Greg, 24, Brandon, 27, and Ace, 22, who all date one another.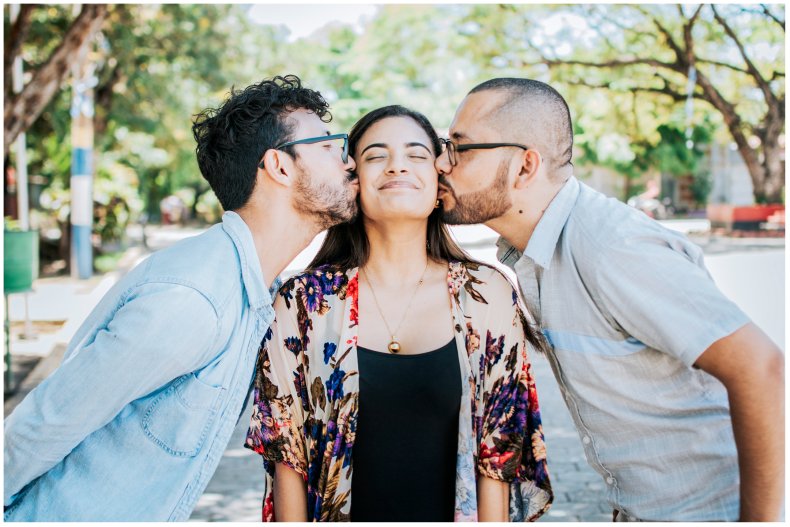 But Mike said he had an issue with her bringing the partners as his family is "very conservative" and that they "hardly accept LGBT people as is, let alone an LGBT polyset."
According to Indiana University's Kinsey Institute for research in sex, gender, and reproduction, polyamorous relationships across the U.S. have increased in the past decade.
The institute said: "The number of people in America who have already been involved in polyamorous relationships is one in nine."
"Polyamorists were as likely to be Republican or Democrat, poor or wealthy, white or Black, on the coasts or in the middle of the country," it added.
The woman said she "agreed reluctantly" and did not include Marissa's partners on her invite, and instead offered their spots to Mike's coworkers.
After posting to Reddit, the woman showed Mike the post and fellow Redditors' comments, with the couple realizing a mistake had been made. They then contacted Marissa and her partners to tell them that they were all invited.
She later admitted: "It's been a huge relief and I think we learned how to communicate better as a couple."
Zoe Burke, a wedding expert and editor of Hitched, told Newsweek that people should think carefully about who they want at their big event.
She said: "Navigating your wedding guest list is always really tricky. I always advise couples to invite who they want there, and not to be swayed by external parties, such as parents or in-laws. It can be really hard to do this—a recent poll of our Hitched community found that 71 percent of couples felt pressure to invite people they didn't want to have there.
"This is kind of the opposite, where they're feeling pressure to miss people off the list—I would say though your guest list needs to reflect who you are as a couple and your relationships with your friends and loved ones. In this instance, I think the couple were wrong to bow down to dated judgment, but it looks like they've recognized this and luckily have been able to solve the problem and save their valued relationships.
"Ultimately, a wedding is just one day, but the memory and the impact lasts a lifetime so you need to think carefully about the choices you make. One day of your in-laws not understanding someone else's relationship dynamics is a small trade-off, vs damaging an important friendship for years to come."
Since being shared on Sunday, February 5, the post has been upvoted more than 11,300 times.
The majority of people who commented on the post were critical of how the woman handled the incident with her close friend.
Reddit user OurMasterAM said: "Intentionally or not, you put the opinion of bigots over the reality of your friends. They likely feel betrayed, especially at the short notice.
"Could Mike's family be given a stern warning instead? Such as 'there will be no comments on people at our wedding. If you cannot keep it to yourself, you will leave?'"
Mystic_Printer_ added: "Her supposed friend who is also the maid of honor and has been a tremendous help during the planning. I would feel so used and disrespected to be blindsided with this in the invite.
"OP (original poster) YTA (you're the *******) already for agreeing and not telling your maid of honor that you've changed your mind about her partners (she was clearly expecting an invite for all three).
"If you've accepted any help since the decision was made you're even a bigger AH (a*****) and if you don't fix this you won't have any chance to salvage your relationship to your friend, if you have any as it is. Your soon to be husband is a bigot. This is not about explaining things to family."
Addangel commented: "It's clear as daylight that the husband is the one who's uncomfortable with the poly relationship, and finding out your 'friends' are ashamed of you through a wedding invite probably feels like a cold shower. I think no matter how the wedding turns out, OP will find herself with four fewer friends afterwards."
Newsweek has contacted Extensioncordhuh for comment.