John Bolton, who served as former president Donald Trump's national security adviser, said Monday that the scandal involving President Joe Biden's handling of classified documents provides Trump with an "incredible gift."
Appearing on CNN, Bolton was asked by host Kaitlan Collins about the FBI's recent search of Biden's home and the seriousness of the investigation regarding the president's handling of the documents.
"I think it's going to get a lot more serious for Biden—the fact that apparently some of these classified documents go all the way back to his Senate days and yet have travelled around with him," Bolton said.
On Saturday, Biden's personal attorney Bob Bauer confirmed that six more classified documents were found during a search by the Department of Justice (DOJ) inside the president's Delaware home. The discovery came after it was revealed earlier this month that records and documents were found in early November at a personal office previously used by Biden. A second set of documents were later found in Biden's garage earlier this month.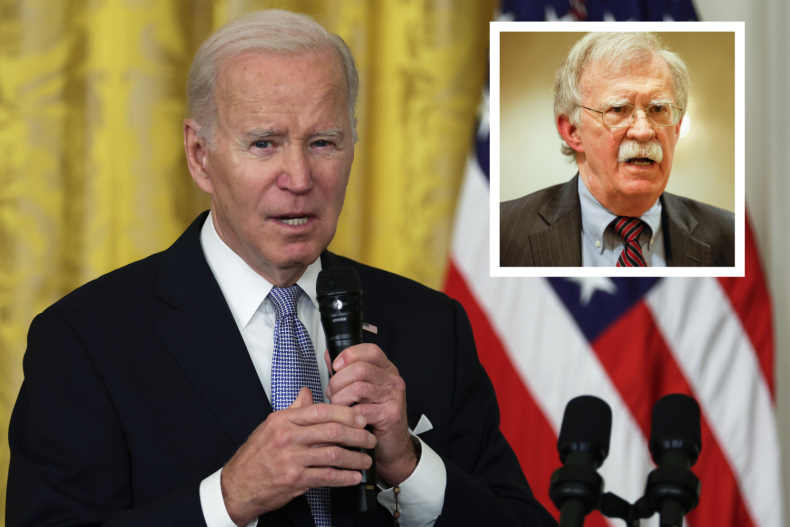 "It's an incredible gift to Donald Trump," Bolton said to Collins of Biden's document controversy.
The total amount of classified documents found in Biden's possession is now said to be between 25 and 30. Meanwhile, more than 325 classified documents were retrieved by agents from Trump's Mar-a-Lago residence last year.
On January 12, Attorney General Merrick Garland announced he had appointed U.S. Attorney Robert Hur as special counsel to investigate Biden's handling of records. The White House said that Biden is working with investigators who are assigned to his case. Trump did not cooperate with the DOJ in regard to his documents, which resulted in the Mar-a-Lago raid.
Collins asked Bolton, who also served as the U.S. Ambassador to the United Nations under then-President George W. Bush, about how Trump has complained of being treated more harshly by the DOJ than Biden.
"Well, they are treating Biden differently because Trump treated the Justice Department differently," Bolton said. "The two are not equal, that's for sure."
Elaborating further on how Biden's handling of classified documents could benefit Trump, Bolton said the case will make any potential criminal charges against Trump less likely.
"I think, politically, Biden's self-inflicted wounds have pretty much absolved Trump from the prospect of prosecution," Bolton said.
He added, "It's hard to prosecute a former president to begin with. I think Biden's errors here make it almost impossible."
Newsweek reached out to the White House for comment.