Angel Reese has become the breakout star of the NCAA Women's Basketball championship. It has been as much to do with her sassy personality as her performances on the court.
The LSU Tigers forward gave the tournament one of its iconic images when she dissed Iowa Hawkeyes' national player of the year, Caitlin Clark, with her "you can't see me" celebration. Reese then pointed to her ring finger in the final moments of the game, with LSU confirmed as national champions.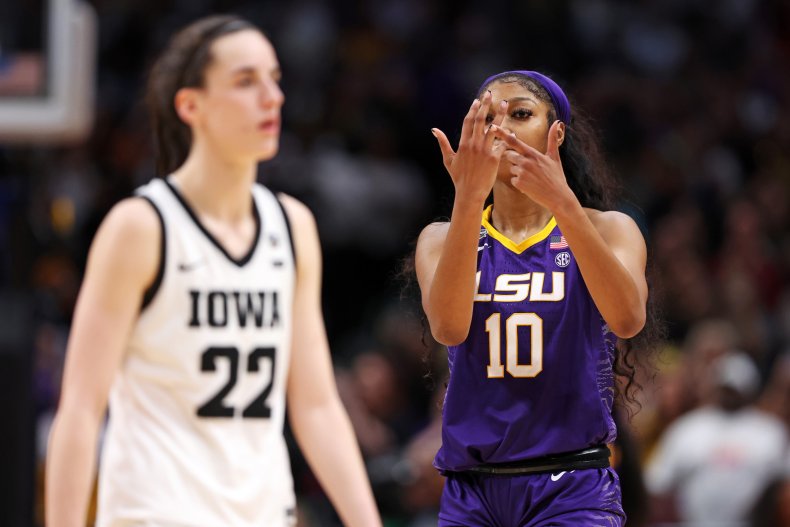 While this has been a whirlwind introduction to Reese, it would seem that her views on trash-talking and the will to win have been something that have been with her throughout her time playing basketball.
Reese has said that, if trash-talking is fine in the men's game, then it is OK in the women's. At the beginning of February, Reese spoke on the subject and said that she would not be kept quiet during March Madness.
Speaking to Gordon McKernan for his Grubbin' With G podcast on February 8, Reese told how she would not hold back in the heat of the moment during a game.
McKernan asked the basketball star: "You brought up this talking trash, right? You've been vocal about it and you've made it a gender issue, men versus women, and 'we're just doing the same thing that the men are doing, and it's accepted over there and when I do it, wow.'"
Reese explained why she felt that it was fine to verbalize during a game: "I've always been like standing on 'Girl Power', women power, being able to do whatever the men can because, of course, growing up with a brother being able to see the things he worked for and I work just as hard as him.
"I've always been on that. I've always stand my ground and not care what people would think about me," she added.
Reese explained that she doesn't fit into the boxes that she believes women are meant to be constricted by.
She added: "I don't fit the image or narrative of what people want to see as a woman and I may not be a lady or act like how you want me to act. But I'm really passionate about the game I love and I really love to play basketball so I'm gonna do whatever it takes to win."
It was the will to win that saw her mock Clark in the final moments of LSU's victory. Reese was unrepentant when talking to the press afterwards, saying that she wouldn't change her style for anyone.
Reese added: "I don't fit in the box that y'all want me to be in. I'm too hood, I'm too ghetto. Y'all told me that all year.
"When other people do it, y'all don't say nothing. This was for the people that look like me," she said.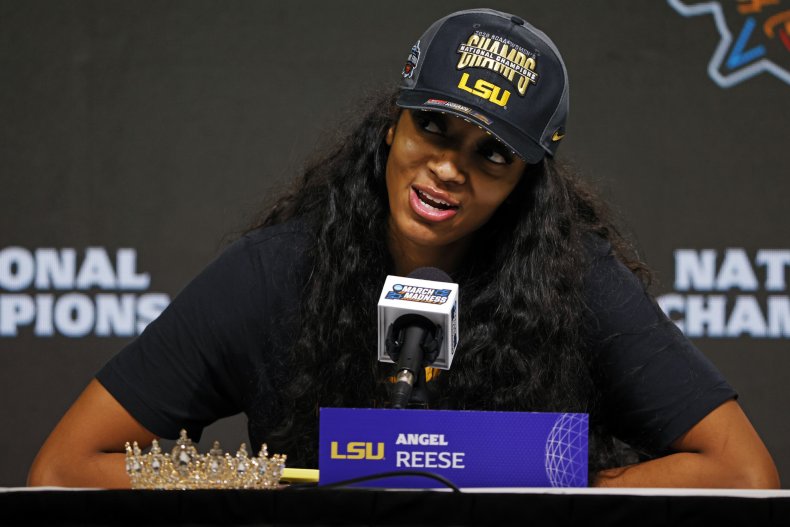 Reese later added in a tweet: "and no I'M NOT KEEPING IT CUTE."
With opinion divided between whether Reese was "classless" and "disrespectful" or whether she is a breath of fresh air for the game, Clark finally responded as the furore continued.
On Tuesday, Clark told ESPN: "I don't think Angel should be criticized at all. No matter what way it goes, she should never be criticized for what she did. I competed, she competed. It was a super, super fun game. I think that's what's going to bring more people to our game."
Do you have a tip on a sports story that Newsweek should be covering? Do you have a question about basketball? Let us know via entertainment@newsweek.com.