Legal analyst Glenn Kirschner celebrated Manhattan District Attorney Alvin Bragg's decision to sue House Judiciary Committee Chairman Jim Jordan and other House Republicans over the investigation of the district attorney's prosecution of Donald Trump.
Bragg's office this month charged the former president with 34 felony counts related to falsifying business records in connection with an investigation into a series of "hush money" payments made during Trump's 2016 presidential campaign. Manhattan prosecutors accuse Trump of attempting to conceal the payments made by his former lawyer, Michael Cohen, who previously pleaded guilty to paying former adult-film star Stormy Daniels $130,000 to keep quiet about her alleged affair with Trump in 2006.
In response, Jordan, a Republican from Ohio and staunch supporter of Trump, announced that his panel would launch an oversight investigation into Bragg's office for what Jordan claims is an "unprecedented abuse of prosecutorial authority." Bragg filed a lawsuit against Jordan on Tuesday, claiming that he was attempting to obstruct a state criminal prosecution.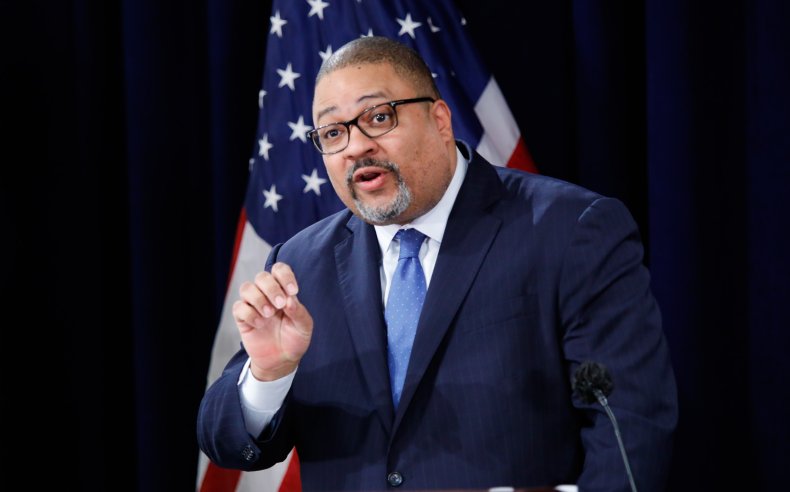 Kirschner, former federal prosecutor, applauded the move by Bragg during Tuesday's episode of his podcast, Justice Matters. Kirschner is a harsh critic of Trump and has closely followed Bragg's prosecution of the former president.
"New York District Attorney Alvin Bragg just took off the gloves," Kirschner said at the start of Tuesday's show. "But not to fight Donald Trump in his criminal case, rather, to fight Jim Jordan, who's trying to obstruct Donald Trump's criminal case."
Part of Jordan's oversight includes a subpoena of former Manhattan prosecutor Mark Pomerantz, who previously headed the district attorney's office investigation into Trump's finances, before resigning in February 2022. Pomerantz, who Jordan said is "uniquely situated" to provide his panel with relevant information, is set to testify before Jordan's committee on April 20.
Bragg previously said that the subpoena was part of "repeated efforts to weaken state and local law enforcement actions" from members of the House GOP.
"Chairman Jordan claims he's seeking to conduct oversight, but he has no power under the Constitution to oversee state and local criminal matters," Kirschner said on Tuesday. "By definition, then, he has no legitimate legislative purpose for issuing this subpoena."
"The subpoena threatens the sovereign powers of the state's confidence in the secrecy of Grand Jury proceedings and the integrity of an ongoing criminal prosecution," he added.
Kirschner concluded his episode by saying that he was glad Bragg "is going hard, using the federal courts to put a stop to Jim Jordan's obstruction of justice."
"And when Jim Jordan is trying to rob the people of New York of their right to justice, their right to see defendant Trump held accountable for committing 34 felonies and violation of the laws of New York, Jim Jordan should be held accountable for obstructing governmental administration," he said.
Jordan said while appearing on Fox News Tuesday that Bragg's lawsuit against the Judiciary Committee is "obstructing our investigation."
"We have a constitutional duty to get to the facts, particularly when you have a district attorney interfering with the most important election we have, which is election of the commander in chief, the president of the United States," Jordan said.
"And understand what happened here. Alvin Bragg used federal funds to indict a former president for no crime," the chairman continued. "And then when we ask questions about it, when we want to investigate, he takes us to court."
Newsweek has reached out to Jordan's communications team via email for comment.