Alaska Governor Mike Dunleavy said that the latest string of intrusions into Alaskan airspace may be a sign of "the new norm" after U.S. officials shot down an unidentified object off the state's coast.
On Friday, the Pentagon took down an unknown object hovering over Alaska less than a week after the U.S. military shot down a Chinese spy balloon off the coast of South Carolina.
While it's unclear where the latest object originated, Republicans have been outwardly critical of President Joe Biden's decision to hold off on shooting down the Chinese balloon last week, which had been discovered in Alaskan airways a few days before the military took action.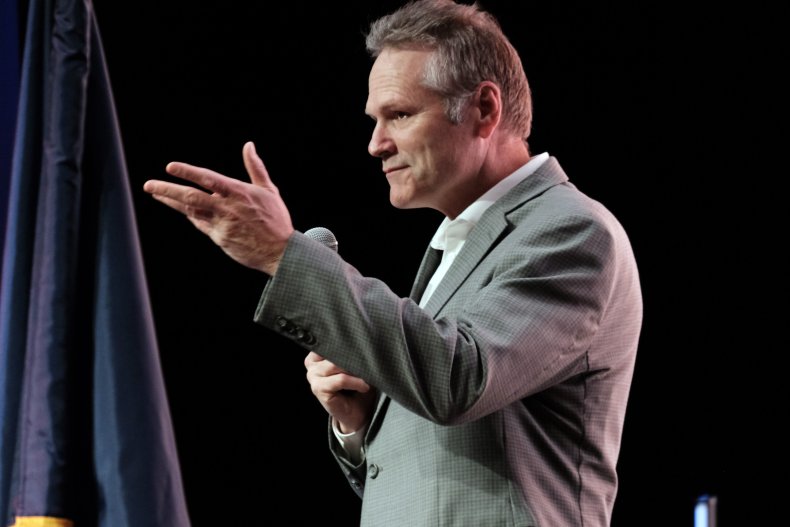 Dunleavy issued a statement Friday in response to the unidentified object shot down in Alaska, and thanked the "Alaska-based military for eliminating the potential threat before it was flying over our land."
"Unlike other states, Alaska is truly on the front lines," Dunleavy added. "Because of our close proximity to our neighbors there is very little margin for error. Russian territory is only a few miles away. We are the one state closest to the Korean Peninsula and China. Alaska is truly on the front lines."
The governor added that Alaska's location means that future decisions about additional intrusive objects "need to be made quickly to preserve the territorial integrity of Alaska and the United States."
"If the last few days are any indication, this may be the new norm and we must be prepared," Dunleavy continued. "The Alaska National Guard is working closely with [U.S. Northern Command] and other agencies to provide any support as requested."
"This latest incident demonstrates that Alaska remains the most strategic place on earth for both geopolitics and national defense," the statement concluded.
White House officials previously said that Biden was advised to not shoot down the Chinese surveillance balloon after it was immediately detected over Alaska out of fear for civilians who could be in harm's way of debris. Defense officials reiterated their argument at a Senate subcommittee hearing on Thursday, saying that the balloon posed a bigger threat to those on the ground than to national security.
But the hesitancy from Biden officials to take action against the Chinese spy device has sparked pushback from some Republicans, who argue that the military could have safely shot down the balloon, given Alaska's sparse population.
On Friday, Alaska Republican Senator Lisa Murkowski told NBC News that the U.S. must "move quickly" in situations that pose a threat to the nation's sovereignty, adding, "If it comes into Alaska airspace, if it comes over Alaska waters, we need to act, we need to send the message and we need to be clear and unequivocal that we don't tolerate this."
Murkowski's colleague, Alaska Republican Senator Dan Sullivan, also posted a thread on Twitter in response to the U.S. military shooting down the unidentified object above his state. He wrote that the U.S. needs "to reestablish deterrence with regard to [Chinese President] Xi Jinping and the Chinese Communist Party which believes they can willfully infiltrate American airspace whenever they want. That has to stop."
"The best way to do this is through the type of actions that we've taken today in Alaska and to publicly reiterate that we will be shooting down any and all unknown aircraft that violate our air space," Sullivan added.
Newsweek has contacted the White House for comment.