After Russian Rocket Attack, Ukraine Army, Aid Workers Rush to Help Dnipro
On the afternoon of January 14, a Russian Kh-22 missile struck a nine-story apartment building in the Ukrainian city of Dnipro. 46 residents were killed, at least 80 were injured, and dozens of survivors were instantly rendered homeless.
In the immediate aftermath of the attack, volunteers set to work housing, feeding, and caring for those directly affected by the tragedy. Among them was an Odesa-based organization, Embrace the Heroes, which, with the help of the Ukrainian Army's 220th Battalion, organized a delivery of food and medical supplies to Dnipro.
Newsweek accompanied them to Dnipro on their mission.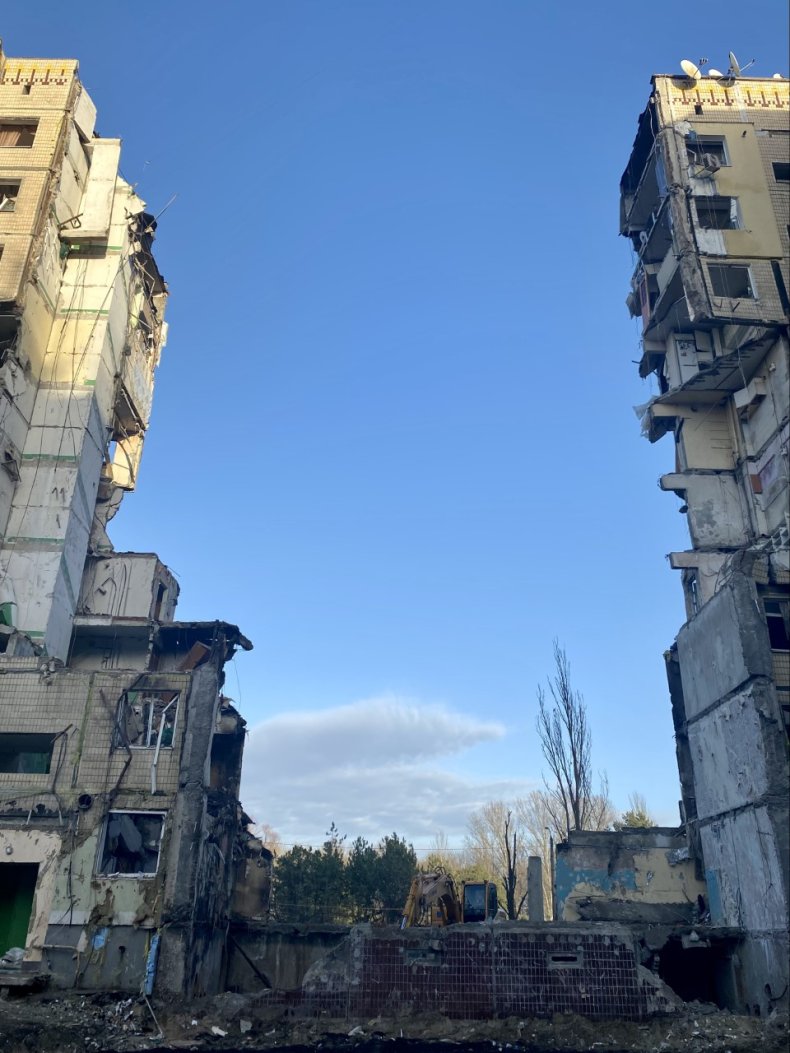 Pots, Pans, and Unbroken Dishes

The Russian strike, which was carried out by a type of rocket which Ukraine's air defense systems are incapable of shooting down, completely destroyed one full section of a large residential block. It also left neighboring apartments severely damaged.
Amid the wreckage, fragments of lives, revealed by the absence of walls, remain on display. From the building's courtyard, kitchens replete with refrigerators, pots, pans, and unbroken dishes are visible.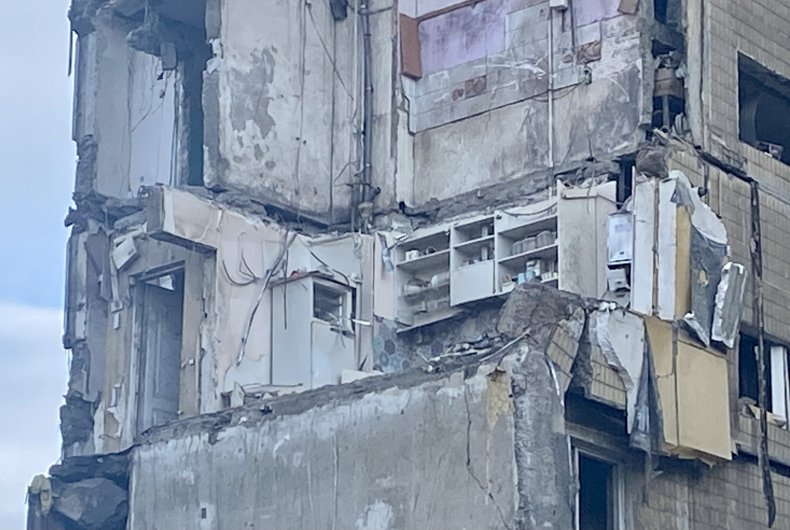 "A closet and a cliff"
Five days after the strike, residents of apartments that were not completely destroyed by the blast were still waiting for police permission to enter the premises in order to retrieve personal items. One of those residents, Gennady, a taxi driver who was on his way home at the moment of the attack, spoke with Newsweek about his experience.
"I lived there—now all that's left of my apartment is a closet and a cliff," he said. "Maybe we can still use a few of the things from the closet. "I lived there for 30 years—it was a good place, a good apartment."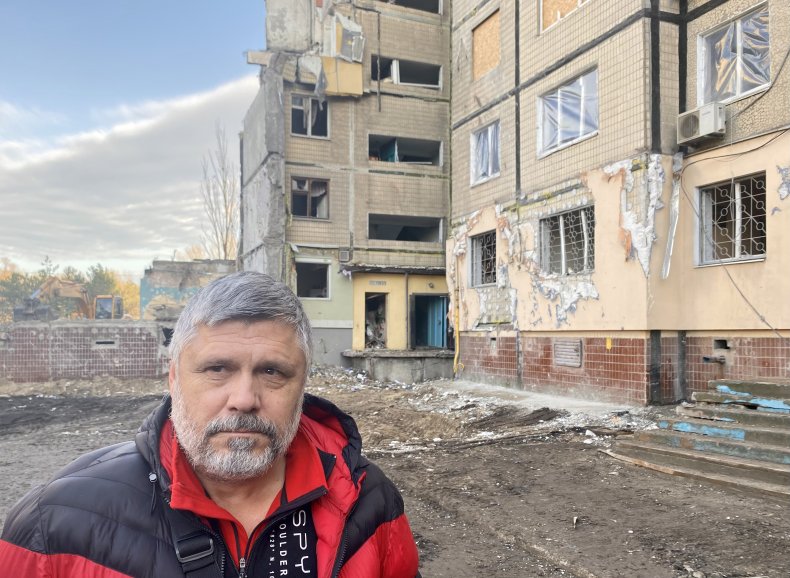 "I had a good dog, his name was Rich," Gennady said. "Rich was killed in the strike. Now we need to find a new place to live."
He said residents are still waiting for assistance from the Ukraine government.
"The state makes promises," Gennady said, "but at least for now, we haven't seen any help from them."
"We're used to this"
In the courtyard of the apartment building, a tent city inhabited by humanitarian aid organizations has sprung up. There, residents can obtain donated food and clothing, along with medical services and psychological consultations. One of the organizations, TAPS, has been active since 2014, when Russian forces first invaded Ukraine's eastern Donbas region.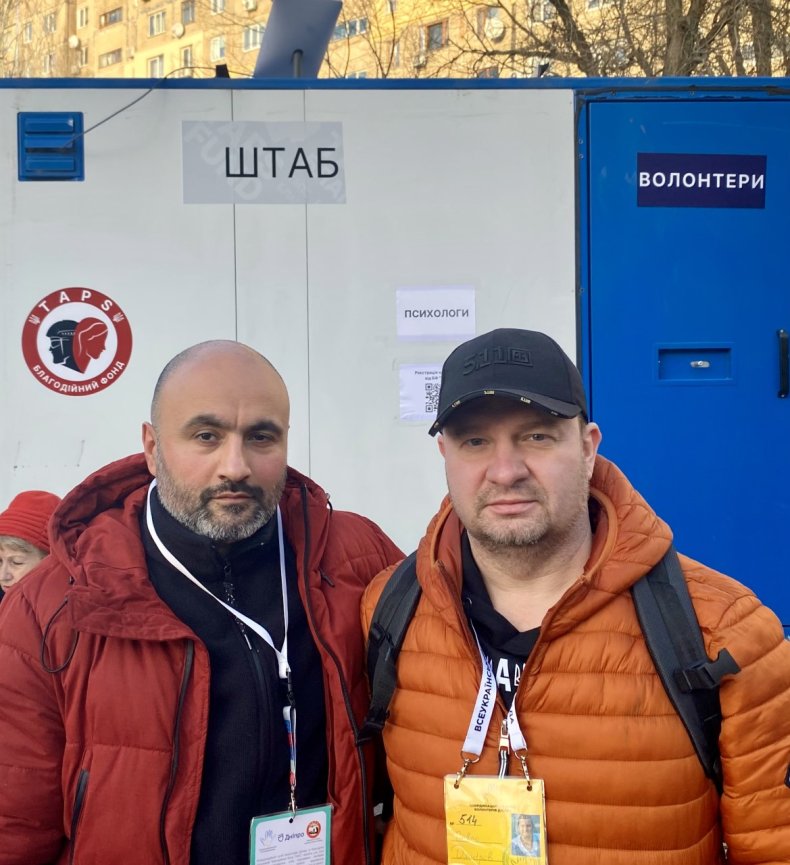 "We're used to this," Pavlo Dmitrov of TAPS-Ukraine told Newsweek. "We go to bed late, wake up early, and cope with everything. All we need is water, electricity, and gasoline."
"It would be nice, though," Dmitrov hinted, "if the West would give Ukraine a few more weapons. That's the only way to make sure that this sort of horror does not repeat itself."
"I lost a window. Others lost everything"
Work has already begun to restore nearby apartments that were not irreparably damaged. While many of those residents have moved in with friends and family elsewhere, several remain in their homes, sometimes less than 50 meters from the site of the rocket strike.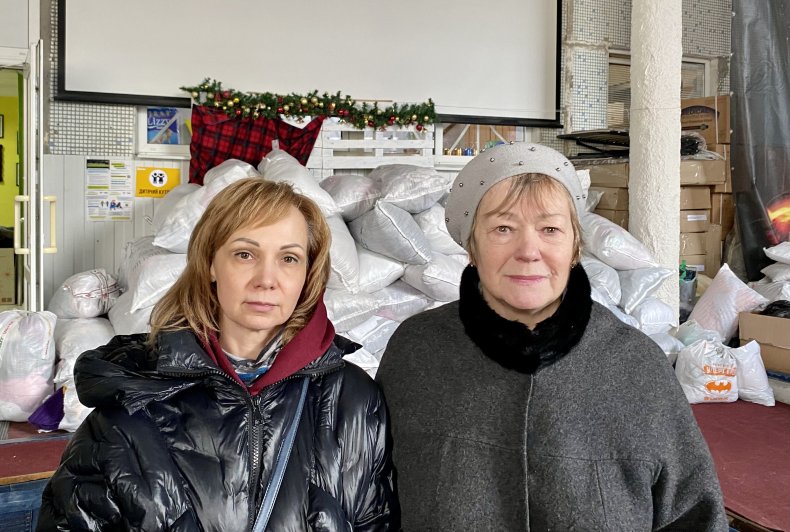 Anatoliy, who lives in a ninth-story apartment adjacent to the destroyed section of the building, has no plans to leave. Although plastic sheeting covers the space where his blown-out balcony window once was, his apartment, replete with a mural of pencil-drawn caricatures on the living room wallpaper, looks much the same as it did on January 13.
"When were were getting ready to remodel the place, we let the kids draw all over the walls," Anatoliy told Newsweek. "The kids are all grown up now, but the remodel still hasn't been done. It's a memory of their childhood."
Anatoliy's walls serve as reminder of all the sentimental value—to say nothing of the lives lost—wiped out in an instant right next door.
"I suffered far less than many others," Anatoliy said. "I lost a window. Others lost everything."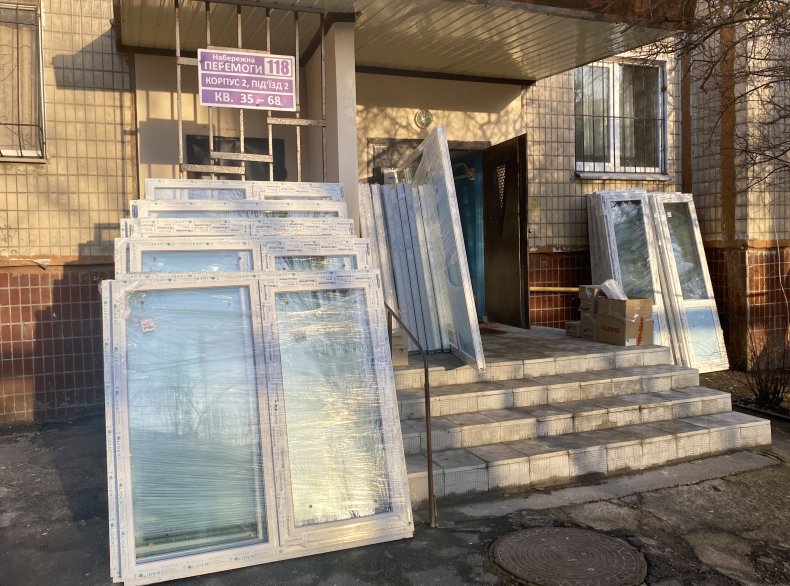 "It was like Armageddon"
Residents who have been displaced from their apartments often depend on aid centers for food, clothing, and medicine. Alla Anisimova, head of the English faculty at a local university, has moved in with her brother. At the time of the attack, she was at home, just a few meters closer to the site of impact than Anatoliy was.
"How I survived, I do not know," Anisimova told Newsweek. "There was glass, debris, destruction everywhere."
"After the explosion, there was so much smoke that, even with a flashlight, I couldn't find my shoes," she said. "The rescue workers came and took us down by the hand. It was like Armageddon. Everything was gray. Cars were on fire. Everything was destroyed."
"It's a miracle I'm still alive," she added, "and it's a crime against humanity that 45 of my neighbors are not."
"Like the first days of the war"

One of the main centers that affected residents turn to for help is the local sport school "Storm." In the early days of Russia's full-scale invasion, Storm converted its lobby and gymnnasia into a humanitarian aid center. By October, the situation in Dnipro had stabilized sufficiently to allow children to resume their previous martial arts and gymnastics lessons. However, since the apartment building strike, the school's hallways have again filled up with boxes of donated food, clothing, and medical supplies.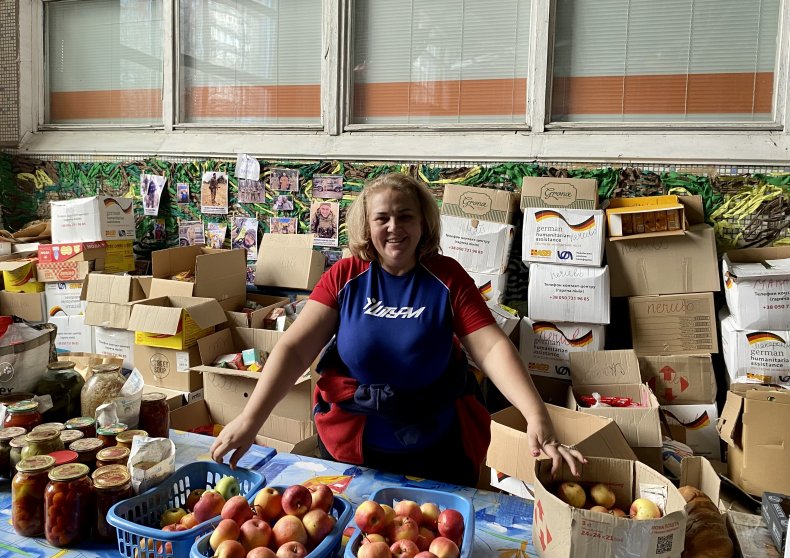 "It's like the first days of the war have returned," Storm vice director Alla Anatolievna, fighting back tears, told Newsweek. "For a while, things were calmer, as if everything that was happening would not reach us. But when a tragedy suddenly strikes so close to home, everything becomes frightening again."
"We have students, trainers, colleagues who lived in the section of the building that was struck," she added. "Thank God they were not home at the moment of the attack, but now they're homeless, staying with relatives."
"Part of my service"

While plenty of locals donate whatever they can, aid for the Storm humanitarian center is arriving from as far away as Odesa, seven hours distant by delivery van. Soldiers from Odesa's 220th Battalion, which accompanied Embrace the Heroes head Maksim Vorobiev on the trip to Dnipro, received multiple hugs from grateful locals. One of the soldiers, "Viking," told Newsweek why it is important for soldiers to participate in volunteer efforts aimed at helping civilians.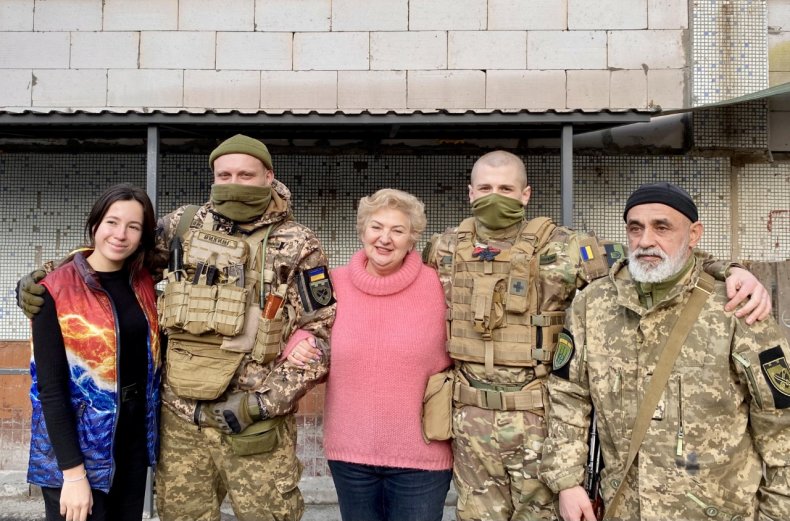 "The military is defending the country, but my brothers fighting on the front are better able to do their jobs when they know that our fellow countrymen affected by Russian terrorist attacks are being cared for," Viking explained.
"I was wounded fighting around Kherson in the fall," he added. "When I'm physically able to return to the battle, I will. But until then, I'm happy that the army gives me the opportunity to help out with volunteer efforts. This is also part of my service."