I became pregnant for the first time in 2017 when I was 25 years old. Although I was on contraception, six weeks into my pregnancy journey, I had cramps and unusual bleeding. When I had visited a doctor, I was overjoyed to find out that I was pregnant, but that feeling immediately turned to devastation because I had lost my baby. I experienced a sense of internal conflict because although I wasn't necessarily ready to have a baby, I had always been very maternal.
After my appointment, I felt that I didn't have a right to grieve the loss of my child because I had a very early miscarriage. That's why I only told a few of my close friends. It wasn't until a year later, after experiencing a lot of anxiety, that I began to process my loss properly, and grieve fully.
Trying for another baby
Around that time, I felt I was ready to try for another baby with my husband. I became pregnant in December, 2018, and I was very happy when I found out in January, 2019.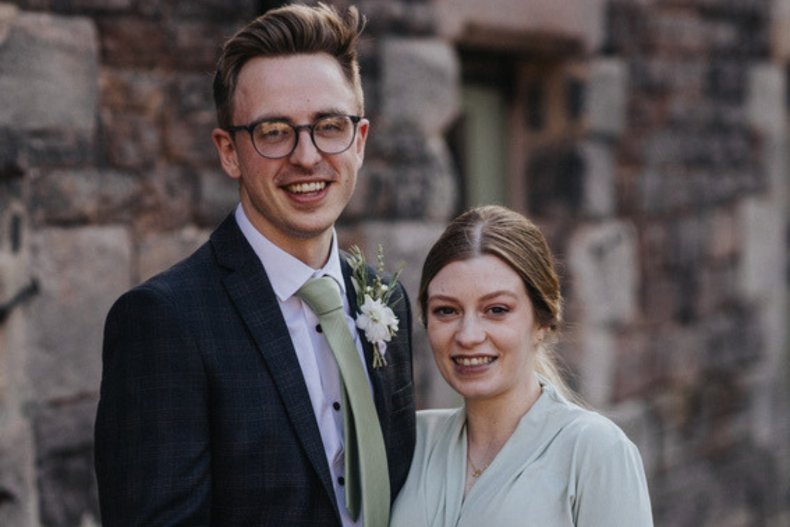 We were very excited and nervous. I seemed to have had a healthy pregnancy until February, when I had been spotting blood. I immediately thought that I was going to have another miscarriage.
I was absolutely devastated that day, and my boss sent me home from work. I phoned an early pregnancy unit and booked an appointment for the following day. For the rest of that evening, I had convinced myself that I had lost my child.
The next morning, I lay on a bed in the early pregnancy unit and closed my eyes. I wasn't able to look at the screen, or at my husband. I didn't want to process what had happened. But, to my surprise, the sonographer said, "Look, there's the baby, and it has a heartbeat!"
I was shocked and relieved. She told me that my baby was completely healthy and that I was six weeks pregnant. But, from my calculations, I was supposed to be seven weeks pregnant. After I had voiced my concerns to her, she reassured me and said that I had nothing to worry about.
When my husband and I left the hospital, we were very excited. We then told our immediate family that we were expecting a child and they were overjoyed.
Eight weeks into my pregnancy, I began to bleed again. So, I went to an early pregnancy unit and was told I was fine. The doctor had then told me that I was seven weeks pregnant, although I was eight weeks pregnant. I voiced my concerns about this but was reassured once again.
Although I was relieved, I still felt that something wasn't right because 10 weeks in, I was still bleeding. But at that time, the early pregnancy unit told me that they could not see me as I had already had several scans in a short period of time.
I was extremely anxious and I needed to make sure that my child was healthy. So, I booked a private scan and saw a doctor in March. At that point, I was 12 weeks pregnant but when I had received a scan, I was told that I was 10 weeks pregnant. After telling this doctor that the time frame did not add up, he told me that my child was healthy, once again.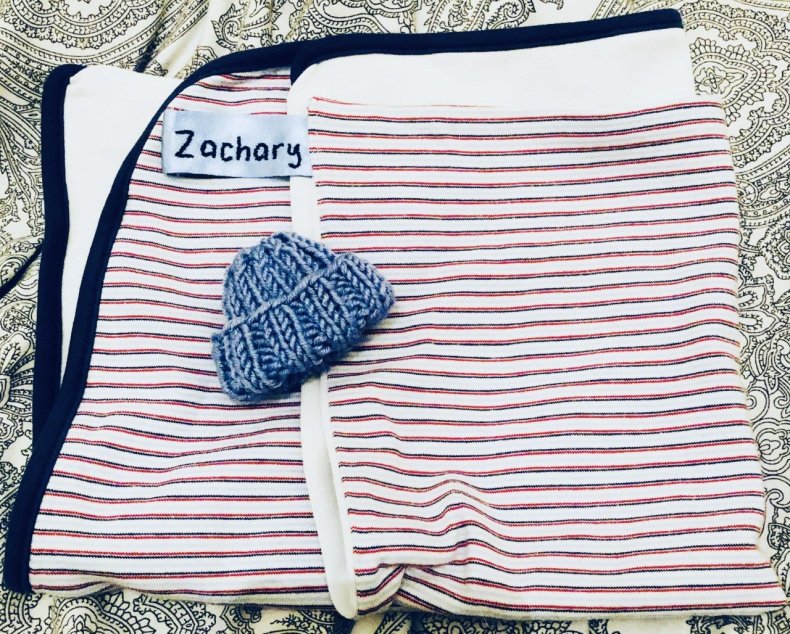 A few weeks later, I had experienced a lot of bleeding, and each time that it had happened, I booked a private scan. I was in a constant state of anxiety. In April, my husband and I found out that we were expecting a boy. So, we had a gender reveal party in our backyard with our family. I began to feel very excited and almost believed that I would have a successful pregnancy.
But the bleeding had not stopped. So, 19 weeks into my pregnancy, I had booked another private scan. I met my husband after work and we drove there together.
We sat in the clinic and heard the heartbeats of other babies echoing from different rooms; it made us feel very excited. We also saw happy couples walking out of rooms with balloons and confetti.
But I still had lingering thoughts like: What if something was wrong? What if there was no heartbeat?
When I lay on the bed in the clinic, the doctor had said that my son was absolutely fine, and showed me his heartbeat. He was moving around a lot which excited us. But then, the doctor asked me if I could empty my bladder and come back to the clinical room. I didn't think that it was a problem, as I had been asked to do this procedure several times before.
The doctor continued to scan my stomach for my baby's heartbeat again. She said, "He's so cute, he's sucking his thumb." She was then silent. Almost a minute later, she said, "Oh." I felt sick. It felt like my heart was coming out of my chest when I asked her what was wrong.
She told us that there was a problem with our son's brain and that I had to see my local doctor. At that point, I just wanted to go home, I didn't care about anything else.
When my husband and I got into our car after that appointment, I broke down in tears. We looked at each other in silence. I remember saying, "I'm scared that he's going to die." My husband is my rock, he is always the one who talks sense to me. But at that moment, he said, "I am too, sweetheart," which made the potential loss of my son feel very real to me.
A heartbreaking discovery
The next day, my husband had picked me up from work and we went to the clinic together.
I sat in a dark room with a midwife beside me. The doctor was very silent again, so I knew that something was definitely wrong. I was then told that my son had multiple brain abnormalities and a brain disorder called agenesis of the corpus callosum, which meant that parts of his brain were missing. I was also told that his heart was too big for his chest.
I felt like I wasn't present. It felt as if time had stopped and I wasn't a human being anymore.
After some further tests, I was then told that my son also had Triploidy, a rare condition whereby he had three lots of chromosomes in every single cell. She then told me that it was a condition that was incompatible with life; most babies don't make it to birth, and if they do, they are stillborn or they die within a few minutes, or hours.
She also said that there was a risk of me losing my life. The doctor gave us some time to think about what we wanted to do. I felt lost. I sat with my husband to think about our options, and he told me that he couldn't lose me too, as well as our son. So, we sadly decided to have a compassionate induction. I was five months pregnant then, and my baby bump was showing.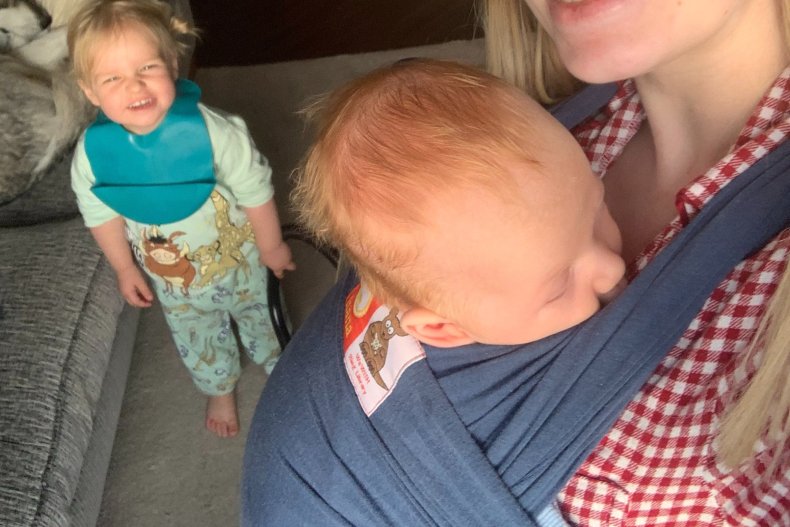 Zachary was born on May 1, 2019, at 6:37 p.m. He was a blessed baby; we dressed him and spent some time with him before he was taken away. We had handprints and footprints of him made, as well as certificates produced to recognize his life. Although he was gone in the physical sense, I knew that he would always be with us.
Having my rainbow baby
After Zachary had passed away, I wasn't doing very well emotionally. I was very anxious and was diagnosed with post-traumatic stress disorder. But I began trying for another child straight away. I felt a big void and although I knew that another baby could never replace Zachary, I still wanted to be a mom. I knew that I could love another child the same way that I love Zachary.
In October, 2019, I became pregnant again. I was incredibly anxious and had many ultrasounds, but my pregnancy was healthy, which was a relief. I didn't experience unusual bleeding, but I still wasn't convinced that my child was going to be okay until she was in my arms. Thankfully, when I gave birth to her on June 16, 2020. She was a very healthy baby; we named her Amelie.
Giving birth to Amelie felt almost surreal, I felt very anxious at first because it almost felt too good to be true.
Raising Amelie has been an absolute joy, despite the challenges that come with motherhood. We tried for another child after her birth and I experienced three miscarriages, which impacted me greatly. But I would say that through that season, Amelie was my sunshine and my joy. She always found a way to cheer me up and keep me going even though she didn't fully understand what was happening at the time.
I am incredibly grateful that she is here, but it has been a very confusing a complicated thing to try and understand that Amelie wouldn't be here if Zachary was here. She is a rainbow in the literal sense; a promise of hope.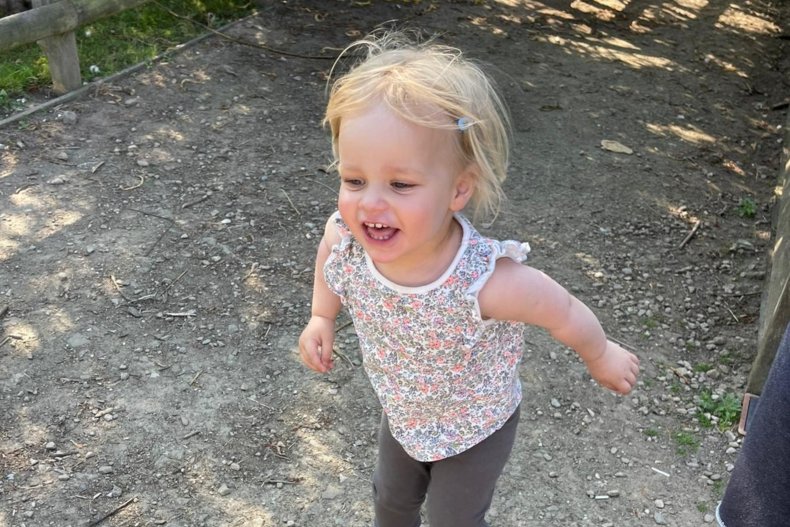 Commemorating Zachary's life
I absolutely love being a mom. Amelie is a real gift to our family. She's currently 2 years old and she's hilarious, empathetic, and incredible. She has really made me appreciate being a mom. Of course, it's still difficult; motherhood is brutal and beautiful.
Amelie knows all about her brother, Zachary. His footprints and his little hat are in her room. She asks about him all the time. Just this month, Amelie saw a horse and said, "That's Zach!" She'd also often say, "Zach was in Mommy's tummy."
In 2022, I also became pregnant with another little boy, Nico, who's now 5 months old now. Amelie often says, "Nico and Zach are my brothers."
Every year on Zachary's birthday, we celebrate his life. He's very much still a part of our family. If anybody came to our house, they would think we have three kids. It's beautiful, not in the typical way that it should be, but he's a part of our family, and he always will be.
Michaela Taylor is married to her husband, Jonny, and has two children Amelie and Nico. As well as being a mother to her first stillborn son, Zachary, and four other children that she wasn't able to meet in this life, she dreams of becoming a midwife to help other families through their journeys to parenthood. You can find out more about her here.
All views expressed in this article are the author's own.
As told to Newsweek associate editor, Carine Harb.
Do you have a unique experience or personal story to share? Email the My Turn team at myturn@newsweek.com