Academy Voter 'Disappointed' by Viola Davis, Danielle Deadwyler Oscar Snubs
Viola Davis and Danielle Deadwyler's Oscar nomination snubs have "disappointed" a voting member of the Academy of Motion Picture Arts and Sciences.
This year's Academy Awards nominees were announced on Tuesday by Riz Ahmed and Allison Williams, who revealed which actors, films and music were set to be celebrated during Hollywood's biggest night on March 12.
In the Best Actress in a Leading Role category, nominees included Cate Blanchett (Tár), Ana de Armas (Blonde), Andrea Riseborough (To Leslie), Michelle Williams (The Fabelmans) and Michelle Yeoh (Everything Everywhere All At Once).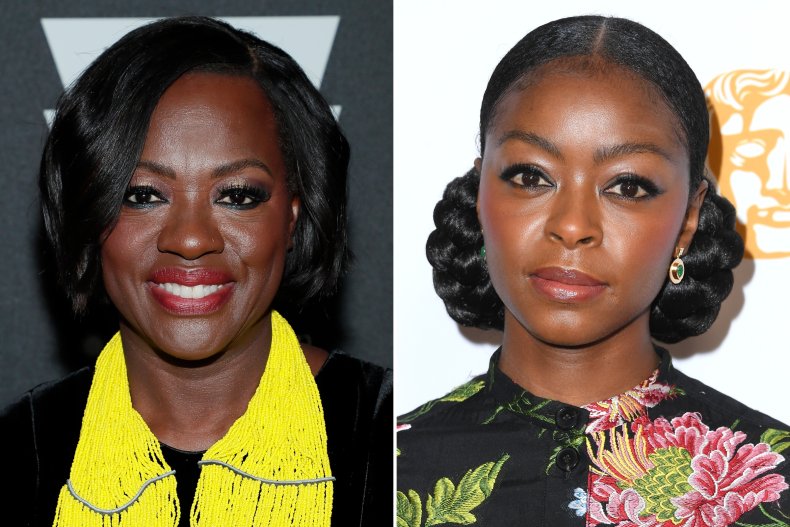 While some of the nominations were celebrated—including Yeoh making history as the first ever Asian Best Actress Oscar nominee—social media was awash with complaints that Davis and Deadwyler had been overlooked, after their widely lauded respective roles in The Woman King and Till.
As complaints flooded in on Twitter, actress Frances Fisher, who is an Academy voter, defended the decisions behind the nominations while also admitting that she was "disappointed" by Davis and Deadwyler not being recognized.
When one Twitter user shared a screenshot of a recent tweet from Fisher, in which she assured that Deadwyler would be among the nominees, the British-born screen star explained that she had voted for her.
"I am as surprised as everyone that Viola and Danielle didn't get a nomination," she wrote. "I voted for them. #AndreaRiseborough deserved recognition because of her outstanding work; without any publicity money backing her."
Referring to an Instagram post that Fisher had shared earlier this month, another Twitter user tweeted to her: "You told fellow voters that Danielle and Viola were locked and now they were snubbed. I hope you got what you wanted."
"I'm disappointed that Viola and Danielle were not nominated," Fisher responded. "I voted for them as well. They both are Oscar-worthy."
"But they lacked first-place votes, which you and many of your peers chose to gave to Andrea. This is why there is no such thing as a lock, ma'am," said another Twitter user. "I just wish you and everyone else who worked on this campaign would not have called them locks. That may have cost them the nods."
Elsewhere on Twitter, a host of other people commented on the snubs, with one writing: "Hear me out. Hollywood and The Academy ain't ready to recognize Black women leading movies. Ugly truth.
"THE WOMAN KING got better direction than most. It made money. Great ensemble. Great techs support. Viola Davis starring. And NONE got the attention?!"
Another wrote that "this should have been Viola Davis' like fifth nomination. She getting robbed more than the Home Alone house."
HuffPost senior culture reporter Marina Fang also weighed in on the matter, as she said: "Viola Davis has now been the lead of two movies by Black directors that were egregiously completely shut out at the Oscars: The Woman King and Widows (I am still mad about Widows all these years later)."
"Danielle Deadwyler really should have gotten in over at least two of those nominations," said Entertainment Weekly's senior photo editor Lauren Morgan.
"How the HELL did Danielle #Deadwyler not get nominated for #Till???" Entertainment Tonight co-host Kevin Frazier asked. "No seriously somebody explain the logic???"
Commented another: "As I say every year, Oscar voters are great when you only give them one Black option to support, but as soon they have more than one they f*** it up because they only view their ballots as having one 'Black Slot.' Viola Davis and Danielle Deadwyler both missing is a BAAAAAAD look."
Meanwhile, actress Bethany Anne Lind expressed her dissatisfaction at not only Davis and Deadwyler missing out, but also Sarah Polley not getting a Best Director nod for Women Talking. Polley, who wrote and directed the film, was announced on Tuesday as having a Best Adapted Screenplay nomination.
"Danielle Deadwyler and Viola Davis not being on that list is laughable and awards don't matter but that doesn't stop me from being mad about it you can be mad about things that don't matter it's not a crime but them not being on that list is," Lind stated, adding, "thank you very much."
"AND ALSO @realsarahpolley FOR DIRECTOR WHILE WE'RE HERE," Lind continued. "WHAT IS WRONG WITH EVERYBODY."
Academy Award nominees receive their votes from members of the Academy of Motion Picture Arts and Sciences. The organization of more than 10,000 industry professionals has around 9,500 members who are eligible to vote, per Vanity Fair.
In 2020, it was ruled that films hoping to be considered to be included in the Best Picture category at the Oscars would have to meet new diversity criteria—which many winners and nominees in recent years would likely not have met.
The initiative's aim is to further the Academy's efforts to promote inclusion in the entertainment industry and increase representation within its membership and within the wider film industry in general, addressing gender, sexual orientation, race, ethnicity and disability.
A lack of diversity has been a major criticism at the events, with a failure to nominate Black or minority actors in 2016 leading to the #OscarsSoWhite backlash.